Camp Verde, Arizona
September 20, 2003

Review by Marci
We decided to go see Paul perform in Arizona one more time before this tour ended, as we're not sure how long it will be before he will be out performing again.
We flew into Phoenix where the weather was so incredibly hot it was like stepping into a sauna. Thank goodness the air conditioner in the rental car worked well! After picking up the rental car, we headed out toward Camp Verde. What originally should have been a 1 ½ hour drive very rapidly turned into a complete disaster of six hours. Did you know there is only one two-land road that goes from Phoenix to Camp Verde and that they are doing major construction on it? Well, neither did we until getting stuck in a traffic back up for a good two hours. After finally getting through that mess, the pace picked up for about half an hour and then came to a complete stop again. It turns out that there was (sadly) a very large traffic accident that completely closed down the highway. People were stuck out on this road in the middle of the desert with no way to get off, no restroom facilities to be found and no food or water unless they were lucky enough to have brought something with them. It was actually quite a surreal experience. Everyone got to know their neighbors in the cars around them, and a gentleman two cars in front of us actually got out of his truck and proceeded to wax it during the wait. After sitting in that heat for approximately three hours we decided to try turning around and going back to Phoenix. We were pretty sure we were going to miss the show entirely, so we headed for a strip in the median where it would have been possible to drive through. Just as we got to the space in the median, brake lights came on and the traffic started to move so we got right back into line. It was almost a sign from the heavens that we were going to make it! Rumor had it that Paul was actually stuck in this endless traffic too and was being flown into the concert by helicopter. How "rock star" can you get?
We drove very quickly the rest of the way to the venue and practically ran in. Night Ranger was just getting into their encore as we made our way to the front of the stage so we got to hear a few of their songs. We did notice a helicopter flying overhead at one point in time during Night Ranger's set, which gave us a bit of a giggle. Then we had to sit and wait for Paul to hit the stage. When he did, it made the whole horrible journey worthwhile. As usual, he looked and sounded amazing. He was wearing a small sling to support his left arm but that really didn't seem to hold him back at all. He and his amazing band played so many songs it is impossible to remember them all. He did do Saving Grace, Feel Like Makin' Love, Radioactive, Rock 'n Roll Fantasy and many, many more. Paul is always incredible. Joe, Jeff, Howard and Lynn are all fantastic players and genuinely nice people.
All too soon the show was over and we had to head back to Phoenix for our return flight. The trip was much too short (except for the drive!), but Paul was amazing as always and it is an experience we will never forget.
---
Rock Jam, Grand Junction CO
September 12-13, 2003

Review and photos by Eric
A crowd of geographically challenged fans or his arm in a mini sling to protect his collarbone from a previous accident, didn't affect Paul's performance at Colorado's RockJam in September.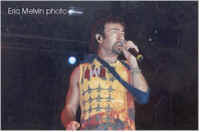 In fact it was one of the best performances I've seen or heard him do. Sure I'm partial to Paul's vocal style and natural vocal gift, but in my opinion he's the best singer to grace the world of rock and roll and he hasn't lost the ability to connect with fans young or old.
RockJam was a first annual celebration for the music fans of Western Colorado and beyond.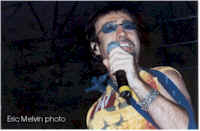 Hosting Paul was a great way to show off the icons of rock and how much they still mean to fans of all ages. Paul's performance set a standard for the RockJam concerts for years to come and certainly left me feeling like I was treated to something special.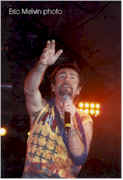 I was on a photo assignment that weekend but the main reason I went to RockJam was to see Paul.
My experience was great being stage front snapping shots of Paul however Lucy and I met shortly after. We began talking about her website allrightnow.com and different things about Paul's career. I untimely ran out of film at the critical moment of going backstage. Film or no film, being able to witness the show from a different perspective and with another true fan of Paul gave me even more insight to his legend and how he moves a crowd. Performing classic songs from his days in Free, Bad Company, The Firm and more Paul Rodgers impressed me once again as a consummate vocalist and entertainer who has made a huge impression on the world of music. Enjoy the photos. Please reach me if you'd like me to send any. – Eric
---
Review and photos by Lucy
This was a five day vacation that Rob and I will never forget.
The Scenery was just spectacular, this was our very first visit to the Rocky Mountains in Colorado. We were both delighted to have incredible weather the whole time, with the sun just beaming down on the Rock Jam festival all of the time. Our first venture was to attend the sound check for Paul's band.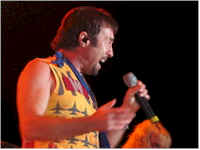 The stage was huge and had many VIP seats with the area also for general admission. It was such fun to watch the guys prepare for the night ahead. The staff were already rocking before the show had even started.
On the Friday, the line up was BTO, Foghat & Paul Rodgers. Paul and his band came on about 9.30pm. Paul looking his fantastic self with the guys all with beaming faces. It was sheer magic under the stars. I would imagine about 4-5 thousand people attended this evening show.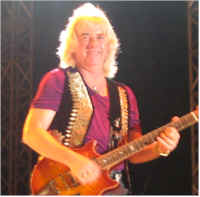 Then on the Saturday, the line up was Gregg Rolie Band, Night Ranger, Kansas, Mark Farner of Grand Funk and lastly Sammy Hagar. Crowd for Saturday went up to maybe 7-8 thousand. We missed the first two bands, and arrived for the beginning of Kansas. They played a great show (as usual). Before Mark Farner came on, I was fortunate enough to go back stage and meet him, and what a delight he was.
I had met up with a young man named Eric from Colorado, he was taking photos for
a magazine he was working for. He had told me although he was on assignment, he thought Paul Rodgers was the no 1 vocalist of all time. It was so cool to watch a photographer enjoying a show as much as us fans.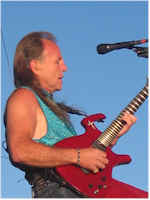 To add to this the security guys who were at the stage, also enjoyed the show so much they were singing with the audience and even dancing around with the fans. And I don't mean one or two, I mean all of them. I took a video clip of them all singing and dancing - it looked so cool.
Mark Farner was just amazing. I am now a fan of his for definite. He really won my heart. Such a quality rock and roll artist he is. Lastly was Sammy Hagar. He sure is a crazy guy but also gives a show of a lifetime. I had seen this show before in Atlanta. But to see it in an outside venue and on such a huge stage made it into a real spectacular.
This was the very first Rock Jam for Grand Junction. The organizers did a fantastic job and the security and staff were delightful. Well done, Rock Jam. Looking forward to next year's ROCK JAM in Colorado.
---
Grove Theatre, Anaheim
August 10, 2003

Review by Sandra
Last Spring , my eight year old daughter announced that she would sing Shooting Star by Bad Company at her school's Spring Fair. Her little voice sounded so dear, it had a style that only she owns! Lucy at Allrightnow.com loved it and put a sound clip on the website.
My friend Cindy and I bought tickets for Taylor and ourselves to see Paul Rodgers and Kansas at The Grove Theatre in Anaheim, Ca. After a two month delay because of rescheduling (Paul's accident), we were on our way! We made a weekend event out of the concert, hotel, dining, fun times.
We arrived at the show and went to the merchandise area where Taylor met one of Lucy's friends Gordon from Scotland Taylor was sparkling with makeup and pretty outfit. We listened to the music of Kansas which brought back so many great memories with the soulful singing and violin.
We sat and chatted in the stylish Terra Rosa Lounge, then went to our seats in the front section. The music started with Rock Steady. Everyone in the front section and behind stood up and cheered. After anticipation, we were happy to stand up, dance and scream. The songs that followed were: Can't Get Enough, Rock Steady, Feel Like Making Love, Radioactive, Satisfaction Guaranteed, Fire and Water, Ready For Love, Ride On Pony, Shooting Star (Taylor really felt like Paul was singing to her), Deep Blue, Saving Grace, Allright Now, Joe Fabulous, and Rock and Roll Fantasy.
The music boomed and the energy level of all was high. I glanced at Cindy and Taylor and saw they were as thrilled as I. My eyes were fixed on Paul Rodgers and noticed he was having a lot of fun with the crowd, laughing easily as the crowd cheered. His singing was amazing as his voice was clear, intense and soulful. The audience was electrified as Paul moved around the stage, he definitely gets the respect he deserves, The crowd remained on their feet. The music was powerful, all the members of the band pulled together a tight performance. Howard Leese on guitar, Lynn Sorenson on bass, Jeff Kathan on drums. Howard Leese was directly in front of us and his confidence as a musician so apparent with his style and booming guitar. Wow! Song after song we stood and sang along in awe. There was a special guest: J. DeLuca on guitar that helped captivate the crowd.
After the show back at the Terra Rosa lounge, the musicians were kind enough to chat with the guests. Taylor sat with her Shirley Temple drink. We asked for a few photos with the band members and Taylor was invited to meet Paul Rodgers backstage. Paul was very welcoming and gave Taylor an autographed photo. He answered some of Taylor's questions about music and singing as she studies piano and dance. Paul is a great role model as singer, writer and producer. I got up the nerve to kiss Paul on the cheek, making a dream come true. After a week, I am still reeling from the the whole experience. Paul's charismatic stage presence, strong voice, and rockin' band delivered an unforgettable performance!
We Love You Paul!
Sandra, Taylor and Cindy

---
Minnedosa, Canada
August 2, 2003

Review by Marci
There I am driving along a two lane highway surrounded by endless fields, on my way to Minnedosa, Manitoba to see Rock Legend Paul Rodgers and his band play the Little River Rockfest. It was a two hour drive from Winnipeg airport, but it seemed much longer than that as the anticipation was almost unbearable. Once I finally arrived I could feel the air heavy with the talents of Lou Gramm, BTO, America, Glass Tiger, Peter Frampton….and of course our very own Paul Rodgers. The stage was massive. with huge amounts of equipment lined up for each performing act. Paul Rodgers was slated to go on at 9pm, so I moved my way quickly to the front row and made my self comfortable and ready for the undoubtedly amazing show I was soon going to experience.
It was finally 9pm, and like clock work the band took the stage with high and exciting energy. This show was incredible. The band was so into the music and Paul had a completely captivated audience as he treated the audience to some of his very best songs! The light show was awesome….bright lights moving to every lasting beat of classics like Rock and Roll Fantasy, Satisfaction Guaranteed, Deep Blue, Feel Like Makin Love….and so many more. It was unforgettable!
After the show, I had the opportunity to go backstage meet Paul and the Band. How could the night get any better? Paul was very sweet and so was the rest of the band….these guys never seem to let the fans down! Paul signed a jacket of mine and took some photos. It was so nice of everyone to take the time to meet with me. It made my trip so very special and one I will never forget! A very special thank you to Paul, Brad, Lucy, Joe and Lynn for your generosity and kindness. You are all amazing people. Until the next show……
A very loyal fan,
Marci
---
Mountain View, California
July 31, 2003

Review by Judy
Shoreline Amphitheatre in Mountain View, California.
Our local radio station here in the Bay Area, KFOX (Greg Kihn, DJ) held their 2nd annual "Kihncert'" on 7/31 at the Shoreline Amphitheatre in Mountain View, California. On the bill was the Greg Kihn Band, our favorite Paul Rodgers, and Boston. I have to say, I went to last year's Kihncert with GKB, Jefferson Airplane and Lynyrd Skynyrd….and this year blew that away!!
The Stanford Marching Band was invited as the pre-show entertainment and played on Stage 2 at 5:30pm. They kicked butt with their rendition of All Right Now! Very cool and everyone enjoyed watching them…they had been talking about having Paul come out to sing with them but no such luck. I'm sure Paul was busy getting ready for his set which was starting in less than 2 hours!!
Greg Kihn opened the show playing along side of his son Ry, who is very talented guitarist in his own right. They played all of the hits including Jeopardy, The Break-Up Song, Madison Avenue Man and a great rendition of The Beatles' Strawberry Fields! I know that the band had just as much fun as we did because they couldn't stop talking about it the next day on the radio. Greg keeps thanking the audience for having such a great vibe and reflecting it back on the band….great job guys!
Then of course the act that I had been waiting for: Paul Rodgers! I had planned to see him in Reno a few months ago but unfortunately due to Paul's injury I had to wait until July!! It was well worth the wait. I met up with my friend Lin and her friend Jane who sported a very cool 'Bad Co' shirt she had made with sparkly trim…everyone commented on how cool it was!! I had made little Paul Rodgers pictures and frame for them to save as souvenirs of the show. We took a look around at the merchandise and noticed they didn't have any of the Paul Rodgers shirts or goodies on display so we asked the girl who worked there "okay so where is all the Paul Rodgers stuff?" She pointed to a few boxes and we told her to start getting it out for customers. They had the new Paul shirts in all shapes and sizes with the red flame which are very cool. Much to our surprise she took out just a few Paul shirts I had never seen before, black with beige lettering on the front "Paul Rodgers of Bad Company" and his tour dates and locations on the back…she said "but I only have 3 of them!" So of course we snatched them up! I quickly changed and wore mine the rest of the night.
Paul and the band sounded great. You could tell Paul and the guys were having a good time and the audience was really into it! He opened with Rock Steady and of course we were already on our feet! Can't Get Enough was next followed by Feel Like Makin' Love. Then they changed gears a bit to The Firm days and played an awesome Radioactive, then Satisfaction! Okay then it was time for a Free song: Fire and Water. Ready for Love was next followed by his Soul of Love! Of course Shooting Star was on the list. Then Deep Blue! All Right Now rocked the place and closed the set. Already at the end…oh no! That went by way too fast!! They took off the stage then returned with the place on fire…Rock and Roll Fantasy was the encore! I managed to work my way up to the front and a bunch of us had to shake the man's hand! He's so great to his audience and fans. After the show I passed along a card to wish him a full recovery from his recent injury and a Paul Kossoff cd (Blue Blue Soul)…I thought even if he had it he could use it as a copy for the road. I hope he got it okay!
Then it was Boston's turn. I remembered seeing them many years ago but had no idea how they would sound today. They were amazing. Tom Scholtz is just a genius on the organ and guitar. The organ pipes were almost as tall as the concert stage!! Brad Delp and Fran Cosmo just belted out the songs!! Kim Dahme is just an awesome bass player. They were completely tight and hit every note They played the audience favorites including Rock and Roll Band, Don't Look Back, More than a Feeling, Amanda, Foreplay/Longtime…and to close a perfect evening of rockin' roll: Party…and of course: Smokin!
Pheww. What a night! KFOX is going to have a hard time toppin' this for next year's Kihncert. That's unless they could get Bad Co to headline!
---
Oswego Harborfest, New York
July 24, 2003
Review by Shelley and Tom
Harborfest is Blessed with the King
Lovely Oswego New York will surely never be the same after Paul and Co. showed all in attendance what Rock and Roll is all about. My husband and I have seen Paul a total of 6 times......mostly with Bad Company, this was the first time with his solo band. My husband managed to get us into the reserved seating area....with the kind help from a local official..and we were lucky enough to have had unbelievable front row seats. It was hard to contain ourselves and stay seated as the band slowly built up to Paul's arrival onstage. It is truly impossible to not get totally carried away in Paul's music and his amazing vocal talents.....never did a performer have such charisma as Paul does.......always such a wild ride!
Both being big Free fans, we were much excited to hear a number of them included in the set. The band was right on and every tune was played as it should be.......to totally rock the house! I saw all ages of fans in attendance......everyone on their feet. Paul was very gracious and came down to shake hands with people by the fence..much to our delight.
We could have listened to Paul and Co. all night..........he carries you to another place.............lifts your spirits so.. and is such a remarkable performer.....LOVE the Beatle medley in Rock and Roll Fantasy.......it is a true pleasure to go to see Paul, be it with Bad Company or solo..........he never disappoints.....when he is on tour..we always try to make at least a couple of shows.
We and all New York State residents have been THRILLED to see him visit our great state regularly the last few years.........may he continue to bless us and everyone lucky enough to see him live...with his beautiful music, talent, totally consuming stage presence, and to share the joy he has in doing something he truly loves to do. LONG LIVE THE KING OF ROCK AND ROLL!

Shelley and Tom
---
Review by Lauren and Beth
Your Mama's Calling, but You're Having Fun...
We rolled into Oswego early Thursday evening to attend Paul Rodger's show at the Harborfest. When we got there, the sound check was in progress (without Paul). It was exciting to hear 'Radioactive', although it was not on the set list that night.
There was a huge crowd, lots of families, friends, and of course, die-hard Paul Rodgers fans (US!!!) We took our seats, front row, center, and anxiously awaited the start of the show. The band opened with "Rock Steady" which immediately got the crowd rocking. They went right into 'Can't Get Enough", "Feel Like Makin' Love", and then onto a favorite Free song, "Wishing Well". After that, Paul took us on a magic carpet ride, with 'Satisfaction Guaranteed'. Hard to explain how one song can take you to another place. Paul was so into it. If you were there, you know what I'm talking about!
Next, "Fire and Water', "Ready for Love", "Ride on a Pony". Then, as if Paul could read our minds, he got the crowd on their feet and asked us to get closer to the stage. He went into "Soul of Love', which totally ROCKED. There's no way anyone could sit still through that song. We never did sit back down. Paul even got down off the stage and shook hands with as many people as he could.
The band went on to play a crowd favorite, "Shooting Star", "Deep Blue" (if you don't have the 'Electric" CD - get it now!), and "Saving Grace": Finally, we heard and sang "All Right Now".
Encore! Encore! The band came back and did "Muddy Water Blues". Shame on the person behind me who didn't know this song. They finished up with "Rock and Roll Fantasy" with a very cool Beatles medley in the middle of it. Paul thanked us for being his rock and roll fantasy.
We've been fortunate enough to see Paul several times and it's always a great show. Paul Rodgers is a true performer, whether he's playing for a crowd of 30,000 or 30.
This show was the best yet. The band sounded good and seemed to really enjoy playing together. Paul has such an inner peace about him. He looked very relaxed and I think he was having as much as we were. We've got great memories from this great show and can't wait to see Paul Rodgers in our area again.
Lauren and Beth, (Rochester, NY)
---
BB King's Blues Club, New York City
June 30, 2003

Review by Bill and Barbara
It was a hot night in New York and the city was alive. Our night started when a white limo pulled up on 42nd St. and Paul Rodgers stepped out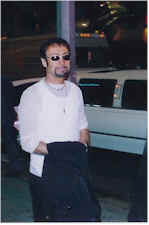 and made his way to the club known as BB King's. BB King - one of Paul's favorite musicians! It must have been a pleasure for Paul to play BB King's Blues Club.
It sure was a pleasure to all who attended the show! After an injury to Paul's collarbone and a postponed date, Paul was on fire when he took the stage and belted out a major rendition of rock steady! Next, Paul stole the crowd with Can't Get Enough.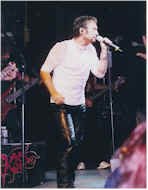 The double leads during the solo were great with Howard Leese and Joe Shikany in front of the stage and Rodgers running from one side of the stage to the other. The whole place was up, dancing and totally into it.
Plenty of songs followed as Paul pleased the fans covering all grounds with Free, Bad Company, the Firm and his solo efforts. We would like to add that Paul's solo work is excellent and stands up to just about anything he's ever done in his career.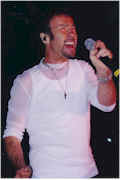 A few highlights (can't mention them all) was Ready For Love. One of the best versions we have ever heard, especially at the end during the improv section when Rodgers let himself go and brings the song to an all time high. Can only be heard live! Soul of Love was great! Last time we heard this live it was done acoustically on the Bad Co. reunion tour in '99.
We must say that version was fantastic but to hear this done electric was incredible and came to us a complete surprise. Well done! Saving Grace is always great to hear and Rodgers just smokes on this one. It's a great song. The band sounded fantastic with Howard Leese and Joe Shikany wailing on the gits, Lyn Sorenson grinding out the base and Jeff Kathen pounding at the drums.
And Paul Rodgers, as always, was electrifying! It was so cool to see Paul in New York, especially at BB King's. The venue was perfect to see such a legendary artist
.

Set list
Rock Steady - Bad co.
Can't get enough - Bad co.
Ready for love - Bad co.
Wishing well - Free
Satisfaction guaranteed - The Firm
Fire and water - free
Feel like making love - Bad co.
Ride on pony - Free
Soul of love - Paul Rodgers
Deep blue - Paul Rodgers
Saving grace - Saving Grace
Shooting star - Bad co.
All right now - Free
Encore
Muddy water blues - Paul Rodgers
Rock n roll fantasy (w/Beatles medley) - Bad co.
---
Hampton Beach Casino, New Hampshire
June 28, 2003

Review by Marci - photograph by Lucy
June 28th, a warm....very warm Saturday night. What better way to spend it, then on the ocean with some wonderful fans and a rockin' Paul Rodger's concert. I always leave Paul's shows saying there is no way he can out do himself this time....but he always proves me wrong at the next show! This show truly sent tingles up my spine!!!!! The stage was not very big, but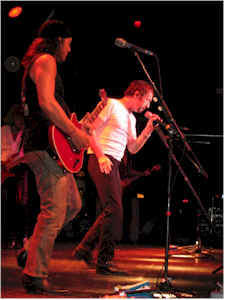 from the front row you almost felt as if you were part of the band...which is a great feeling I might add!!!
Paul was in fine form with a band of extraordinary musicians backing him up. With smooth and saultry ease, he made his way through hit after hit....Feel like makin love, Wishing Well, Shooting Star and Rock and Roll Fantasy! There were a few amazing surprises....the highlight to my evening was Satisfaction Guaranteed....just Paul with a soft blue spotlight, what a treat!
The audience was extremely receptive....chanting the words to every song. It was almost spiritual, everyone seem to lose themselves in the music. Paul gave 110% the entire evening. There was no way anyone could leave without feeling like every dime and minute was worth it all. I would make the 10 hour drive again anytime...and plan on it very soon.
Thank you Paul for never letting your fans down and always proving that you are TRULY a Rock Legend in every sense of the word.
Marci
---
Clio Amphitheater, Michigan
June 2003

Review and photographs by Vanessa
When we arrived at the Clio Amphitheater, the skies were dark and the threat of rain seemed imminent. Before we went back stage for the meet and greet for Kansas, At 7:30 p.m., we were escorted back stage to meet and greet with the members of Kansas, before they took the stage at 8:00 p.m. The Kansas members were very friendly, signed autographs and were pumped up for the show. It was great to see so many die hard Kansas fans in attendance with original albums, tee shirts and other Kansas memorabilia for the band to sign. When Kansas took the stage, we could tell it was going to be an electrifying performance. They did not disappoint! They played approx. 1 hour and 20 minutes, with such classics as "Point of No Return","Fight Fire with Fire", "Carry On Wayward Son" and of course "Dust in the Wind". The band members totally enjoyed performing and were very appreciative to all of the fans. The musicianship and vocals were still right on after all these years... Kansas was a great way to start the evening rockin!!
About 10:00 p.m., after a 30 minute tear down, the lights came down and Paul was just about to take the stage and a light mist of rain started. Off in the distance, there were flashes of lightning and the distant sound of peels of thunder. Paul opened up with "Can't Get Enough" and the fans were on their feet! He came out wearing a sling on his left arm, which he removed after the first song.
After the first song, Paul welcomed all of us and apologized for the rain but made the comment, " God's heavenly showers...without it we would have no flowers, no grass, no trees..." Paul introduced the band after they performed "Rock Steady" After the first two songs, the mist of rain turned into larger drops of rain and steadily picked up throughout the evening, but Paul kept on rockin!
Every now and then he would ask the fans how they were holding up in the downpour. He was answered back with cheers of approval and so he rocked on!
The tunes that were performed are as follows: Can't Get Enough, Rock Steady, Wishing Well, Run with the Pack, Ready for Love, Satisfaction Guaranteed, Saving Grace, Fire and Water, Feel Like Making Love, Shooting Star, Rock and Roll Fantasy, All Right Now.
The sound techs. and stage hands were running around trying to keep the stage and equipment dry. They had their work cut out for them, as the stage was getting slippery from all the rain. Toward the end of the show, the rain let up some, but we were all soaked...Paul, the band, the fans, the techs...everybody was soaked! Paul and the band really came through for all of us fans that night. Even with his injury and the weather the way it was, he still gave 110%, and all for us!!
After the show, we went back stage for the meet and greet. It was a nice relaxing atmosphere. Cynthia was there and I got a chance to speak with her for a moment about Paul, his recovery and the tour. She is a very caring person.
Paul and the band were sitting at a table ready for autographs and even photos! I brought flowers, from Lucy and I, to give to Paul, which he appreciated and thanked me for. Then the conversation turned toward Lucy and her up and coming birthday party as well as how hard she works for the fans and how much we all think of her. The evening ended on a great note, with a hug from Paul and then a 3 hour ride home with the sounds of Paul Rodgers...now that is what I call MY Rock and Roll Fantasy!!
God Bless You All!
Vanessa and George
---