Atlanta, Georgia - June 20, 2001
Review by Lucy
GEORGIA DOME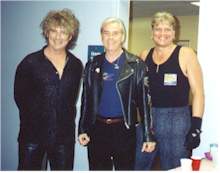 Yes, you are reading correctly, Paul Rodgers & Company flew in for the special "Ten Years of Visual Basic" party at the Microsoft Tech-Ed 2001 convention. This was an amazing show with the guys from Seattle: Jeff Kathan, Howard Leese and Lynn Sorensen. And what a show they gave.
Rob and myself were not too sure what to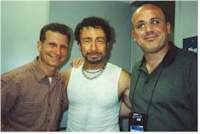 expect but how thrilled we were, such a party atmosphere, we are still coming down from the excitement they produced. Here are a couple of the convention attendees backstage with Paul.
See more pictures in the Photo Gallery.
---
Review by Al Mayer
The city of Atlanta rocked hard for two nights in June as Paul Rodgers and Bad Company came through town.
First, it was Paul Rodgers playing a solo gig for a private booking at the Georgia Dome. Microsoft was the host and they have to be commended for bringing in The Voice to headline the evening. My wife, Kris, and I were extremely lucky to be able to see this show as we were not Microsoft attendees, but guests. (a very special thanks to my friend Scott for making this happen for us!) While watching one of the openers, Tower of Power, we made our way to the front row. At the changeover, our exitement grew as we could see the familiar stage-set for Paul's band. The clean, simple but powerful bass, drums and Marshall amps.
The lights went down and Paul Rodgers and Co. hit the stage with "Deep Blue". Howard Leese on guitar was looking ready to rock in ponytail and a biker jacket! The band reeled off some hits, "Can't Get Enough" and "Feel Like Makin Love" and the crowd hopped on board. The show moved into FREE territory with "Fire and Water"...a PR signature tune. Next, I was very pleasantly surprised to hear another oldie, "Ride On A Pony". What a great song! I didn't think I would ever see that one live. Jeff Kathan on drums really pounds out these FREE songs with authority. His extended jam at the end of "Fire and Water" was especially heavy! The mood became more mysterious when bassist Lyn Sorenson began the next song by playing the electric violin. Paul stepped in with an acoustic guitar and played "Seagull".
Paul was in great form tonight on vocals. He really is at the top of his game, physically in shape and vocally awesome. Later, he surprised again with a very rocking version of "Radioactive". This song really kicked live. Other highlights were the instrumental "I've Got the Fire" featuring Howard on Les Paul, and, "Muddy Water Blues" with Paul on acoustic guitar. "Allright Now" had the crowd singing along as did "Shooting Star". The show came to a close with the encores, "Runnin With the Pack" and "Bad Company". Paul was high atop his grand piano with fist clenched, belting it out. The lights went out and a huge indoor fireworks display followed. The night ended with us begging for more......which we got on the next night.....
---
Sydney, Australia - April 21, 2001

Review by Michael Smith of Drum Media, sent in by Sven Knudsen
SYDNEY SUPERDOME
Paul Rodgers was the voice that launched a thousand bands back in 1970, when he fronted the quintessential British Blues rock band Free. He gave up smoking a decade ago and it shows. There's less of the growl but my God this guy's still got the tone, and the range and control is staggering. The promoter, unbeknownst to Rodgers, plugged this performance as Paul Rodgers' Bad Company, and while he sang a few of the big hits - Cant Get Enough, Shooting Star and the eponymous Bad Company - this wasn't Bad Company. This is Rodgers' touring band, and tonight he took us for a ramble across his entire career, kicking off with the opening track, Deep Blue, of his latest album, Electric, before taking us back to Free - Fire & Water, All Right Now among others - and The Firm, the band he formed with Jimmy Page. And the band made a pretty good fist of it, even if the guitarist, Howard Leese, seemed at times uncertain whether to try and emulate something of the late great Paul Kossoff's style, or stick with the flashier style he developed when he was in Heart, which is closer to Bad Company's Mick Ralphs own style. It was Rodgers we were there to see and he didn't disappoint. To quote Deep Purple's Ian Gillan, "Superb".
Michael Smith.
---
Adelaide, Australia - April 8, 2001

Review by Mike Collins
ADELAIDE 500 MOTOR RACE, CONCERT.
The climatic finish to a 3 day touring car race through the streets of ADELAIDE, AUSTRALIA had finally arrived .This was the moment I'd been waiting 20+ years for .....PAUL RODGERS LIVE (apart from his appearance with the Ultimate Rock Symphony he hasn't toured here in that time that I know of...) As the night sky descended on the rowdy racegoers RODGERS hit the stage aptly with BURNIN' SKY (this was a surprise tune I was not expecting!) and he looked fantastic, fit and ready to rock.We then had a taste off the latest (and superb) CD ELECTRIC with DEEP BLUE before he swaggered through some heartfelt FREE moments with MY BROTHER JAKE, RIDE ON PONY and FIRE AND WATER ... all sung with such conviction it could bring a tear to your eyes.
There were a stack of brilliant BAD CO hits played including ROCK AND ROLL FANTASY, CAN'T GET ENOUGH, FEEL LIKE MAKIN' LOVE to name a few as well as the rousing MUDDY WATER BLUES. PAUL was every bit the rock star and had the audience captured with his still amazing voice and those trade mark mike stand heroics.
They were a sometimes raucous crowd, many having been at the race all day and drinking, but PAUL treated the sometimes unruly behaviour with patience and professionalism. Sorry PAUL trust me all ADELAIDENS are not like this!
There were two encores (after a classic burst of the perennial ALRIGHT NOW) and PAUL gave us RUNNIN' WITH THE PACK and BAD CO before ending the evening with an epic READY FOR LOVE. This proved to be a night worth waiting for and one many will treasure seeing this legendary singer standing out against the night sky dressed in white, working the stage for all it was worth. His band may I say played tight and tastefully all night and it was a pleasure to see HOWARD LEESE present. I only hope I don't have to wait another 20 years to experience the talents of MR RODGERS!
---
Bournemouth, England - February 19, 2001
Review by Michael Heatley
Bournemouth Pavilion, 19.2.01
Set-length: One hour 20 minutes
Tickets: ?16.50
Set list: 'Burning Sky'/'Deep Blue'/'My Brother Jake'/'Fire And Water'/'Ride On Pony'/'Rock'n'Roll Fantasy (incorporating 'Ticket To Ride' and 'I Feel Fine')/'I've Got The Fire' (Instrumental)/ 'Seagull'/'Muddy Water Blues'/'Radioactive'/'Mr Big'/'All Right Now'.
Encores: 'Silver Blue And Gold'/'Bad Company'/'Standing Around Crying'.
Rodgers brought his band from Seattle to Bournemouth, the resort where middle Britain goes to retire, and showed he had little desire to hang up his rock'n'roll shoes just yet. But his arrival on stage clad all in white amidst a hammy intro tape of thunder, lightning and a booming American MC had us wondering... Thankfully the evangelism ended there, and the greatest hits set he delivered - with only one song from the last two studio albums - certainly dispelled the bad vibe of his last visit when a second Forum gig was cancelled due to alleged lack of demand. A compact theatre venue straight out of the 70s suited Rodgers down to the ground - though, having coaxed the over 40s out of their seats at long last, he encored with three slowies. Maybe 'Wishing Well' or 'Can't Get Enough' would've caused widespread coronaries!
Nor was he outstaying his welcome with this short yet satisfying set: we were all despatched at 10.20 with an exhortation (that disembodied American again) to log onto his website in a couple of days and hear it all a second time! Still a dab hand with the mikestand and singing as well as ever, it's clear Rodgers' recent poor showings on record are down to material and production. Given the run of the Free/Bad Co repertoires, he can hit all the notes he did in 1970 - only now he's had his teeth fixed, and not on the NHS I'll warrant. This performance deserved a 21-deckchair salute.
---
Review by Mike Gill
Bournemouth, that's a good place to play "Seagull" I thought when I phoned the ticket line to see Paul Rodgers at the Pavilion Theatre. So I made my way down from inland Oxfordshire last Monday hoping and expecting to see a repeat of the awesome first leg of the tour at Wolverhampton the previous Monday. That was when "The Hunter" once again came to life with a staggering Kossoff-inspired guitar solo from Joe Shikany, as the audience sang the whole song in unison as one....."That was just like the old days" The Man said.
I knew "Seagull" was part of the set, and sure enough there it was at Bournemouth, performed alone and unplugged, followed by the acoustic guitar of "Muddy Water Blues" before the band kicked back in after "under the weeping willow tree, these muddy water blues..."
The thing that struck me about this set was that it was based around the songs that have made up all of Paul Rodgers' career, not simply Free or Bad Company, but the whole range through The Firm, the blues, the more recent solo albums, and even Beatles covers like the ones he has done with The British Rock Symphony. To cover as much material as possible, the instrumental solos were never over long, and only what was wanted for the purpose of the song; that's not to say that we didn't hear what the new band could do, because we heard it from Jeff Kathan for example on Fire and Water, from Lyn Sorenson on Mr Big, and from the excellent Joe Shikany many other times.
At Bournemouth the drama was towards the end, with All Right Now (of course!) "I'm Ready" from "Muddy Water Blues", and to finish the second encore a fantastic, energy driven "Bad Company", with PR thrashing it out on the grand piano like never before. "Bad Company": if I had to choose, that's the song I like best of all.
---
Review by Paul Christopher
As the lyrics of Paul Rodgers say here come the jesters 123 !!! PR as powerful as ever, a drummer from WWF, a bassist with a hairstyle of Edward Scissorhands, and a guitarist who moved with style. But this band were no fools, this was enjoyment from start to finish! We could all say Paul missed out our personal favourite, but it did'nt matter, not to me anyway.What I witnessed was a hard hitting and polished performance from a singer I've admired for over 30 years doing what he does best " entertaining".
It was great to hear a song not played for a while like My Brother Jake, and tracks I love, Ride on Pony, Mr Big, Deep Blue, and Bad Company which luckily are played every time. A packed audience enjoyed every minute from a guy who's played with the best, and spoke to the rest, outside afterwards (it was a privilege to have my T-shirt signed) and meet the rest of the band. An evening I shan't forget! No wonder Songs of Yesterday is always in the CD player !!!
---
Sheffield, England
February 17, 2001
Review by Steve Trowman
Just got in from the Sheffield gig. Paul at last had the musical backing he deserves-excellent musicianship. That made the experience so much more whole- his voice keeps getting better and better. Sadly I didn't rate the playlist- but I am a seasoned Free addict!! Keep on doing it, Paul- you give so many people strength from your lyrics and music.
---
Glasgow, Scotland
February 16, 2001
Review by Susan Miller
Glasgow Barrowlands was the place to be last night as Paul Rodgers and his band performed their only Scottish date to capacity crowd. This was the best I have ever seen Paul, who looked relaxed and was in perfect voice. The band were really tight, and it was great to hear songs I haven't heard live for years, like Silver, Blue and Gold, Burning Sky and Radioactive. If you have a ticket for this tour you are just so lucky!
---
Liverpool, England
February 13, 2001
Review by Andrew Whalley
The art deco hall of what is 'The Royal Court' reverberated to the sound of seminal rock hero Paul Rodgers and his band tonight. A set of old and new pleased a near capacity audience, who's ages ranged from fifteen to fifty five - anybody older at the show my apologies - but the phrase scans well!
Almost 90 minutes of live action saw many an old favourite 'dusted off' and performed like it was straight from the rehearsal room and ready to be put down on acetate - the performance was a dream! [I sometimes wonder why I spend good money to see this guy, as I spend most of the show with my eyes closed, head craned skyward - lost within the music]
If you are a fan of Free, Bad Company, The Firm but mostly Paul Rodgers - you will not be disappointed.
This band is strong - the drummer: looks like a 40 ton truck and plays like he's digging another Channel Tunnel - lead guitar: this man is frightening! Loose yourself, like I did, when the solo to 'The Hunter' comes along, but get back to reality and enjoy the show - bass man: has to be the coolest guy on stage [bar one!] rock steady, the way he should be.
The great thing about a show in Liverpool is that the whole audience fancies itself as a rockstar - the vocals came from the stage - yet the backing was from the stalls - circle - balcony!
Well that's about it - yes there where some startling omissions from the playlist, but I sure that's how a guy stays fresh - and it was great to hear some tracks that I have never heard live in the past 25 years!
Roll on Newcastle this Friday - I won't be there, I'm not made of money - but I bet it'll be one hell of a show - Tynesiders sing your guts out!
---
Review by Mark Rushton
What a show. No disrespect to previous bands, but Rodgers now has a band worthy of his voice. They both look AND sound good. 'My Brother Jake'!!!!!!!!!!!! what a song. No 'Mr.Big' or Can't Get Enough', but still an excellent set. More dates with this band PLEASE.
---
Wolverhampton, England
February 12, 2001
Review by Paul Quinton
Hi to all fans of The Man. I was lucky enough to be at the opening show of the UK tour last night, and please do yourself a favour and see this show. I don't want to spoil things for you, but the set list is a shade off the wall, with some surprising omissions more than made up for by some more than welcome delves into the back catalogue. Speaking personally I was overjoyed to hear 'My Brother Jake' again, 'Radioactive' was a joy and we got an awe-inspiring rendition of 'Bad Company'. And what about set-opener 'Burning Sky'? I could go on and on, but mere words...
Just one tiny request, next time, is there any chance 'Easy on my Soul' could be dusted off? Paul Rodgers remains the one I judge all other rock singers against.
I've been a fan for 30+ years now and he still delivers a sound like Molten Gold.
---
Review by Matt Croxall
I went to see Paul on the opening night of his UK tour in Wolverhampton. The show was good - he played a LOT of Bad Company material (although no Feel Like Making Love) - about 60%, and only Deep Blue and Muddy Water Blues from his solo career. I was surprised at some of the Free stuff he played as well - Ride On Pony and My Brother Jake made surprise inclusions in the set.
Highlights were definitely Seagull, Ride On Pony, Can't Get Enough, Bad Company, Fire And Water and obviously All Right Now.
Paul was awesome - his performance was stunning, but I wasn't all that impressed with the band - he's missing Geoff Whitehorn on guitar badly - I've been listening to the live album he did in Germany, and Geoff is a better guitarist than the new guy...
I was pretty disappointed with the band all round really - the drummer is good, without being awesome, and as I said the guitarist is unremarkable. The bassist was the biggest disappointment - he wasn't anything like as good as Andy Fraser, but to be fair, the sound didn't help him enourmously as the bass was too low in the mix.
Still, all in all the gig was brilliant - Paul was superb, and I would go again tommorow if I had the chance.
---