Rock to the Rescue - Cleveland
October 20, 2002
From Josephine
The Gund Arena in Cleveland, Ohio was the setting for the Rock to the Rescue charity concert on Sunday, Oct. 20, 2002. The show benefited the Port Authority Police Benevolent Association and the Rock and Roll Hall of Fame Educational Fund.
Organized by Tommy Shaw of Styx, the show began at 4:30pm and lasted until almost midnight. It showcased the talents of numerous performers, including John Waite, Jack Blades (of Damn Yankees and Night Ranger), Mark Farner (of Grand Funk Railroad), Eddie Money, Sam Moore (of Sam and Dave), Survivor, and Edgar Winter among many others who I know I'm forgetting. The headlining acts were Foreigner, REO Speedwagon, Styx and our own Bad Company. The act that got the most response from the audience was, in my humble opinion, Bad Company! They started out with Joe Fabulous and played a limited set including Rock 'n Roll Fantasy with the Beatles medley, Bad Company and All Right Now. Paul, Simon, Dave and Jaz rocked the house, and you could see a lot of the other performers standing by the side of the stage in complete awe of their performance. The entire audience was up, singing and dancing along to the music, and they stayed that way for Bad Company's whole set. Way to go guys!!
Altogether it was a great night filled with more music and entertainment than I could ever imagine. An amazing group of performers and a great cause. If the tradition continues and they do it again next year, I'll definitely plan to be there!
---
From Jo Ellen
I saw Bad Co. at Gund Arena 10/20/02, Rock to the Rescue Benefit---as usual they were outstanding--the oh too short performance was made even better when I was lucky enough to get a kiss from Paul Rodgers!! I was also too damn honest and turned my camera into security--alas I was unable to get a picture of that special moment. Is there anyone out there who was there and might have taken a picture??? I would be so grateful for a snapshot of that kiss. Please let me know!!
---
London-Birmingham-Top of the Pops
September 20, 2002
Photographs © 2002 Lucy Piller
From Steve
Some thirty-four years ago and against my better judgement, I was dragged out to a gig one dark, wet and windy wintry night. As a blues fan, I was persuaded to go and see Edgar Broughton and a number of other acts including a band I had never heard of, Free.
Since that night, one way and another, Free, Bad Company and Paul Rodgers have hardly ever been off my turntable, or, more latterly,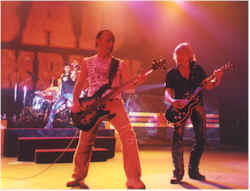 out of my DVD player. I always go and see Paul Rodger's whenever he plays the UK and in the past few years I have kept up with the news through "allrightnow.com". I was so pleased when the recent UK tour was announced and as soon as the tickets went on sale I bought eleven tickets for the London gig and just for good measure, I bought one for myself to go to the Birmingham show.
It was about this time that I met Lucy Piller on line and gradually over the following months, we chatted and realised that in the late sixties and early seventies, we must have been at some of the same Free gigs in England. Another coincidence was that Lucy lives in Atlanta, where I occasionally visit on business.
When Lucy told me she was coming to the London show, we arranged to meet. At the time, I did not realise that it would eventually lead to one of the best weeks ever. The London Show was on the Friday and I went along with my wife and nine other friends. It was everything I expected; Bôa was the opening support act. I have seen them before and I thought that they performed a much better set than I had seen previously. However, Bad Company had the place rocking from the opening number, Joe Fabulous to the last, a Paul Rodgers solo of Seagull, one of my favourites. Mick Ralphs also joined them on stage, what a bonus. With seats down at the front near the stage, I could not have asked for more. My ears were ringing for days.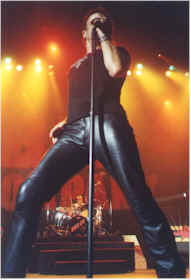 Before the show and as arranged I had met Lucy. As she had queues of people lining up to say "hello," we agreed to meet at Birmingham the following Wednesday. Birmingham is about one hundred miles away so I had booked myself into a hotel for the night. I met Lucy in the venue and she produced two surprises for me, a backstage pass and also told me that she had a ticket for me to see Bad Company performing at the BBC live on Top of The Pops 2 the following night.
The Birmingham show was as good as the one in London, if not a little better; it was the same set, but it seemed to flow more. After, I went backstage, unfortunately Paul had gone, but the rest of the band stayed around and chatted. Lucy also introduced me to another fan, Gordon from Glasgow, and we all repaired to the hotel for a drink and something to eat and we chatted into the small hours.
For me, one of the nicest things that evening was to meet a group of people who all felt the same as me about the music and had a deep and abiding passion for it. I had never met anyone who knew how I felt about the music and it was just terrific to spend several hours with people who shared the same understanding.
The next day, Thursday, Lucy and I drove down to London chatting all the way and we listened to Free - Tons of Sobs - The Law and many others as we made our way to the BBC studios. Many will know Top of the Pops as the UK's weekly chart show. There is also a spin-off TOTP2 which is a retrospective of past acts over the years and although I catch it occasionally I have never been aware of anyone performing live for TOTP2, I may be wrong, but I would not be surprised if Bad Company were not the first ones to do so.
Anyway, two amazing events occurred that day, the first was Lucy introduced me to Paul Rodgers. He shook my hand! Amazing! My job ensures that virtually every week, I undertake presentations to senior directors and business people in some of the UK's largest corporations and institutions, yet meeting Paul Rodgers; I was reduced to a gibbering, stuttered "pleased to meet you". A man whose career I have followed for over thirty years; a man of whom I have collected just about everything he has ever recorded. A man I would love to sit down and talk to and ask so many questions. Still, he was in a hurry, they were due on stage at 7.10 and it was 6.55!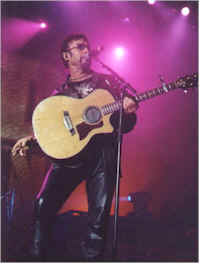 That day also bought about another amazing coincidence. I have a very close friend, and colleague, who I have known for many, many years Tony. Tony has two sons, Matt and Ben who have tried and tried for years and years to make it in the music industry. Record deals, albums and singles have come and gone with little success; so a few months ago they decided to stop trying for chart success and concentrate on writing. Matt wrote a song for a car advert and that turned into a single and the day I was at TOTP with Lucy, so was Tony who was there to see Matt performing his song which had gone straight into the charts at Number 7. The song is called "Strange And Beautiful" and Matt's band is "Aqualung". The last time I checked his album was number 14. Of all the times and places to meet Tony, it was an incredible coincidence.
Bad Company performed three songs, Joe Fabulous, Feel Like Making Love and Rock and Roll Star. It was a stunning performance that was shown last week on British TV although they only aired the first two songs. I have videoed it and a copy will be on its way to Lucy who can just about be seen in the front as ever!
All in all, it was week that I will not forget. Many thanks for everything Lucy and hopefully, I will see you again in a few weeks time as both my wife Gill and I are scheduled to be in Atlanta on business.
---
London, England
September 20, 2002
From Marci
The London Hammersmith Apollo was the amazing setting for a Bad Company concert on Sept. 20, 2002. I had flown in from Toronto, Canada for 3 shows and each one was uniquely special. For this one I had managed to get to a seat in front row, dead center and was really looking forward to the show. The guys did not disappoint me from the minute they took the stage!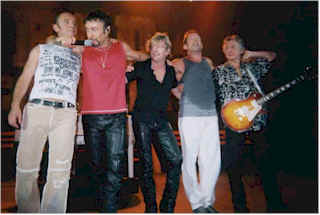 The crowd was on it's feet from the second Joe Fabulous started until the ending chords of the encore of Seagull. They played all of my favorites, old and new, including Wishing Well, Fire and Water, Rock 'n Roll Fantasy, All Right Now, Shooting Star and Feel Like Makin' Love along with so many more. Paul Rodgers, Simon Kirke, Dave Colwell and Jazz Lochrie are just fantastic at keeping everyone up and dancing for the entire show.
One of the highlights of the show was when Mick Ralphs came out as a special guest and played with the band! We had been lucky enough to meet him outside the venue before the show, so we were hoping they would do something like that. The roar of the crowd was downright deafening as he appeared. It was a thrilling experience to see and hear all of that talent on one stage.
After the show, we were allowed to stay in the theater and meet the guys. I felt so fortunate to be able to say hi to all of them and have photos taken as well. It was the perfect ending to a fantastic night and one I will not forget for a long time.
---
Glasgow, Scotland
September 18, 2002
From Donna

On Wednesday, September 18th I had the absolutely amazing opportunity to attend the Bad Company performance at the Glasgow Clyde Auditorium in Glasgow, Scotland. (The venue is apparently referred to locally as the Armadillo due to it's interesting architecture, and indeed, it did look like an armadillo.) My traveling buddy, Marci, and I had traveled from Toronto, Canada to see this show and I felt like the excitement was going to be too much to handle at times! It was almost unreal.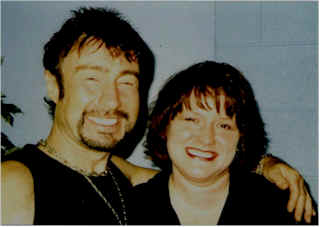 We arrived at the show and found our seats, waiting almost patiently for the show to begin. Boa took the stage and really wowed me! I had never heard them before, but over the next couple of days I found myself humming a few of their tunes. Hopefully we'll hear more of them in the near future.
And now it was Bad Company time! The crowd surged to it's feet with the opening notes of Joe Fabulous and there was no stopping them after that. This is quickly becoming one of my favorite Bad Company songs-I catch myself singing it quite frequently. I know there is no way I could possibly remember the set-list, but they did play all of the old favorites like All Right Now, Shooting Star, Rock Steady, Can't Get Enough, Feel Like Makin' Love, Movin' On (quickly becoming my theme song), Rock 'n Roll Fantasy and Youngblood. The encore was, of course, Running with the Pack and Bad Company. Then Paul came back out by himself and played Seagull. Absolutely amazing. Not only did the entire band sound fantastic, they looked like they were having a fabulous time up on the stage. Paul Rodgers-what can I say? He is absolutely incredible. The voice and the talent are matchless. Simon Kirke is like a man possessed behind those drums. Jaz Lochrie is very quickly converting me to a bass-fan and Dave Colwell looks like he plays for all his worth up there. They all seem to play off of each other very well. The concert was everything I had hoped it would be!
After the show proved to be just as exciting! I was actually going to be able to go backstage and meet the band. I'm still not quite sure how I kept myself from just bursting with excitement! We were escorted to a room with about 15 other people and asked to wait. After about 10 minutes, Simon came in and we had the opportunity to talk to him, have him sign a few things and have a photo taken with him. What a sweetheart of a person! Jaz quickly followed him so we took advantage of that photo opportunity too. Dave came in after that and we unfortunately only had a brief moment to say hi. And then Paul came in. Wow! I find this difficult to describe. He was just the sweetest, most gentlemanly person you could meet. He made you feel comfortable talking to him. Hopefully I didn't actually sound like the complete blubbering fool I felt like! He even signed a few things and posed for a photo.
All too soon, the evening came to an end. It will be one I treasure for years to come though. I met the most wonderful people on this trip and I think made a few friends that I will definitely keep in touch with! My most heart-felt thank you to everyone for making this such a wonderful and memorable experience!!!!
---
Atlanta Motor Speedway
July 19, 2002
From Marci
Harley Davidson 100th Anniversary (Private Show)
I waited 20 years for a weekend like this… and it was well worth the wait.
The theme for this weekend could have been "Hurry up and wait." My anticipation was so intense that just getting to Atlanta was quite the task.
There I was going up on a very long escalator with a large sign over my head saying "Welcome to Atlanta"…..I had finally made it, now to find my hosts for the weekend. I streamlined through the airport and found them with great ease, or they found me. It could have been the beaming smile and excitement exuding from every pore in my body. I was one step closer to seeing "Bad Company" in concert, at a very exclusive engagement the very next night. I had been offered this opportunity by some media contacts that I had in Toronto, Canada. When I had discussed my good fortune with Lucy, she was kind enough to offer me a place to stay. Wow, not only was I going to be allowed into see the show (as I was not part of the Harley Davidson Clan), but I was going to have the opportunity to meet the boys before and after the show, AND I was invited to spend the weekend with Lucy, her family and another big Bad Company fan. What more could I ask for?
When we finally got to Lucy and Robert's home, it was quite late. So off to bed we went in order to be wide awake for the next day's events….the Bad Company Concert! My "roomie" was Irene, a very sweet fan from Upper Michigan. I must admit, we did chat for some time about what was in store for the next few days, as well as our thoughts on "The Voice", but we soon drifted off into dream land.
It was Friday morning, and I awoke to Paul Rodgers staring right at me…posters of course! Lucy had put Irene and me in her guest room, which she called the "Paul Rodgers" room, due to the fact that there were posters of him spread throughout the room. What a way to make a fan feel right at home! We all grabbed a quick bite and then scurried off to get ready for the show.
I do not know if it is just me, but it took me forever to decide what the perfect outfit for such an exciting event would be. I decided on a black sundress…black… something I learned was a big mistake in 100 degree Atlanta weather…but I survived! After we were all ready to go, we jumped into the car and headed off to the venue.
When we arrived, we were overcome by a sea of motorcycles that covered the majority of the front entrance. We parked the car and picked up the tickets and passes that had been left for us. My stomach was turning with excitement at this point. I could not believe, I was there, so far from home, and so far everything was going like a charm. Things could not be better.
We walked into the venue and because we had our passes on, we were able to go into the backstage area right away. There was a tent set up with sofas and tables and a beverage cooler full of nice cold drinks…we quickly helped ourselves…as it was so incredibly hot, a drink was exactly what we needed. We made ourselves comfortable on the sofa and just talked amongst ourselves.
A few minutes into our conversation we were greeted by Bucket, Jaz, and Simon. They were all very sweet and spent quite a bit of time with us discussing all sorts of fun topics! I took some pictures to capture the memories forever. I must have been smiling from ear to ear, I can still remember how excited and nervous I was all at the same time. They eventually all had to leave and get ready for the show. Irene and I, quickly made our way to grab the best spot we could to catch the show. We managed to get dead centre, about one row back….not bad considering people had been staking their spots from hours before.
The show finally was beginning.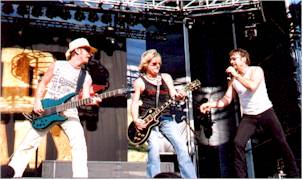 There was Paul, Simon, Jaz, and Bucket….taking over the stage with such ease. This was the moment I had been waiting for. The crowd started cheering as the first few beats of "Joe Fabulous" echoed throughout the venue. The band was pumped and carried the audience through mega hit after mega hit, with some special added bonuses. On top of the classics like Rock and Roll Fantasy, Feel like Making Love, Shooting Star, Rock Steady, and Bad Company, the band through in a couple of surprises. They added Honey Child to the set list, which has always been a favourite of mine, so this really was quite the treat for me. What a show it was! The band was in fine form, but I have to be honest, I can not say I have ever seen anything but a great show from these guys…..this show was worth noting as one of the best however!
The show unfortunately had to come to an end. I was a little sad that it was over, but then I realized there was still more excitement to come. We once again headed backstage.
By this time, I was nervous…I knew what was going to happen and I wasn't sure if I was ready for it. I had been waiting for 20 years to have the opportunity to meet Paul Rodgers and it was going to happen within minutes. The rest of the band seemed to appear almost all at once. Simon, surprised me with a set of drum sticks as a souvenir. I had mentioned that I was not lucky enough to catch one at any of the shows I had been to, earlier in the day. I took more pictures of all the guys and of Lucy, Robert and Irene. I really didn't want to forget anything about this amazing experience.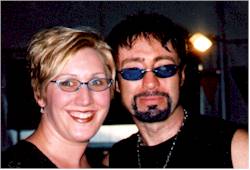 Then Paul arrived. I was almost frozen with excitement. Lucy spoke with him for a few moments and then he made his way over to me. I was so nervous, but was quickly able to get it together and have a really pleasant conversation with him. I found it amazing that before I could say anything, he told me that he had seen me at many shows. That was so incredible to me, that he had noticed me amongst other fans. Meeting Paul was everything I had ever hoped it would be and more. He was kind, and considerate and very funny. We took some pictures together and he signed some things for me as well. He then unfortunately had to leave, but wished us all well.
From that point on, I was walking on a cloud. The ride home was the perfect way to end a fabulous day. We jumped in to Lucy and Robert's convertible, rolled down the top and drove home with the wind blowing through our hair, Bad Company tunes on the radio and the best memories running through my head over and over again.
---
Clio Amphitheater - Clio, Michigan
July 13, 2002
From Marci
This was a show to remember! First off, what a place to catch the boys. Clio Amphitheater captured the intimacy of a small club, and the rush of a large theater....the best of both worlds. There wasn't a bad seat in the house.
The music started and an overwhelming enthusiasm took over the audience. People were jumping to their feet and cheering as Paul, Jaz, Simon, and Bucket took over the stage.
The band was in fine form, guiding the crowd through hit after hit AND some great new surprises. It was an evening full of "interactive" sing-a-longs. Paul had a captivated audience. He took advantage of the thousands of vocal chords that echoed with excitment and approval.
Musical highlights included "Fire and Water", Rock and Roll Fantasy", "Bad Company", and an elongated version of "All Right Now", which drove the fans crazy!
It is also worth mentioning, that the stage lighting was fantastic. The crew seems to have begun to incorporate special lighting techniques in with the entire stage show. The lights meshed well with the musical idiosyncracies, only making the impact on the audience even more intense.
Overall, this show was spectacular! I believe the strength and power of Bad Company's performance, coupled with a truly acceptional venue and atmosphere, made this show, one for the books!
---
Merriweather Post Pavillion
June 14, 2002
From Dave McKenna, The Washington Post
Merriweather Post Pavilion had a Jurassic Park feel on Friday night. Two of the brawniest dinosaurs of hard rock's heyday, Bad Company and Foreigner, roamed the grounds.
Coincidentally, 25 years ago this month, both groups came through Washington on separate tours at the Capital Centre. Bad Company was the sturdier of the two then -- it headlined a two-night stand, Foreigner just one -- and so it remains.
In the '70s, Bad Company could count even some rock snobs among its followers despite its low-aiming lyrics. There were two reasons: The band was the first outside act signed to Led Zeppelin's record label, Swan Song, and it had Paul Rodgers, the most soulful throat in classic rock.
The songs remain the same, and as he showed at Merriweather, so does Rodgers, with an incredible voice and star quality. Looking buff and happy in tight leather pants and a T-shirt, the singer brought the mostly middle-aged crowd back to its collective adolescence with fist-pumping reproductions of nearly all the FM staples from his band's endearingly lunkheaded catalogue: "Feel Like Makin' Love," "Ready for Love," "Shooting Star," "Simple Man" and, of course, "Bad Company." And to let folks imagine what might have been if only the rock gods had hooked him up with a higher-aiming bunch, Rodgers threw snippets of blues standards into many tunes and even coaxed his band into playing the Beatles' "Ticket to Ride" and "I Feel Fine."
Foreigner, sadly, hasn't aged so swell. Vocalist and onetime heartthrob Lou Gramm appeared bloated and uncomfortable throughout his opening set, and sweated through "Feels Like the First Time."
It didn't feel like the first time at all -- and it sounded as if it should be the last.
---
From Chuck
Foreigner opened the show and the band still has it! Sorry to say Lou Gramm doesn't. His voice seems to be shot. You really have to feel for the chap, he was trying his best but certain notes seem to be out of his reach. Foreigner performed a 90 minute set filled with the hits and was well received by the crowd despite Lou Gramm's struggling to hit the notes. He has to get an 'A' for effort though.
After a 30 minute intermission the lights lowered the lads made their way to the stage and leapt into "Joe Fabulous". Rodgers looked in magnificent shape and possessing a voice to kill for. "Can't Get Enough" and "Rock Steady" follow sequenced just like the debut album. By now Paul has the crowd eating out of his hand. The man can write the book on "stage presence"! "Feel Like Making Love" is next and the crowd settles down a wee bit, that is until the end of the song and once again, everyone is on their feet. "Saving Grace" is a welcome addition to the Bad Company catalogue of songs (but I personally favour the "Now" version). Two surprises of the night were "Simple Man" and "Youngblood" (I certainly didn't expect them!). It was a real thrill for me to hear "All Right Now" done by one-half of Free (Simon is truly a dynamic drummer!). The encore consisted of "Bad Company" and "Run With The Pack" (two faves). All in all, it was money well worth spent and Paul and Company delivered the goods!
Set list (as far as I can remember as I didn't have a pen and notepad with me):
Joe Fabulous
Can't Get Enough
Rock Steady
Feel Like Making Love
Movin' On
Saving Grace
Simple Man
Youngblood
Ready For Love
Rock 'n' Roll Fantasy (with the now familar Beatles medley included)
Shooting Star
All Right Now
Bad Company
Run With The Pack
---
Darien Lake Performing Arts Center
June 8, 2002
From Shelley
My husband and I had 8th row seats to what turned out to be an explosive evening, to say the least, thanks to the amazing talents of Paul Rodgers, along with Simon Kirke, Jaz Lochrie, and Dave Colwell.
We arrived early so we could take advantage of the magnificent day and tailgate with the rest of the eager concert goers. We took our seats a few minutes before Joe Bonamassa came on. We weren't familiar with his music, but after a short time, could see that he will undoubtedly have a bright future. He grabbed the attention of the audience quite quickly. Of course, we were on the edge of our seats waiting for The Merchants of Cool, and out they came, a short time later, proving without a doubt, that's exactly what they are.
Paul Rodgers never ceases to amaze, he is the epitome of rock singer, and is unequalled when it comes to stage persona and vocal delivery, as always, he had the audience in the palm of his hand within seconds. Simon Kirke handles himself like no other, he and Paul have such a history together, it's as if every beat of his drums was in tune with Paul's words. Jaz Lochrie is a well chosen addition, he also seemed to just naturally mesh with the rest of the band. Last but not least, Mr. Dave Colwell, who plays his heart out for the fans.
We never stopped dancing and screaming for more, during Bad Company's approximately 1 ? hour set, which included 2 encores. Set list included:
Joe Fabulous-Great Tune
Simple Man-A real treat
Saving Grace, from Now & Live-Awesome
Rock and Roll Fantasy-Always is
Shooting Star
Youngblood
All Right Now
Bad Company
Run With the Pack
I know there were a few more, but I was so caught up in the excitement, as always happens at Bad Company shows, I can't recall all of them. We could have listened all night to Paul and gang, it was truly amazing. The energy they exhibited onstage was truly inspiring, from the moment they all ran out, they seemed primed and ready to tear the roof off of the place, which they did. With all due respect to Foreigner, the day will never come when anyone can follow Paul Rodgers onstage, it is his domain, he is the unequivocal king of rock vocalists and musical nuance, long may he reign.
---
From Patricia
"On Saturday June 08th 2002 I went to see Bad Company and Foreigner at Darien Lake Amphitheatre in Buffalo New York. It had been over eight years since I'd seen Paul Rodgers perform live, and I could hardly contain my excitement over the 2 hour trek from Toronto, Canada. The Darien Lake Amphitheatre is an outdoor venue under a large tent roof within an amusement park. We have something similar to this north of Toronto called Kingswood Music Theatre, in Paramount Canada's Wonderland. The crowd was a great mix of young and old, parents with their children, teenagers?all walks of life. They began gathering early, around 7:00 p.m., and it was still bright and sunny outside when the opening act (I think it was "John Balladamenti" or something like that) finished up. I felt that it was a little slow for the crowd to get into the "concert" mood. Maybe it was being outdoors, maybe it was the sunshine or the noise and screams from the rides in the park, but the crowd seemed very mellow, just mulling about looking for their seats?not really expectant of anything until?
Suddenly someone announced "Paul Rodgers and Bad Company" and a burst of energy surged through the crowd. It was like everyone got a simultaneous shot in the arm. Paul literally bounded on stage, and the band dived into a rousing "Joe Fabulous", their new song off the new album. And it is fabulous. The song has the same devil-may-care attitude of songs like "Bad Company" and "Rock Steady". Immediately the crowd was infused and started bopping to the music. They followed with "Can't Get Enough" which is an automatic crowd pleaser, and within two songs the whole atmosphere had changed completely. The crowd was on their feet, dancing, singing along and calling out for more. But the mood of the crowd could not match the boundless energy that was Paul Rodgers. First of all, he looked amazing. In a lime green tank top and black leather pants, he looked the consummate rock star, tossing the mike stand in the air, jumping from one end of the stage to the other?it was incredible. He looked so good, so young, so full of life. I tell you, I saw Paul Rodgers on his "Hits" tour in 1994 and I saw Bad Company with Robert Hart in the mid-90s, but to see Paul Rodgers with that Bad Company banner draped behind him, is the most incredible sight imaginable. Its what rock and roll is all about. Paul's voice was the most extraordinary part; by far the strongest instrument on stage. He hit every note with ease, singing songs like "Ready for Love" and "Seagull" with gut-wrenching passion that reached the farthest seats.
By the time they played "Shooting Star", Paul Rodgers had Darien Theatre eating out of the palm of his hand. The crowd happily sang along, and the hour that Bad Company was on stage seemed mere minutes. It is undeniable fact that Paul Rodgers voice gets better and better as the years go by. Bad Company were in way better shape and more impressive than Foreigner that were headlining! When Paul left the stage people were calling out in the audience, "Don't go! Don't go!" It was amazing. It was well worth the long drive and staying overnight in a crappy hotel."
---
Cleveland
June 7, 2002
From Marci
This was the night that Cleveland's Tower City Amphitheatre rocked like it never had and never will again, unless of course, Paul Rodgers and Bad Company hit the stage again for another magical night of endless soul full rock music.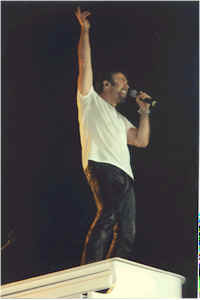 It took the crowd no time at all to get to their feet, chant sing, and dance as the first few chords of "Joe Fabulous" echoed throughout the theatre. The band exuded high energy and we knew we were in for a good party, and what a party it was!
Paul's vocals were strong and powerful. Jazz, Simon, and Dave had no problem keeping up. All together the band led the crowd through one and a half hours, jammed packed with hit after hit. Highlights include a super medley of "Rock and Roll Fantasy" only complimented by verses of The Beatles "Ticket to Ride" and "I Feel Fine". For die hard fans, "Silver, Blue and Gold" and "Simple Man" provoked strained vocal chords and I am sure, some great memories. I can not go with out mentioning the staples?"Bad Company", "Running with the Pack", "Rock Steady" and "Deal with a Preacher", all were great live songs, that the show would not have been complete without.
The show lacked nothing?except for another two or three hours, which I could have easily gone for. If you haven't had the opportunity to see this tour yet, you undoubtedly have much to look forward too! If you had not planned on seeing it?make the effort. It is worth every penny and all the co-ordination time you will spend just getting there. If you have seen the show?go again?good times like these do not come often!
What a show!!! Paul, Simon, Dave and Jazz?Thank you! And see you soon!
---
Las Vegas
June 1, 2002
From Lisa
Bad Company came on last, after a menagerie of classic rock artists, but most definitely, not least! After a day of fun in the HOT sun here in Las Vegas, 108 to be exact, they were well worth the wait! They opened with the new "Joe Fabulous" and rocked on from there!
They did an excellent rendition of a Beatles medley which can also be heard on the new "Merchants Of Cool" Cd, which, by the way is AWESOME! My friend from the local classic rock radio station KKLZ, gave me VIP passes, but another friend was able to get me "BAD COMPANY" backstage passes! But when the Bad Boys came off stage, to my dismay, they LITERALLY got off the stage and went right into the van ... "Movin' On", so to speak. Their tour manager, a VERY nice person, gave my friend and I an autographed photo of the band, which has a really cool sepia effect, a truly magnificent photo, they look FABULOUS! Even though we were unable to meet up with the band after the show we still had a wonderful time listening to the Bands' hard driving, can't get enough of, timeless, ROCK AND ROLL!!!
Thanks guys for another great show in Vegas. Hope to see you again soon!
---
Las Vegas - January 26, 2002
Highland, California - January 27
From Lucy
Hi everyone! Sorry about the delay with the updates, this is because we were at two shows on the West Coast. We had a blast at these two shows. I think Paul's performance was the best ever. The new line up with Jaz Lochrie is awesome. Paul was so excited during these two shows. And he looked like he was enjoying every moment of it. I had met a lot of super fans during this mini trip.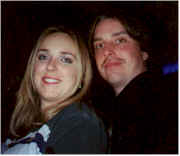 First a big THANK YOU to Craig and Kelly, they had front spot at the first show and for some reason decided to let me through to the stage. Maybe they thought this old women needed to be closer to the stage in case her eyes were not too good. Then I met Jean & Jandie who were dating back in the 70s and are now re-united. What a great couple they are. Christian Turner was not performing at the Las Vegas show, real shame as the guys who opened up for Bad Co were rather dull!! But the Bad Company show was terrific. Don't ask me what they played because I can't remember I was so excited. All I know is they did a fine job.
The next evening was in Highland near San Bernardino.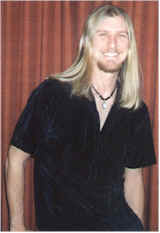 Now at this show Christian did play, and how good he was, he and his dad performed with a lot of soul and fire. Bad Company once again played an amazing show. The audience were a little slow to get going but once Paul invited the crowd to get up, they flew to the stage. Women dancing all over the place. Paul also came off the stage and walked on our tables shaking hands with the fans.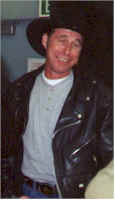 It was just electric!!!!!! I so much wanted to attend the Anaheim show but we had to return to Atlanta. I enjoyed the shows so much. It's amazing how many days the buzz stays with you ..... I know you all know what I mean. Oh by the way ..... must tell you this its so funny ........ One of the fans at the Highland show from the back looked like Paul Rodgers, then I saw his profile and thought OH MY GOD it must be his brother then I saw the guys eyes .... well that did it, I had to tell him who I thought he looked like. His name is Robert Lewis, now tell me: What do you think??
Have a peek at the photo gallery for more pictures of Bad Company. I plan to be in the chatroom this Sunday to talk about the shows.
So maybe drop in. Bye for now.
LUCY
---
Buffalo, New York
July 8, 2001
From Lauren Silveri
More, More, More!!!
On Sunday, July 8, Bad Company rocked Darien Lake's Performing Arts Center providing us with the rock and roll fix we needed so bad.
The boys tore right into it with "Ain't it Good" from the Anthology CD and the crowd immediately went wild.
It was a giant sing-a-long with many of our favorites including All Right Now, Shooting Star, Can't Get Enough, Run with the Pack, and Rock and Roll Fantasy.
We also enjoyed tributes to Muddy Waters, John Lee Hooker, and the Beatles.
Paul and the band seemed to be having as much fun as the audience!
The band was in excellent form and Paul, as always, was the true performer. No one can ever match the way Paul's soul shines through his music. The voice that has taken many of us from youth to adulthood and everywhere in between, continues to lure new generations.
We only wish the band could have played longer.
---
From Kevin Carpenter
The year was 1979, during the summer, when I first felt the intensity of Bad Company live, Rock n Roll live.The musical experience was unforgettable and unbelieveable. Since that time, I've followed every state of the band joyfully.
They walked onstage and it was cool to anticipate the new members and their playing, knowing veterans of rock ready to dish it out. 'Aint it good' was the opener and it kicked started the set and it only got hotter from there.'Can't get enough, feel like makin' love, and shooting star' got the groove going, got us dancing and singing on our seats. After that it was time to chill and dig some truly excellent guitar work and vocals from the lads lookin tan rested and happy. But not happy enough to shed the blues and soak us with 'Muddy Water blues, do right by your woman, and ready for love'. A respectful dedication to John Lee Hooker made us smile and hold hands and boogie to 'boom, boom' with Paul Rodgers blowing a mean harp and simply working, taking care of that awesome vocal range of his.
'Rock n Roll Fantasy' was spiced up a bit with a nice Beatles medley. The place was going pretty wild with the show . 'All right now' was righteously justified as drummer Simon Kirke and Rodgers go way back when they started in another great band of theirs, Free. The bass in this tune certainly thumped and bumped the entire city of Boston, thanks to Rick Wills. The encore brought us full circle to 'Bad Company', with rising piano and a hearty version of their signature tune, with a triumphant Paul standing on top of the smokin' keys getting the crowd jumping and shouting , waving fists and reminding me of the time I saw them in 79.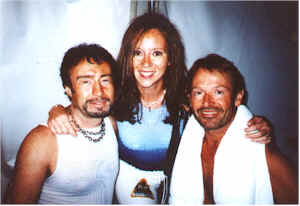 Only back then I'm pretty sure they opened with it and he was wearing shades, leather jacket but still singing with same urgent conviction. Dave 'Bucket' Colwell would have made Mick Ralphs and Paul Kossoff proud. Bucket is a true renegade guitar slinger.
As I mentioned, 'ready for love' really tore it up for a closer but sad nonetheless leaving us hungry for more. Until next time keep rockin brothers. My wife Dawn and I were absolutely enchanted and so very grateful and honored to meet and greet the band and say hi once again. Many thanks to Lucy, the management and Paul, Simon, Rick & Dave for taking the time and hanging out with us, it means so much to the hardcore fans and it's our thanks for the great music.
---
Atlanta, Georgia
June 21, 2001
From Lucy
Well, this was well worth the wait. BAD COMPANY really were rocking!!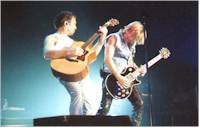 Great stage set, Rick Wills and Dave "Bucket" Cowell did a fantastic job, as I predicted. After seeing both guys perform so many times with Bad Co, I knew they would just fit like a glove. Here the song list as far as I can remember: So Good, Can't Get Enough, Feel Like Making Love, Shooting Star, Do Right By Your Woman, Muddy Water Blues, Rock'n'Roll Fantasy, All Right Now, Bad Company, Ready For Love.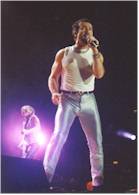 Like so many other fans, I was so overwhelmed with seeing the band, then of course with so many fans wishing to meet the band for autographs everything worked wonderful. The band was so gracious backstage to the fans.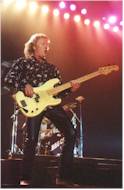 Rick and Dave are having a blast and enjoying every moment. Simon looked terrrific. And played amazingly. Paul, need I say, was an angel in the sky. Singing with such perfection. I couldn't believe he played the harmonica, wow, I hadn't seen that since he was in Free. Hope he does it more often. That was a real treat. And lastly to the fans. Such patience all of you. You are all so devoted and the band asked me, are these the die-hard PR fans and I said Yep! You got it. If you haven't seen the band yet, don't worry, you will be very satisfied like all the other fans.
See more pictures in the Photo Gallery.
---
From Al Mayer
BAD COMPANY!! The Hi-Fi Buys Amphitheatre hosted the BadCo/Styx/Billy Squire/Joe Stark tour and we were ready to go once again with the addition of my sister Julie and my son Nicholas. We got to the show during Billy Squire and proceeded to the front to meet up with other Allrightnow.Com attendees and our fearless leaders, Lucy and Rob! Our intention to hang out up front ended abruptly as a very large security guy told us to get back. In the old days, I probably would have put up more of a fight, but now that I'm older, wiser, and still smaller than the security people, I went back to my seat, just grateful to be there.
As the amphitheatre air got hotter and hotter, Bad Company took the stage with ...ain't it Good..."So Good", and on to one great hit after another. I really enjoyed the acoustic part of the show with "Do Right By Your Woman". That's always been a favorite of mine. On "Muddy Water Blues" the drums kicked in and got everybody rocking into a blues groove. And what a great treat to hear Simon banging out "All Right Now". The crowd was TOTALLY into it. The encores of "Ready For Love" and "Bad Company" brought an early end to a great show. Just as everyone has been commenting on Badcompany.com, the show could have gone another hour easy.
As soon as the lights went down for BadCo, we scurried out to the meet'n'greet area to shake hands with the band and get autographs. What an exciting time! Bucket and Rick were very kind, stating that they really noticed the hospitality of the south. Paul and Simon were also very accomodating, signing everything pushed in their direction! Many thanks to Lucy and Rob, to the Bad Co management, and to the band for an unforgetable evening!
---
From John & Angie
Well as promised here are a few pictures of our wonderful time backstage at the Salt Lake City show with the best rock&roll band ever, Bad Company. Keep in mind these pictures were taken with a disposable camera, so most did not turn out too well but these were the best of the set. Hope you all enjoy.
We are a couple in our late 20's who live in small town Wyoming. After meeting my wife 7 years ago we have remained big time Bad Co. fans, due to that one night cruising with Bad Co. playing loud in the car stereo when we expressed our love for each other for the first time. I don't know if it was fate or just some good luck that the song just happened to be (Feel Like Making Love). Now don't get me wrong, I have been a huge fan way before this. I remember my dad waking up on the weekends and putting Bad company in the stereo and playing it as loud as he could to get us kids out of bed. So Bad Company has been with me my whole life (all 27 years of it) hehehe. It is just awesome that me and my wife has now made memories for ourselves that have allot to do with Bad company. So getting to actually spend some time with the band backstage, and talking with them like they have been friends forever was just an experience that we will never forget.
That night Friday, May 25th, 2001 will be a night that we will cherish the rest of our lives. It all started with a few emails expressing our feelings and how much this would mean to us to get a chance at meeting the most awesome band in history. Well our trip started out on that Friday morning, after we went into work to get a few little things done. Around 9:00am we left work and started our journey from Wyoming to Salt Lake City, Utah. Being that we have been packed for 2 days prior. We arrived in Salt Lake with enough time to grab a bite to eat and head to the show. We went to the show trying not to have hi hopes (since there are never any promises with stuff like this) but it was hard to contain, hehehe.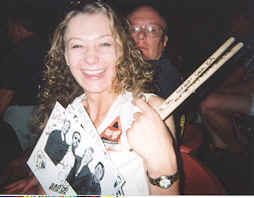 After walking about 4 city blocks from the parking area, our first stop was the ticket booth. As we walked up there with our fingers crossed I told the man my name and that we should be on the list for the Bad Company meeting after the show. Well he pulled out an envelope with our names on it and there they were, the Bad Co. backstage passes. We grabbed them and held onto them for dear life, being that this was our once in a lifetime chance to meet our band. We returned to our seats and watched the opening bands, which were great as well. After the lights came on and a beer later we were waiting for Paul and the guys to take center stage. The lights went dim and we seen the Bad Co. back drop open, when all the sudden the lights flashed and music started and there they were opening the show with the song Bad Company, we watched in awe for the first while, when a few songs later they started Shooting Star. That brought us out of out trance since the wife really loves that song as well. We stood the whole show and towards the end Paul comes out and starts singing Feel Like Making Love, this was the moment we were waiting for all night. We instantly got teary eyed and began to sing right along with him.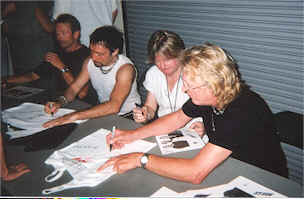 It was a time we will never forget. Around this time it was time for us to head over to the room to wait for them to take us back stage when the band was finished. As I hear Paul say good night, security was already leading us through the back. When we got to the meet and greet room STYX was in there, so we were told to hang out there for a minute.
Well while standing there Billy Squire walks right in front of us. I kind of made my wife embarrassed, cause I yelled at Billy since we could not move without being attacked by security. After yelling Billy a few times, he walked up to us and shook our hands and talked a little about where we were from and stuff like that. It was a pleasure to meet him. Well at this time STYX walked out and looked at us with a nod and a hello and kept on walking. Well it was finally time, security took us in this room and said it would be a few minutes.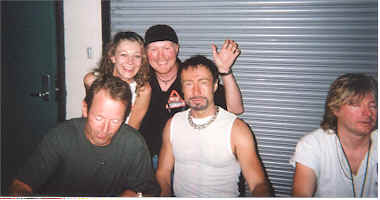 Well about 5 minutes later a guy came in looked around and left, right behind him walked in Paul, Simon, Bucket and Rick. I can't explain the feeling we had right then, here are the guy's that have done more for us than they will ever know, guys that will one day go down in history and we were in the same room with probably 5 other people. Talk about once in a lifetime, it was great to get to experience this. Well as I was taking some pictures, my wife was getting autographs on her shirt and posters we walked down the line chatting with them one on one. They all called us the newly weds since it was our anniversary. I had been planning on what to say for 2 weeks before the show if we did get to meet them and when it came right down to it I drew a blank, I had no words, hehehe. I remember thinking to myself just keep talking dumb or not just make conversation and I did, the wife was still in shock through the whole ordeal. I kept talking and when we got to Simon I asked a few questions and then let him know I was a drummer as well. At this time the tour guys was rushing us cause they had to get on the bus and move to the next lucky town. But anyway Simon told us to wait outside the door while he finished with the rest of the fans cause he had something for us.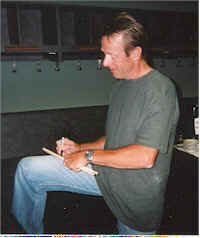 As we stood outside the security kept hassling us to leave the back stage area and I told them Simon told us to wait and I was not going nowhere, hehehe. Then Simon walked out and said "come with me", as we started to follow him we were grabbed by security again and Simon turned around and said "they're with me". Oh man! How cool is that? We went back to the green room, I guess you call it. He reached in his travel bag and pulled out a set of used drum sticks he had been carrying around with him. He sat there and signed them as I was still snapping pictures. So in this room was me, the wife, Simon and Bucket came in just then as well. So me and the wife in the same room with 2 members of the badest rock group in the world. Simon reached over and smooched my wife's cheek and gave us the drum sticks, I wish I would have been thinking a little more cause I would have asked for some guitar pics from Bucket for all my friends and co-workers that was just not going to believe this. But at the moment co-workers was the last thing I was thinking about, hehehe. Of course you have the what it's or the I should of said's but it turned out perfect. This was by far, the best show we have ever been to. We would just like to say to Lucy, Brad, Paul, Simon, Bucket and Rick thank you for everything and for being such down to earth people and taking the time for your fans. I hope we can do it again sometime!
Thanks, John and Angie.
---