---
Second guitarist named for The Shortlist
Roger has secured the services of guitarist Dave 'Bucket' Colwell to finalise the new line-up of The Shortlist for the forthcoming gigs in Europe. Dave comes with quite a pedigree, having been with Bad Company on and off for a number of years and also played with Samson, Humble Pie (with Bob Tench) & ASaP. He has also worked with Zak Starkey where he crossed paths with Micky Moody.
The full band line-up now reads:
Roger Chapman
Ian Gibbons (Keyboards)
John Lingwood (Drums)
Micky Moody (Guitar)
Dave 'Bucket' Colwell (Guitar)
Andy Hamilton (Sax etc)
Gary Twigg (Bass)
---
---
---
---
WHITLEY BAY Playhouse, Marine Avenue,

Whitley Bay, Tyne & Wear, England

Box Office Tel: (0191) 252 3505

THURS. 21 APRIL 7.30pm

Tickets £10
All the Hits… Layla, Wonderful Tonight,
Sunshine of Your Love, Cocaine,
I Shot The Sheriff, Crossroads,
Tears in Heaven and many more.

NEARLY 2 HOURS OF
CLASSIC CLAPTON

Visit our web-site:-
www.classic-clapton.com

Plus special guest for this one and only gig - Simon Kirke (legendary drummer of Free & Bad Company) performing an intimate set on guitar and piano, telling stories & singing songs from Free & Bad Company and introducing his own melodic songs
---
---
Dec 12th 2004
Ryhthm & Brews Club
Chattanooga Tennessee
About 10 mins ago Rob and I returned from Tennessee after going to see a Heavy Metal band named FOZZY.
Now don't get me wrong I am not a Heavy Metal fan at all, but my dear friend Michael Martin has just joined this band
and wanted me to see the show. Well I dont think I have had so much fun at a concert. I did have to wear my ear plugs for sure
with action and power music. I decided to stand at the front of the stage and take photos of this very photogenic band, and I am so
pleased I did.
IF you ever hear the band are playing near you, I highly recommend you go see this
very entertaining band. They sure make you smile.
Good Luck guys on your European tour.
Lucy
---
SIMON KIRKE

hits the road, taking time off from his newly founded

Rockstarz DVD project

"An Evening with Simon Kirke"

brings you an intimate show on guitar and piano, telling stories &

singing classics from Free & Bad Company and introducing

his own melodic songs

featuring

Larry Oakes (ex Foreigner + Bad Company) on guitar

This is Simon's 1st solo performance in the UK and Scotland

Don't miss it !!!

5 shows only
2005 Tour Dates An Evening with Simon Kirke
Fri 22nd April BEIN INN
Glenfarg Scotland Tickets
NOW ON SALE
Tickets available from the Bein Inn Tel. 01577 830216 or Goldrush Records in Perth
http://www.beininn.com/

Sat 23rd April BEIN INN Glenfarg Scotland Tickets NOW ON SALE Tickets available from the Bein Inn Tel. 01577 830216 or Goldrush Records in Perth

London show tba
---
---
Frank and Sue - Photo taken on their wedding day
Two Fans who met on our website. !!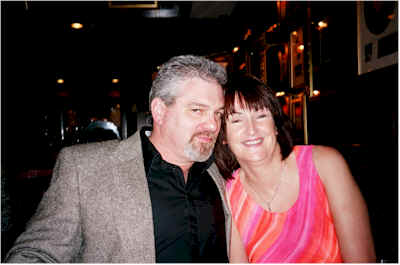 ---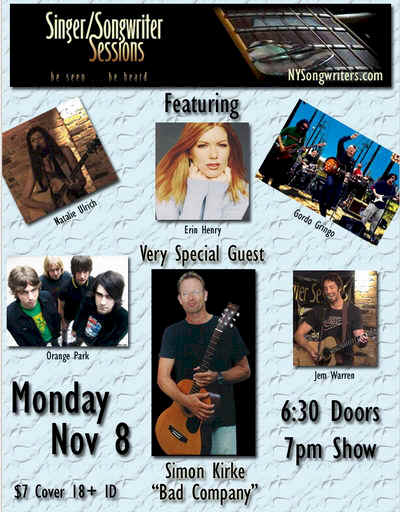 http://nysongwriters.com/index.html
cancelled
---
Mention Allrightnow.com if you visit the chat room
---
---
will be appearing at the
The Studio website
Set list is as follows
---
ICheck out the Who and Hendrix jingles too, way cool !!!!!
---
---
---
Visited David Kossoff with Simon Fowles and Izzie of FREED the tribute band
Camden Town shopping with Marty and Debra
Fender show Wembley, what an amazing evening.
were just outstanding. Had the ultimate pleasure of meeting
Went to hear Al's band Dazed & Confused
Al and Jo are good friends who I stay with in Central London
Went to hear Robin Bibi's band at the Torrington London, great show as always Robin
Also two friends of mine surprised me at the show
Michelle and Phillip, Thanks for coming to see me guys
Trip to Glasgow, visited the famous
Bein Inn. What a fantastic pub/venue, Its just
swamped with Free and Paul Rodgers photos everywhere.
David Mundell is sure a super host - see you again soon David, Thanks to Gordon for all the driving
Met Davy Arthur ( Frankie Miller's) Webmaster and good friend.
I Had a blast Davy, see you again soon I hope
Davy surprised me with a show with the Cream Tribute band Creemd.
Super show Ray !!!
Attended Brady Cole concert in Kinghorn
Four great Scottish lads who I have full confidence in
They played their hearts out. Well done guys
Site -Seeing, bars of Cadburys Flake & Turkish Delight supplied by Gordon
Not forgetting all the other great people I met on this trip
Mark and Steve of Jaguar - Damiler
Annerlie Moss of Rock Sensations of St Andrews
---
Photos of Paul Rodgers with his children Stephen and Jasmine
taken at the Fender show Wembley London.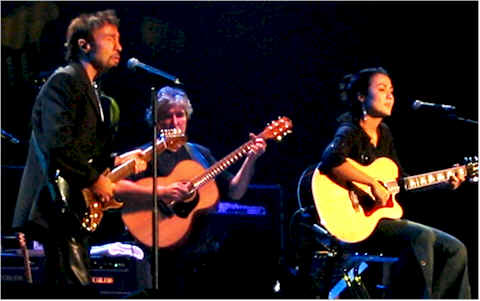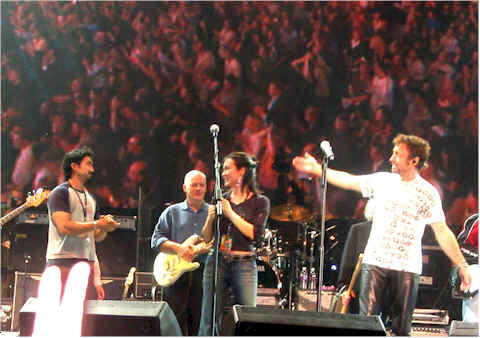 Photos copyright Lucy Piller
---
I had the great pleasure of seeing them perfrom live in Scotland last week
and was not disspointed. !!
If you are living in the London area go check them out
at the Pleasure Unit in Bethnal Green.
This is the same venue HEAVY LOAD the club used as its monthly party place but with the success of the club
PLAYING AT THE
359 Bethnal Green Road
London E2 6LG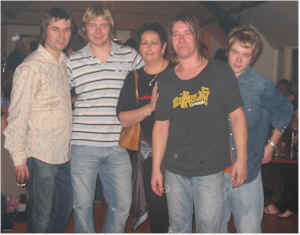 ---
At Stratpack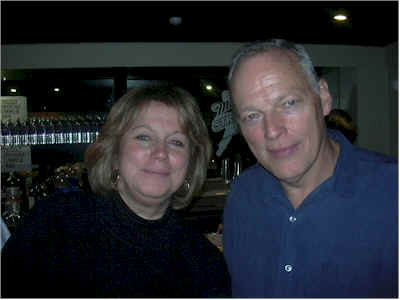 ---