Vancouver & Seattle
November 2004

Review by Marci
I am a dedicated Paul Rodgers fan. Like many others, my passion is the music of Free, Bad Company, The Firm and Paul Rodgers. I travel extensively to be able to envelop myself in the music of which I love. I have realized recently however, that this is not the only reason that I travel to see Paul perform.
I just returned from a trip to the west coast of Canada and the United States. To be exact Vancouver and Seattle to see the final 2 performances that Paul was playing for the year. Let me begin by saying, both shows were outstanding. Paul is truly a wonderful performer. However the purpose of my writing this is to express my thoughts on another subject, also of great importance to me, the fans.
I know it has been said many times by many people; Paul has truly wonderful fans. I believe that his music and being, attract a special kind of person. From my experiences, the fans I have had the privilege of meeting are some of the most warm, passionate, honest and simply real people that I have ever met. So why does this weigh so heavy on my mind? It is because of my most recent experiences.
How many times have you told someone, "You just wouldn't understand?", when it comes to your fascination…in my case the music of Paul Rodgers. It was in the past week that I realized I was not alone in my little Paul Rodgers bubble. I had the privilege of spending a good amount of time with some other fans, whom I had met before, but never really had the chance to get to know. I must say, the time we spent together, I will cherish forever. I have never laughed, cried, listened and shared so much in one trip. It was almost a relief to feel like the magic I felt when it came to Paul's music was understood, welcomed and shared by others.
I have often felt that if a person goes through life with out being passionate about anything, that they could not possibly be living life to the fullest? For those who do not have passion about something….anything, I am saddened and only wish that I could share my experiences with them.
To those whom I shared my trip with…thank you. You are very special people to me. To Paul, you should be so proud of the music you create…it really does make the world a better place.
Marci
London, Ontario, Canada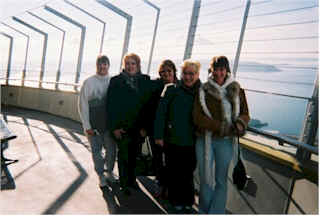 ---
Review by Donna
It's funny how fast time really does fly… We had been planning the trip out west to see Paul perform for several months, long before the tickets even went on sale. I could hardly believe it was already time to get on the plane and go. I'll spare you the gory details of several delayed flights and airport hassles and we'll just say that we finally arrived in Seattle late on Thursday and settled into our hotel.
On Friday we set out for Vancouver from Seattle and arrived at the Massey Theatre a bit before Paul was due to hit the stage. We met up with a few friends and made our way to the seats to await the show.
Paul came out to the opening chords of "Can't Get Enough of Your Love" and proceeded to take over the audience for the next 75 minutes. We managed to rush the stage after the first couple of songs and dance right in front of it for the rest of the show. The band cruised through all of the favorites, like "Satisfaction Guaranteed", "Fire and Water", "Running with the Pack", "Bad Company", "Rock 'n Roll Fantasy", "Saving Grace" and ended the show with Paul solo doing a great version of "Seagull". The show was over all too soon and we had to head back to Seattle. We had another show to look forward to the next night!
On Saturday we met up with Lucy and some other fans and had a lovely dinner before going to the Emerald Queen Casino by Tacoma. If you are a big fan of 1, 2 or 3 cent slots, this is definitely the place for you! I was amazed at how many there actually were.
The concert was to be held in a building adjacent to the casino, so we went over and found our seats. The stage, this time, was set up with a sort of runway right out of the front of the stage and down between the first 2 sections of seats. Paul made great use of this during the show! It's pretty cool how you can be in the 20th row and suddenly have the singer right beside you, shaking hands with everyone. The set list was basically the same this night, with the addition of Lynn singing his song I believe is titled "Lucky Man". I love how you can hear the same songs two nights in a row and you never get tired of them. There is always some different inflection, or the crowd just reacts differently and it's always fantastic. I think I could hear Paul sing the same songs every night for weeks and never get bored. Paul, Lynn, Howard and Jeff, as always, did a phenomenal job!
After the show, we had the privilege of going backstage to say hello and thank you to Paul and the rest of the band. I felt a bit awestruck being face to face with "The Voice". Hopefully he understands how amazing he is, how much we all appreciate him and his talent, and how he affects each one of us. I just have to say thank you again to Paul, Lynn, Howard and Jeff, and the management, Brad and Cynthia, for an amazing 2 nights! I look forward to many more!
---
Blue Ash - Ohio
August 27, 2004

Review by Leonard
You know, after hearing Paul Rodgers at the B&B in Boardman, Ohio a few weeks ago I thought it couldn't get any better.
So I drove 5 hours south to Blue Ash, Ohio to find out.
I was wrong.
Although the songs played were almost identical the group seemed more relaxed and the acoustics seemed even better at this venue.
What A cool concert and what a cool place for a concert.
While listening to Mr. Rodgers I realized that this guy really should be in the R&R Hall Of Fame.
The average person does not even begin to understand the amount of quality songs Paul Rodgers has been part of over the last 30+ years.
No other singer/song writer has endured for that length of time and has actually progressed musically to the point that he is as good or even better now than he was earlier in his career.
As he says in a very early song from the FREE years.
Child...talk about wisdom...the golden rule...
I enjoy a lot of different artists music.
There are a few that are heads and tails above everyone else.
Van Morrison, Neil Young, Marvin Gay.
Icons.
Paul Rodgers is at the top of that list for me.
The significance of FREE alone should put him in the Hall Of Fame.
The writing team of Rodgers and Fraser during that time period was hard to beat.
I only wish he would add or alter his set to include a few more of the earlier FREE tunes.
In the current set there is a drum solo during the song FIRE AND WATER.
At the end of the song I was thinking the drummer could invite the band back in by starting the intro to my personal favorite Free tune, Mr. BIG
The beats could tie together easily.
This would showcase the talents of the bass player and expose another tune that a lot of the newer fans had probably never even heard before.
Seeing Mr. Rodgers in this type of concert is a dream come true.
I only wish that there was more time so he could play some of the other songs that are truly treasures to the music world.
The Stealer, Catch A Train, Child, The Hunter, Be My Friend Etc...
Could you vision Paul doing a solo acoustic version of Child or Soldier Boy during these turbulent times?

I do know this.

If he gets voted into the Hall Of Fame I will be there with bells on.
This is one guy who really deserves that honor.
"The Voice" still has "The Pipes"

Keep it going.
Your biggest Fan for over 30 years.

Thanks for everything,
Leonard
---
Experience Hendrix
Warfield Theatre, San Francisco
February 26, 2004

Review by Jeff
A fantastic evening of Hendrix music performed by an All-Star line-up.
Opening the show with searing riffs from "The Star Spangled Banner" into a soulful version of "Foxy Lady" was Sheldon Reynolds of Earth,Wind,& Fire. Next Indigenous played a beautiful "Little Wing" with an emotional guitar solo, followed by "Hear my Train Coming". The first of many magical moments of the evening. Eric Gales "let the six string do the talking for me" with an intense version of "Purple Haze" and then a flowing version of "Waterfall"- superb. Mitch Mitchell and Billy Cox, original bandmates of Jimi Hendrix took the stage with a standing ovation to perform "Freedom" with Billy on vocals. Jimi's spirit was in the air- continuing with Jerry Cantrell (Alice in Chains) singing "Hey Joe" Next Joe Satriani displayed his guitar mastery on "Manic Depression".
Then entered "The Voice"-Paul Rodgers paying tribute to Jimi. Paul started with a hard rocking "Spanish Castle Magic" - with impressive guitar work from Joe Satriani. Enter Andy Amador on guitar for "Angel" - in which Paul lead an enthusiastic crowd in a sing-a-long of the chorus. Paul had command of the crowd. Then he introduced the next song "We're FREE....We're Stone Free!" My number one highlight of the night, a powerful version of "Stone Free" with Neal Schon and Jerry Cantrell on guitars. Once again Paul proving why he is music's greatest vocalist. All these songs with the rhythm section of Mitch Mitchell and Billy Cox. Next Buddy Guy with his 45 years of experience entertained the crowd with a series of acoustic and electric blues.
The only thing that could have made it better would have been if he had invited Paul Rodgers back to the stage to share vocals on "Hoochie Coochie Man" and "Red House" Then hometown favorite Carlos Santana gave a spiritual and emotional instrumental set dedicating it to "Jimi, Stevie Ray Vaughn, Bill Graham, and John Lee Hooker" Next Buddy Guy joined Carlos on stage for "I got the Blues". Seeing Buddy Guy and Carlos Santana trading off guitar licks in a heavy blues jam was music history in the making- a fantastic show of the mastery and talent of these musical giants. One of those magical moments that makes the San Francisco scene so fantastic.
Finally the encore- Paul Rodgers commanding the stage like a Lion over a seven guitar orchestra playing a LOUD and Heavy version of "VooDoo Chile(Slight Return)- it was amazing, lasting 10 minutes. Paul's vocals were unbelievable and perfect. A fitting 3 hour tribute to the legacy of the man- Jimi Hendrix
Jeff Geer, San Francisco
---
PARAMOUNT THEATRE
HENDRIX TRIBUTE
Seattle, February 22, 2004

Review by Karim
The show was great! It was a once-in-a-lifetime opportunity to see some great talent. The Paramount Theatre is incredible! It's not only very beautifully decorated, but the sound is just fabulous. There were many great musicians in the line-up, each doing 2 to 3 numbers. There were standing O's for all the performers. As with a function such as this, there were some logistical issues, so the show had to stop as they musicians came and went, but all-in-all, it was really well done.
PR played two songs with the original Experience band, towards the end of the evening. First one was Angel (wonderfully sung). The second was Stone Free, in which Kenny Olsen also was on stage to play guitar. Unfortunately, his guitar was so loud, he drowned PR out. The Experience band sounded a little out-of-sync, which they had warned us to expect as they hadn't played some of these songs since the original album was done!
Buddy Guy played the final set, including some acoustic numbers. I drooled at the thought of hearing PR with Buddy in this format, but it didn't happen. Buddy Guy was fun to hear and watch. When he played Hoochie Koochie Man, it was great! Only PR would have made it better.
The finale was the piece-de-resistance for me. All the guitar players came on stage, with PR on vocals. They performed Voodoo Child. Lucy, you have never heard anything like it.
Nine guitars, a bass, two drum sets and the Voice on absolute fire! Only PR could sing over that many electric guitars. Voodoo Child was just the cat's meow. I was screaming like a teenager at how Paul sang it. That man is the best singer I have ever heard, bar none.
Highlights for me were:
Paul Rodgers (of course) – Angel and Voodoo Child.

Kenny Wayne Sheperd (and, of course, Sheneez thought he was really cute)

Hubert Solomon (the master)

Alice In Chains and Anne Wilson (singing "Hey Joe"). I nearly cried when I heard this.

Indigenous – they are a 3 piece band. They are very tight with a wonderful sound. Terrific vocal, lead guitar (a little too much distortion, but great technique). Bass and drums were exceptional.

Buddy Guy – he is a great showman!

Double Trouble who played with most of the vocalists – great bass playing and drums.

Earth, Wind and Fire members who opened the show with two terrific songs.
I'm sure there are things that I have missed. It was an evening filled with great music and a terrific audience who showed their appreciation every step of the way.
Karim
---