---
---
It is with deep sadness that our dear friend
Duncan Kennedy passed away. Duncan who was
a huge Frankie Miller fan died
I will miss him very much. My condolences go out
to his wife Linda,
his family and friends.
---
Atlanta's own
Jazz Fusion/Rock Jazz
Photo's by Lucy
The Trouser Trout
For more information you can contact Mike
directly at
seen here with Atlanta's No 1 drummer John McKnight
---
What a wonderful evening!
When we arrived at the Gwinnett Center, fans of Simon and John Waite were already there, waiting in anticipation for the show to begin. It was great to meet up with some of my ARN friends that I haven't seen since last year.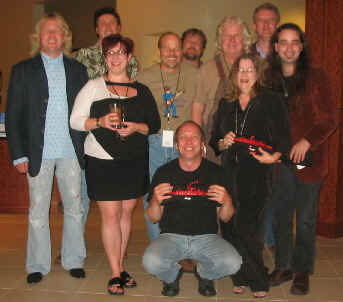 Carl Dunn was also there selling his book, "This is Rock and Roll", which has many pictures of Free, Bad Company and Simon, along with other great musicians. It's an excellent piece of rock and roll history.
Kitty Snyder opened up the evening with her mellow, acoustical brand of folk/rock, which was very enjoyable. Kitty was an excellent choice as a lead in for Simon.
After a brief intermission, Simon, with that great smile and personality of his, took the stage, along with Larry Oakes and the fans cheered. Simon introduced all the fans to some new original songs as well as a great blend of Free and Bad Company songs.
Some highlights of the evening were Simon's originals, "Weep No More", "Angel In My Eyes" and "Going Home". Simon totally did these songs justice in a new and fresh way that was all his own. His vocals, guitar and keyboards were all solid. What a great musician and an excellent front man. His humor and personality shined through as we were all on the edge of our seats in anticipation of the next song. Simon was all that we expected and even more! Thanks Simon for an outstanding performance...can't wait until the next show!
To end the evening, John Waite took the stage with a full band to accompany him and did an excellent job. He performed some of his greatest hits with the Babys and also from his new CD, "The Hard Way". He showed a great sense of humor while interacting with the audience, which made the whole John Waite experience a lot of fun. Great show!
God bless,
Vanessa - Michigan
---
Hey yall! Charleston here. I had the great good pleasure of getting to hear and see Andrew Black again this summer in Atlanta.
On Sunday, September 12, 2004, Andrew played with his jazz group - that's right, jazz, not blues - at Front Page News. This was a new section of Atlanta for me, a really cool little area of outdoor cafes and lots of cool, clean greenery. The group set up outside for a brunch session. I'd never heard Andrew play jazz before but wasnt at all surprised at his versatility. His guitar was exceptional as always, but that voice, oh that voice is just flawless. Andrew puts his own brand of funk even on jazz; the soul flows out of him like a waterfall. He had a terrific sax player with him, the bass was chilled, and the drums were also a style I'd not heard before, but really enjoyed. I understand Andrew is at FPN about every Sunday for this brunch session. I cant do the man justice with words, you just need to hear him for yourself.
The food at FPN was slamming too, so if you want to be guaranteed a laid-back, head-bobbin, tummy-fillin time, get on down there and check 'em out! Grab his new CD while you're at it, you wont be sorry!
Tammy - South Carolina
---
The After Party….September 10, 2004
You would think that an evening could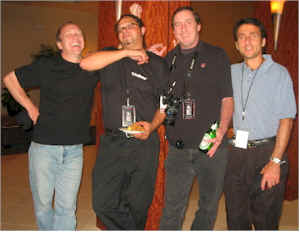 not get any better after 3 full hours of great, live , acoustic music, but…it did. A limited amount of V.I.P. Guests were invited to attend an "After Party" at a nearby hotel in Gwinnett, a suburb of Atlanta. The atmosphere was very warm and inviting, with a hint of retro flare that really made the perfect setting for such a party. Simon Kirke guests gathered throughout conversing about the most amazing musical performances we had all had the fine fortune of experiencing that night.
The great music did not stop there….A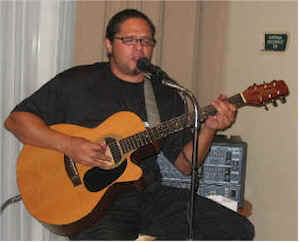 ndrew Black a local, well established name in Atlanta's Blues music scene, was there doing what he does best…sing the blues. It was a very simple acoustic set up, but it only helped to showcase how full and magnificent his voice is. He performed some original works, as well as some old favourites. He was truly the icing on the cake.
Once Simon arrived he was so gracious to spend time with almost every guest there. If it was a photo, an autograph, or just some really good conversation, Simon accommodated for every fan's needs.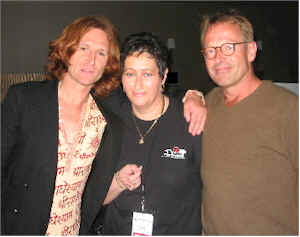 It was exciting to have the opportunity to be in such a relaxed environment with good friends and our very own music idol, Simon Kirke.
John Waite another artist that performed that night also came to the After Party. He too, was more than happy to accommodate the requests of the fans.
Overall, it was a perfect evening….thank you to all who made it special. Lucy and Robert, this is a special thank you to you both, for making the entire night a possibility!
Marci
London, Ontario, Canada
---
Barry Richman in Roswell, Georgia
September 11, 2004
I had the opportunity to see Barry Richman play at the Roswell Tavern Saturday, September 11th, and just let me say, it was quite a treat! I've never seen him play before, but have heard many times just how talented he is.
He more than lived up to his reputation. Although the tavern was mostly a sports bar (with really good food!) and probably not the best sort of atmosphere to showcase his talents, he and his band took control of the room. Barry is simply amazing on guitar. I found it fascinating just to watch his hands fly over the strings and listen to the music pour out. I know everyone at the table with me seemed to be as enthralled as I was.
We were just there for a relatively short period of time, but I was incredibly impressed with Barry's performance and would love to go back and see him again sometime. I just might have to arrange another trip to Georgia sometime soon…
Donna - Michigan
---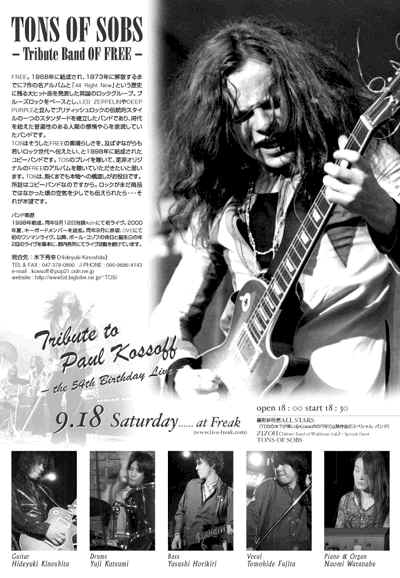 ---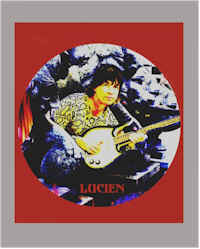 Our friend Robert Lussian Vega presenter of the rock talk show
BACKSTREET CRAWLER passed away in his sleep
at his home in Santa Monica on Thursday the 19 of August 2004
Lucien loved FREE !!
a huge fan of Paul Simon Andy & Paul
Mourning Sad Morning......
---
Thank you Junko from Japan
---
BAD COMPANY and DEREK ST HOLMES both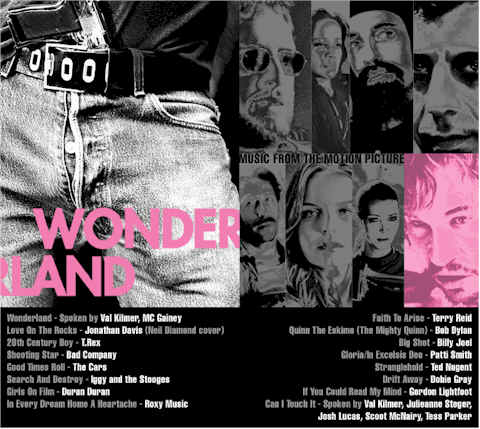 ---
See site for more info
Other dates booked are
---
---
---
Written by Marci
What I thought was to be a rather simple and quiet week's vacation, turned out to be a jam packed week filled with some of the best blues music I have heard in some time. My flight arrived in Atlanta on an early Saturday morning. I was greeted by Lucy and Rob who quickly filled me in on my "Blues Music Extravaganza" for the upcoming week. What a schedule it was…but I was excited and anxious to hear the music I had heard so much about. When I arrived at Lucy and Rob's home, I quickly settled in and prepared for the week ahead. Sunday night was upon us and the musical journey began. Here is a daily summary of my experiences.
Sunday August 1
We ended up at this little pizza place where there were a couple of musician playing acoustically. Larry Griffith was one of them, who I was later told plays in a blues band that gigs regularly throughout Atlanta. This wasn't a bad little gig but the atmosphere I believe, really took away from the musical experience. You could barely see the musicians due to the poor lighting and the sound wasn't great as the musicians were situated in a not idealistic area of the venue. Aside from all of that, the night was eventful, the music was good, and I was looking forward to the next night.
Monday August 2
Let the great music begin….we went to see the "New Yankee All-Stars" play at Darwin's Blues Bar that night. I must admit I was really taken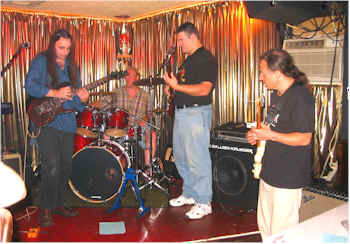 back almost immediately. I must mention Mike Martin. He was the guitarist that I had the pleasure of discovering this very night…in two words….absolutely brilliant. This guy can play guitar, like I have never seen…and the personality…awesome. He really is quite the performer. He also jammed with another guest of Lucy's, a musician by the name of Robin Bibi…who added a bit of a European spin on the jam. The atmosphere at Darwin's is quite to be expected of a typical blues bar; small, smokey, but warm and inviting regardless. I really enjoyed the night, in fact, it turned out to be my favourite evening of the entire trip.
Tuesday August 3
This was our token jazz night out. We went to see the "Dustin Sargent Quartet", once again at Darwin's. This was another wonderful night of music a little different from the prior nights. Smooth and relaxing…just as jazz should be! The musicianship was superb, you could only admire the skill that enveloped the tiny little stage. Any jazz lover should check it out…quite an impressive evening.
Wednesday August 4
This was the night of the Darwin's jam. Mike Martin was there again, along with many local and talented musicians who were ready to dazzle us with their musical expertise. Our own Robin Bibi even jammed for a short set and introduced us to some of his original music. It was great to see musicians perform together for the first time and really do an impressive job at it. You could barely tell that many of these musicians had never played together before. I left there feeling slightly untalented….but could only anticipate what the next few evening may hold…could they outdo what I had heard so far?
Thursday August 5
Now….we are talking blues…..We ended up at Darwin's yet again…..this place seems to have all the great music! We were there to see Barry Richmond….the man rumoured to be the best blues guitarist in Atlanta. The rumours are true. Barry Richmond is undoubtedly one phenomenal guitarist. He had the entire place in awe. I was truly impressed by his showmanship, musicianship and the energy he conveyed easily to his audience. Robin Bibi had the opportunity to jam with Barry as well. This was great fun to watch. Barry is a definite must see if you should ever have the chance. When I thought the evening could not get any better….Andrew Black, a Blues singer and guitarist showed up to have a listen. Andrew Black is like a household name in blues for the residents of Atlanta. We ended up at a place called Feelay Gumbo and had a chance to see Andrew and Robin do a few songs together. This was fantastic. Andrew's voice is so smooth, I really can say he is one of my favourite blues singers. He has a rare talent. I feel very priviledged to have caught up with him.
Friday August 6
We spent the night at a true "Biker" bar called Motorheads. Bluescat, another blues band and household name in Atlanta had a gig there. I have seen Bluescat perform before. They are quite a good band. Unfortunately the original singer of the band was ill and was not able to sing, so Robin Bibi sang a little along with the Bluescat guitarist. The atmosphere was high energy and everyone there, was there to have a party. Even though the band was playing without a vital member, they played really well. If you are looking for a fun night out and great music…go see Bluescat. They are a sure fire win!
Saturday August 7
This was the night that we all got to "Rock" out. We headed out to Feelay Gumbo to see Derek St. Holmes play with his band. I had never seen Derek play in this type of venue, generally he plays in very large arena type places, but what a treat it was. Derek, has a very pure energy. It is contagious…he had the entire place on their feet and dancing and singing along to some familiar old greats and some new original music. This was a really great way to spend a Saturday night! We partied until the wee hours of the morning only to realize I had only one more gig to attend before I had to head home.
Sunday August 8
My final day in Atlanta had arrived much to my dismay. However, I had one last opportunity to catch some great music before getting on the plane back to Canada. We went to a little café type place called "Front Page" in downtown Atlanta to enjoy some brunch and jazz music. Andrew Black and the Dustin Sargent Quartet, were there to set the mood for a quiet and relaxing Sunday morning. The mixture of the two musical forces was brilliant. Andrew's smooth voice and the skilled musicianship of the Dustin Sargent Quartet was phenomenal. This was the perfect way to end a perfect trip.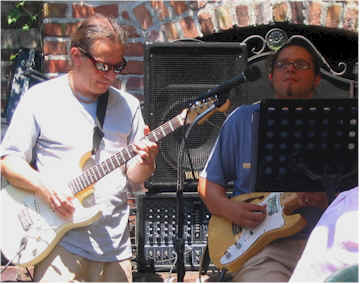 I only look forward to my return to Atlanta. The Blues and Jazz music scenes are a treasure that I hope the residents of Atlanta cherish always. The talent that I experienced can not be completely described in words. Lucy Piller told me that the only way I would fully comprehend had wonderful all of these musicians were, would be to experience them live…she was without question, absolutely right.
Marci Adorjan
London, ON Canada
---
FROM THE HEART
Wednesday July 28 at 8:00 p.m
The Four Tops http://www.fourtopsforever.com 50th Anniversary and Celebration with special guests:
James Carter, New Edition, Aretha Franklin, Sam Moore,
Temptations Review featuring Dennis Edwards, Mary Wilson of the Supremes!
Also performing will be Paul Rodgers.
Worldwide Television Broadcast - Doors open at 6:30 pm Patrons must be seated by 7:30pm for television taping

Tickets on sale now at Ticketmaster 248-645-6666 or at www.ticketmaster.com or at Marshall Fields

---
---
---
---