---
The New Official Frankie Miller Website :
goes live at www.frankiemiller.co.uk the previous address frankie-miller.com will also bring you to this website soon.
Please note this website will hold basic information only while we update the site.
More details and information about Frankie Miller will be added shortly including Biography, Discography, Gallery, Merchandise and Contact information.
---
From Room for Ravers http://www.makingtime.co.uk/rfr/whatsnew.htm
Kenney Jones has changed the name of his band from Big Face to The Jones Gang. In addition, Gary Grainger has been replaced on guitar by Dave "Bucket" Colwell. Colwell was in Humble Pie 2000 and played in the house band at the Steve Marriott Memorial Event in 2001. Along with Robert Hart and Rick Wills he was in the 1990s line-up of Bad Company. The Jones Gang is planning to tour the US during Sept 2003.
---
---
Welcome back Andrew Black
Andrew has a new website up and running
---
Review
Damien Rice
---
Spend some time listening to some of Barry's sound clips.
And if you get a chance catch a live show
is on vocals
allrightnow.com
---
---
The brand new Free/Bad Co tribute band 'Heavy Load' are preparing to take their show out around the live circuit. The band feature Nick who was the former vocalist with Axis (as well as being ex-Nobodys Fool, and the very first singer for Sticky Fingers). The band was put together by Nick before Christmas, but the present line up was only finalised in February of this year. The group are currently rehearsing at Axe Victims studios in Gateshead and are just about ready to hit the road. Their very first date is at the Office on Friday the 2nd of May. It's in the downstairs room of the venue and admittance (just like the band) is free! Heavy Load do their very best to recreate the original sound and vibe of classic Free, but would also like to point out that a third of their set will also be centred on the music of Bad Company as well.
---
was the scene of Tuesday night's suicide bomb attack.
The same club where SOBO play every Friday night.
Our thoughts and prayers go out to the families and friends
who were attacked by terrorists. Please take the time
to sign the guest of of Mike's place.
Robert & Lucy
---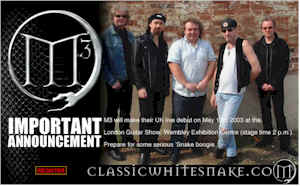 M3 - Classic Whitesnake
Tony Martin - vocals
Bernie Marsden - guitar
Micky Moody - guitar
Neil Murray - bass
Josh Phillips - keyboards
Jimmy Copley - drums
Neil Murray says:
As the latest lineup of Whitesnake does not play many of the classic songs of the late 70s and early 80s, M3 aims to be the band to fill that gap. The fantastic talents of Tony Martin (ex-Black Sabbath), Josh Phillips (ex-Big Country) and Jimmy Copley (ex-Paul Rodgers) will combine with Whitesnake founder members Bernie, Micky and Neil to play the Whitesnake songs that everyone wants to hear.
M3 is going on tour soon. Here are some dates we got, unfortunately without any venues.
26/04/03 Russia -- 08/05/03 Holland -- 09/05/03 Belgium -- 11/05/03 Wembley, London -- 14/06/03 Portugal -- 04/07/03 Portugal -- 05/07/03 Germany -- 18/07/03 Portugal
There is also a new web page in the making.
---
Jaz Lochrie & Dave Colwell Bucket will be appearing with the

at the Wembley Conference Center as part of the London Guitar Show on SUNDAY 11th May at 3.30pm.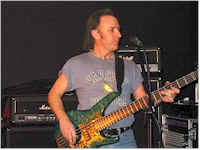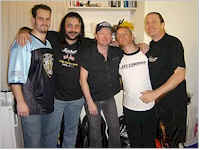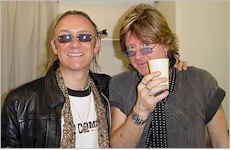 Photos used with the kind permission of Phil Hilborne.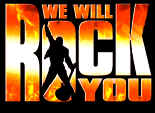 Phil Hilborne is currently appearing in the Queens Musical in London.
---
Bucket has been gigging with SPIKE from the QUIREBOYS.in the UK. He is on his solo album, to be released in the autumn. He has Jason Bonham on drums . It's a pretty kicking band they say..... Also, he is recording with KENNEY JONES on a new project (with old pal Rick Wills) which he says is real fun!!! check out the Quireboys website
---
Northwest drummers set new world record, with Jeff Kathan (Drummer of Paul's solo band), also see video clips.
---
Here I saw bands like :- Pink Floyd, Traffic, Blodwyn Pig, Steamhammer
Quintessence, Blossom Toes, Edgar Broughton Band, Keith Relf Renaissance,
Soft Machine and lastly the Pink Fairies. Who I believe are at the last
show to be held at the Roundhouse as seen below.
---
If you live in the UK you can request to have Bad Company ring on your phone, see this site for details
whatever next eh??
---
I am still looking for Paul, someone must know him in the UK.?
---
Here is a great British Rock station. Listen LIVE to music from the studio. Send in your PAUL RODGERS request, as they have already been playing my requests. Very cool Station. The more you send your requests the more you will hear PAUL or BAD COMPANY.
---

Here are bands I saw back in the 70s. Oh boy!! Talk about bringing back memories !!!!! Lucy
---
---
Frankie Miller sound clips from some of his albums. If you haven't gathered, Lucy has become a huge fan of his and I want to share his music with you.

Once in the Blue Moon
Full House
---
KARNATAKA
---
Music from the Soul !!
Hi Y'all from Atlanta. As you all know I enjoy sharing with you new music and artists who I come across. First thank you to all the British fans who came out to see Motor City Josh.(from Atlanta) Their tour in the UK was terrific. And the fans loved them. Well done Josh.
What I have noticed in the last year or so more and more solo artists are surfacing.
Give his songs a listen, and I am sure you will be hooked like I was the first time I heard him.
At long last music (real music) is coming back..........So many artists NEED to be heard. At times like this
we need to listen to good music.........
Listen to his lyrics & try and catch a show.............if they are not already sold out !!!!!!
---