Paul Rodgers - Parkers, Seattle
June 18, 1998
Review by Lucy Piller.
I arrived in Seattle the morning of the gig. I had planned to meet up with a guy named Karim who is my Vancouver contact. He keeps me informed to what's happening on the West Coast.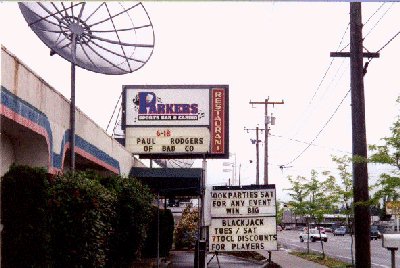 I met him and his wife for the first time, and how great it was to meet him for the first time. Before I met up with him I managed to be present for a soundcheck. I had no idea who Paul would be playing with. I sat in this bar/sportsclub watching Paul and these new guys tune up. They were rehearsing mostly Bad Company songs. Paul looked so relaxed and very happy (his private life must be very good right now). These are the tracks they went over: - Bad Co - Rock and Roll Fantasy - Louisana Blues - Seagull - and Satisfaction Guaranteed, which was wonderful because he was trying to explain how it should sound through his voice. He sang how the drums and base should sound. That alone was such a great thrill to hear. It was fun watching Paul throw up his mike and stand cheking to see how far he could throw it up. Such perfection..................
I was there with my husband and my daughter. We were lucky enough to have remained for 1 hour and 20 minutes. My daughter was nagging me to leave. She was bored !!!! Oh well!
I had noticed he had T-shirts for sale. These were designed by his lady friend. But I think these were only sold at the gigs.
Later that evening, we (Karim, husband and myself) headed back to the club. It was pretty full by the time we got there. For a change, everyone there was a Paul Rodgers fan. Great vibes in the club.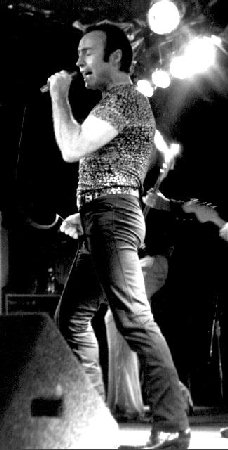 Paul and his band came on around 10:15pm. This was the set list:

1. ALL RIGHT NOW
2. HONEY CHILD
3. SAVING GRACE
4. FEEL LIKE MAKING LOVE
5. YOUNG BLOOD
6. RUN WITH THE PACK
7. BAD CO
8. SEAGULL
9. SATISFACTION GUARANTEED
10. SHOOTING STAR
11. R & R FANTASY
12. MOVING ON
13. LOUISIANA BLUES
14. CAN'T GET ENOUGH
15. SOUL OF LOVE

It was a much heavier sound than with his usual band. I won't say it was better but it sure did rock !!!!!
The other members in the band are:
Drums.........Jeff Kaphan (he used to play in a band known as the Howard Leese Band)
Lead Guitar..............Randy Hanson.......... This guy in fact is the only guy endorsed by Al Hendrix and the Hendrix family. Al Hendrix (Jimi's father) was also at this gig. Randy is from Seattle.
Bass Guitar.........Jason Boyleston......He also played with with Howard Leese..........He's from Florida.
The whole performance really rocked. I was at the very front as usual. Sound was slightly distorted, but it didn't stop me enjoying it. I had never seen Paul look so happy and relaxed. Fit as a fiddle, too. Wearing two leopard shirts. One long sleeve and one short with a nice matching belt (that's for the ladies watching).
It all was over far too fast for me. He quickly disappeared into the night leaving the hall buzzing in the heat. How great it was! Can't get over that every time I see him perform he gets better and better. Can't wait to hear the new CD............till next time..........
Lucy
---