---
---
DVD RELEASE
The Strat Pack 5.1 Surround Sound concert DVD-V
- to be released 18 April by Eagle
2004 London Wembley Arena concert, featuring The Crickets,
Albert Lee and Brian May; Hank Marvin, Theresa Anderson;
Mike Rutherford and Paul Carrack; Gary Moore; Jamie Cullum;
Amy Winehouse; Paul Rodgers; Joe Walsh; Phil Manzanera;
David Gilmour and Ronnie Wood.
---
---
What a small world it is !!!
6th, 7th & 8th May
Appearing will be
Sat approx 11.15am + 11.50 am on Sun
see website here for full line up
---
---
---
FREEWAY
The ultimate FREE tribute band
will be appearing at
THE ALEXANDRA
GRANGETOWN, SUNDERLAND
SATURDAY19th. March 2005
7:30 pm – 12:00 pm
Fourth annual event
All proceeds to be donated to the
PAUL KOSSOFF
FUND
with special guests
Tickets £5 (advance) £6 (on the door)
Buy early to avoid disappointment!
available at 'The ALEXANDRA'
Tel. 0191 5672774
or contact John at jdbfal@aol.com
for more information and further details.
Visit our website
---
General Admission
Tickets available on line
---
---
Timely for the forthcoming tour, Free are releasing "Chronicles", charting the history of the 70's band, fronted by Paul Rodgers... so... time to do the homework.

Chronicles
Free
Audio CD (February 28, 2005)
Number of Discs:2
Label: Universal
ASIN: B0007IP5FA
Catalogue Number: 9822554

Available at here

Click HERE for larger image
Tracklisting:
Disc: 1
1. Walk In My Shadow
2. Goin' Down Slow
3. I'm A Mover
4. Moonshine
5. Sugar For Mr. Morrison (Stereo Version)
6. I'll Be Creepin'
7. Lying In The Sunshine
8. Woman
9. Songs Of Yesterday
10. Mouthful Of Grass
11. All Right Now (Single Version)
12. Don't Say You Love Me
13. Heavy Load
14. Oh I Wept
15. Fire And Water
16. Mr. Big
17. Be My Friend


Disc: 2
1. The Stealer
2. The Highway Song
3. Soon I Will Be Gone
4. Ride On A Pony
5. My Brother Jake
6. Trouble On Double Time (Live)
7. Mr Big (Live)
8. The Hunter (Live)
9. Fire And Water (Live)
10. Crossroads (Live)
11. Magic Ship
12. Travellin' Man
13. Catch A Train
14. Little Bit Of Love
15. Muddy Water
16. Wishing Well
17. Easy On My Soul
18. Heartbreaker
---
---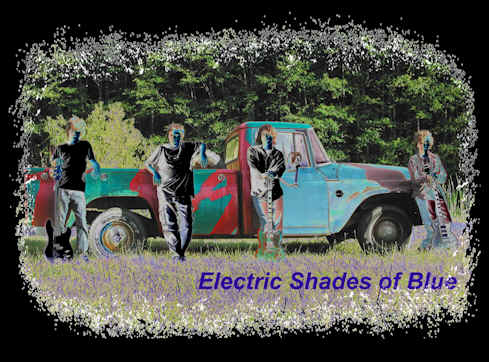 MP3 Sound Clips
Deadly With Love
Sugar Mama
Gotta Leave
Kurtis Dengler--15 years old.
Lead guitarist, vocalist, and songwriter.
He sings, plays the drums, bass, and harmonica.
He enjoys listening to John Lee Hooker, Willie Dixon, Howlin' Wolf, Otis Redding,
Led Zeppelin, Cream, Free, and the Black Keys.
We bridge blues and rock." On the matter of blues music Kurtis says,
"Blues and soul have feeling.
With blues, you take emotion and produce sound with it.
The blues are simple but incredible, just plain great music!
*************************************************
Jacob Lundgren--15 years old.
Rhythm guitarist. .
He also plays drums
Jacob likes to listen to the original Fleetwood Mac (blues band), Canned Heat,
John Mayall & the Bluesbreakers, Johnny Winter, Howlin'Wolf, Muddy Waters
and the great Stevie Ray Vaughan.
On the subject of blues and soul music, Jacob says,
"Blues and soul are the only music with a true meaning and feeling.
Musically, all of the greatest guitarists play, or were inspired by, the blues.
***************************************
Lars Henriksen--14 years old.
Nickname "Larry." Drummer.
The Who, The Rolling Stones, and many more.
Lars says that John Bonham, Keith Moon, Ginger Baker, Mitch Mitchell have
all influenced the way he plays.
He remarks, "All of these people are amazing musicians.
Ben Strom-- 14 years old.
Nickname "Benjammin'." Bassist.
He also plays the piano and the guitar.
He likes listening to The Band, Stevie Ray Vaughan, Chuck Berry,
The Who, Led Zeppelin, and many more.
He gets musical influences from all the music he listens to.
*****************************************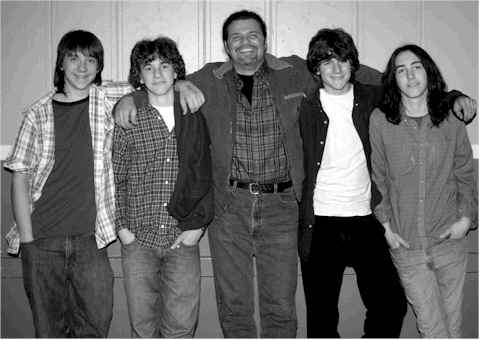 The band members were featured on Pooner Clark's
Locals Only show at 92.9 KISM on Jan. 9, 2005.
UPCOMING APPEARANCES
Electric Shades of Blue will be performing for the annual Independence Day weekend Celebration on July 3, 2005 on beautiful Lopez Island, Washington. For more information go to www.lopezcenter.com.
Sunday, July 31, 2005, at the Mt. Baker Blues Festival-- located in beautiful
Deming, Washington. The festival runs Saturday & Sunday, July 30 & 31, 2005.
It is open to the public and all ages are welcome.
Check the website directly at www.bakerblues.com for show times, updates, and ticket information.
New Date !!!
ESB will also be appearing at the The 2005 Darrington Rock Festival

Darrington Rock Festival
"Electric Shades Of Blue" are taking the Pacific Northwest music scene by storm.
The multi talented Kurtis Dengler is writing rock'n blues tunes that are so tasty
and fresh backed by his from the heart guitar riffs and soulful style of singing,
You can't get enough!
"I was blown away the instant I heard this group of young 14 and 15 year olds.
"They have tightness and a style of playing that is timeless." Says Chris Crawford manager to Paul Rodgers
who has taken the group under his wings.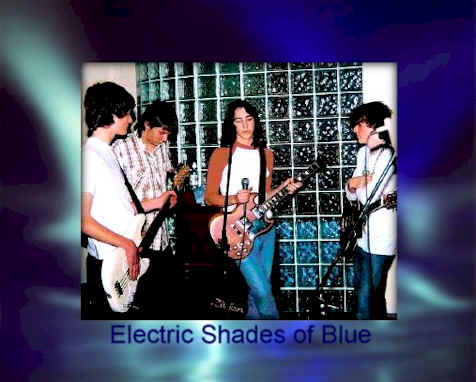 Chris Crawford c/o
Millennium Management
---
Jim Capaldi, drummer with psychedelic rock group Traffic, died early today of stomach cancer at a London Harley st Clinic aged 60.
Founded with fellow Birmingham musician Steve Winwood , Traffic were inducted into the American Rock n' Roll Hall of Fame last March.
Produced by Jim Capaldi and Chris Blackwell
---
Allrightnow.com welcomes
British rockers
THUNDER
Lead singer Danny Bowes
When asked what was the first gig he ever went to? How old were you? What was it like?
His reply was
Bad Company December '74
- Rainbow London
I remember every moment...
---
New boa cd 'getting there'
will be released Feb 1st 2005
---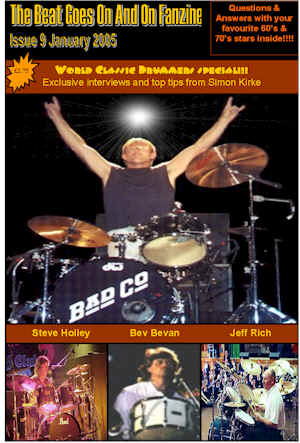 Issue 9 Features:
Out January 2005
The Beat Goes on And on Fanzine Dedicated to 60's & 70's artist.

Second part of our exclusive story P.J. PROBY The One And Only, Story
so far part two. Told by his life long friend and fan Ron Tennant,
and includes never seen before photos on and off stage.

Questions & Answers with your favourite 60's & 70's stars. Musicians
from both decades have very kindly filled in a set questionnaire on
the 60's & 70's. They have inform readers whose records they bought
back then, whose concerts they attended back then! And & informed us
whether they were a Beatles or Stones fan.

Questions & Answers with

Hilton Valentine - The Animals
Gordon Waller - Peter & Gordon
Marty Wilde - Marty Wilde & The Wild Cats
Ian Hunter & Dale Griffin `Buffin' (Mott The Hoople)
Frank Allen - The Searchers
PJ. Proby .

World Classic Drummer's Special features
top tips, and exclusive interviews with some of the World Classic
Drummers on the planet! Drumming is their Madness, they share
memories of how they became the professional drummer that we know and
love today, not only do they talk about their love of the drums! They
tell trade secrets of how to become successful in the music industry
and what it's like performing in the bands they perform in.
WCD Interviews with
Simon Kirke - (Bad Company/FREE)
Jeff Rich - (Status Quo)
Bev Bevan - (Electric Light Orchestra/The Move)
Ron Wikso - (World Classic Rockers/Foreigner)
Our album reviews - plus Biography

Marianne Faithfull - Dreamin My dreams
Julie Grant - Come To Me - the Pye Anthology

Live Reviews
Status Quo - Live in Nottingham - Carol Borrington
60's Weekend- Wayne Adderley
The Overtures - Sight & Sound Show - Joanne Rishton

FREE - Live at The Brighton Dome 1972

(review/look back including original concert ticket)

Lucy Carter's- Beat Scene - What Goes On In Liverpool
From Anthony Newley To Ziggy Stardust - The Rise and Rise of David
Bowie - Paul Clarkson

Queen + Paul Rodgers Announce UK & European Tour Dates. Plus the
official Press release featuring official statements along with
photo. Everything you need to know about this fourth coming tour.

Competition - win a *rare* signed CD of a music legend - P.J. PROBY.
Also features all the latest news, letters page, and lots more!! And
all for £2.75, if you like the sound of this issue and would like a
copy reserving when published in January 2005 please email
joanne678@btinternet.com and I'll put your name on our list.



All this for

£2.75

to ensure your copy please email

joanne678@btinternet.com

issue 9 will be published sometime within

the next week.
Please seen details below for ordering.
If in UK please make all cheques payable to Joanne Rishton for £2.75
if in USA please send $4 cash only, if in European countries please
send 4. 5 (euros) cash only.
Other currencies welcome
To Joanne Rishton 1 Lynadle Avenue,
Lostock Hall, Preston, Lancashire, PR5 5UU, England.
---
Welcome Ray Minhinnett to Allrightnow
---
---
---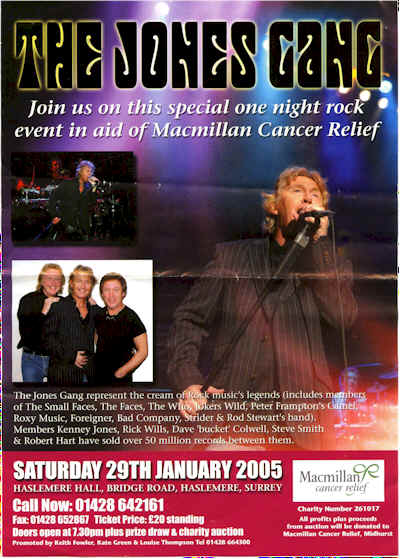 ---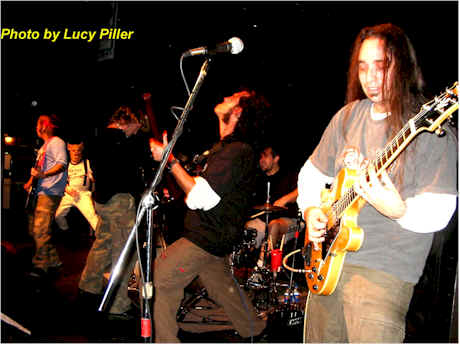 ---