---
FRIDAY 26th NOVEMBER PAUL RODGERS SHOW
Guests KING KARMA
The new entranceway on 8th Avenue
Phone: 604-517-5900
---
Simon Kirke is presently recording and producing an instructional dvd for drummers. He wants to teach you his favorite song so please enter the poll on Simon's website at www.simonkirke.com and request the song you wish to learn. The dvd should released sometime next year.
---
---
Miller Strat Pack - Celebrating 50 Years of the
Fender Stratocaster
at Wembley Arena in London on FRI, 24/09/2004.
Doors open at 18:00, show starts at 19:00

Tickets on Sale for Paul Rodgers Wembley
here

featuring
Paul Carrack, Hank Marvin, The Crickets, Gary Moore, David Gilmour,
Paul Rodgers, Phil Manzanera, Mike Rutherford,
Johnny Marr, Joe Walsh, Amy Winehouse
WEMBLEY ARENA UK

Tickets: £50 + £5 booking fee per ticket & £35 - £3.50 booking fee per ticket (both ticket prices subject to the transaction charge of £1.25 per transaction) + Booking Fee

Box Office: 0870 264 0264
Bookings for people with disabilities: 020 8902 4141
Fender Guitars is celebrating the 50th birthday of one of rock n' roll's greatest icons, the Stratocaster guitar by staging a very special MILLER STRAT PACK anniversary concert on Friday 24 September. Sponsored by Miller Genuine Draft, the charity concert will feature many of the world's greatest living guitar legends in aid of Nordoff-Robbins Music Therapy.
First unveiled in the early fifties, the Fender Stratocaster rapidly rose to iconic status through boundary-pushing artists such as David Gilmour with Pink Floyd, Joe Walsh for his distinctive country-rock riffage and, probably the most famous Strat player of all time Jimi Hendrix, who successfully positioned the Fender as one of the most iconic guitars ever when he was photographed on his knees, as his Strat burnt on the stage in front of him.
Confirmed so far are Stratocaster-playing heroes who will join forces to pay homage to the world's favourite guitar. The legends will be joined on the night by Amy Winehouse in a triumphant combination of vintage and contemporary artists. Spanning five decades of guitar music and with more artists to be confirmed the MILLER STRAT PACK line-up is already a collaboration of the biggest names history has to offer.
Martin Brady, MD Fender Europe Ltd said: "this is an historic occasion for Fender and the Stratocaster guitar. Never before have so many legendary names come together on one stage to celebrate an icon in rock music and Fender are delighted to have Miller Genuine Draft's support. Nordoff-Robbins Music Therapy is a charity that is close to our hearts and the work they carry out is inspirational. We are incredibly excited about the possibility of helping such a worthy cause through funds raised by the concert":
"Monies raised from this wonderful concert will help fund our outreach programme across the UK, making Nordoff Robbins Music therapy even more available. We are delighted that Fender are supporting Nordoff-Robbins," commented Audrey Hoare, Director of Fundraising.
Don't miss this unique event of guitar legends and the most exciting new acts around.
I will be at this show, hope to see you all there........LUCY
---
---

A Portion of Rice
Damien Rice chatted about planting trees, an album to "beat up" his previous one, and played 'Cannonball', 'Volcano' & 'The Blower's Daughter'.
Watch the video...
---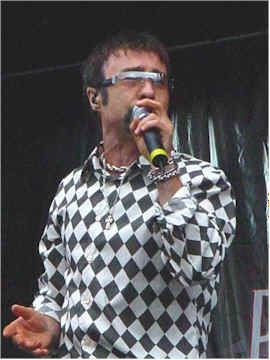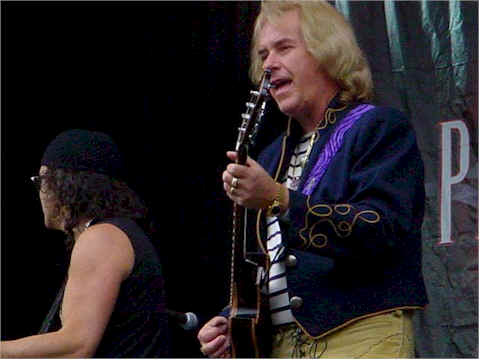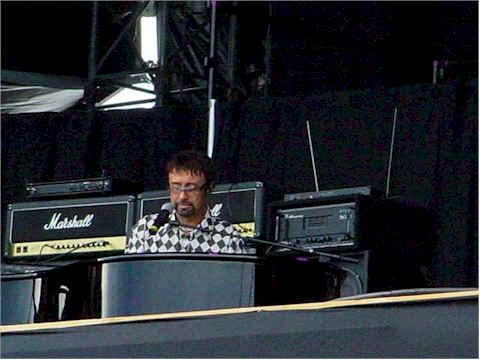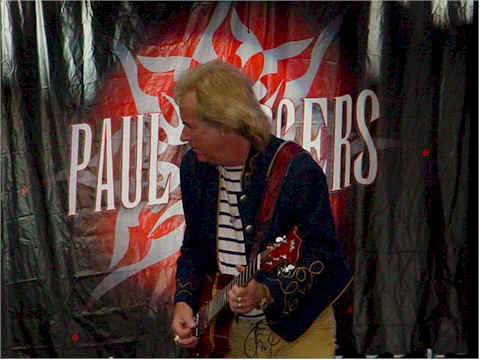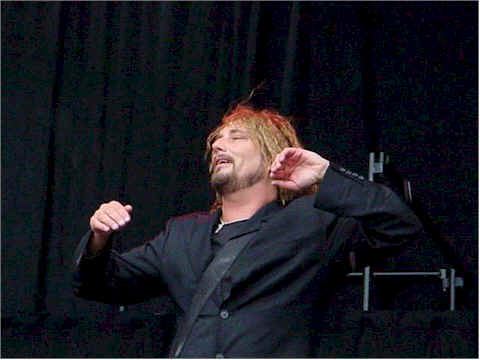 ---
New
PAUL RODGERS
T-SHIRT
For those fans wondering what the CD is on the first line,
it is in fact the new sleeve for the NOW CD.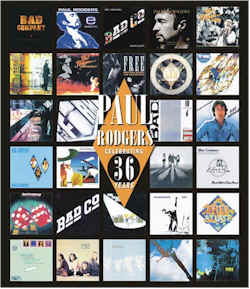 11 X 14 $7
A VERY COOL POSTER INDEED
---
---
Famous photographer of
CARL WILL BE TAKING PHOTOGRAPHS
of Simon Kirke at the Atlanta show Sept 10th 2004
Books will be available from Carl and can personally be signed for you.
---
Please remember to check the Forum on the front page. From time to time I will be adding news there before it actually goes into the news section.
---
Friday, August 20, 2004 - Birmingham (Detroit) MI - "Cruisin' with Ford" Charity Gala
More details to come.
---
---
---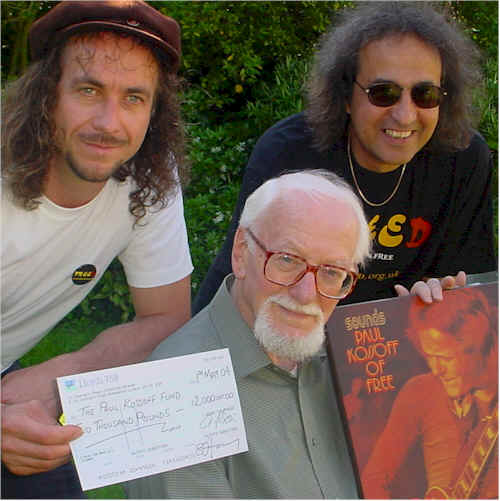 Simon and Izzy of Freed with David Kossoff
---
The latest album from
Derek
. Features Standing in the Rain, Dr. Love and Surrounded.
What do rock-lovers remember when they think of Ted Nugent's music? Most likely, they think of wailing guitar, memorable melodies and strong, bluesy vocals. That legendary 70's sound came from a band that wrote, toured and lived the rock and roll lifestyle. It began in the late 60's in Chicago, Illinois with a rebellious teen named Theodore Nugent who grew to appreciate music and crave stardom. He started his band in his teens and called them the Amboy Dukes. Meanwhile, a young teen from Riverview, Michigan had gotten his first guitar for his twelfth birthday. Allowed to practice in his basement, Derek St. Holmes played and learned everything he could from all the rock and roll idols of the era--as any other kid would. He started his own neighborhood band, played for all the high school dances and perfected his craft.
2606 George Busbee Prky
Kennasaw GA
(Just north of Atlanta)
---
---
---
WHITEHORSE MOUNTAIN ROCK FESTIVAL
DARRINGTON . WASHINGTON.
Festival is AUG 20 21 22
PAUL RODGERS - SATURDAY AUG 21ST
More details to come
---
Paul Rodgers will be performing at
the Emerald Queen Casino in
Tacoma Washington
Saturday 27th November 2004
---
Joe Shikany, a native of Spokane Washington, started playing guitar in the sixties with the Beatles "British invasion". His early influences were the Beatles, the Stones, Jimi Hendrix, Ritchie Blackmore, Eric Clapton and Jeff Beck. He moved to Seattle in the early 70's and soon became a fixture in the Seattle music scene. As the lead guitarist / vocalist of many well-known Northwest bands, Joe's resume reads like a who's who of the Northwest rock scene.
Joe first played in Seattle with the band, Shyanne, before joining Seattle's Bighorn in 1977. As a member of Bighorn, Joe was signed to Columbia Records in 1978 which resulted in the release of the bands' self titled album. Bighorn toured the country with several bands including Boston, Journey, and Van Halen. Bighorn eventually re-formed with a new name The Allies . After leaving the Allies in 1981, Joe joined with Roger Fisher, best known as the lead guitarist of "Heart". Joe recorded and toured the country with The Roger Fisher Band playing many dates with The Motels. Next, Joe became a member in the Seattle band Shots for several years. During this time, Joe also played guitar on Kenny G's album "Gravity", and produced an album for his former band Shyanne. Following Shots, Joe played with Seattle based China, and then Nosmo King…a New York band composed of former members of Foghat and Seattle rockers, Rail.
Joe spent most of the 90's as a member of retro rockers Magic Bus, playing music from the psychedelic sixties and seventies with fellow Paul Rodgers bassist Lynn Sorensen, while also playing and recording with The Coast of Mercy, which received a fair amount of airplay on college radio stations. As a member of Magic Bus, Joe had the opportunity to entertain many professional baseball players due to the band's relationship with Seattle Mariners / Anaheim Angels pitcher Mark Langston. Playing in Cleveland twice…once for the All-Star game, at Disney World in Orlando twice, at Qualcomm Stadium in San Diego, and at The Hard Rock Hotel in Las Vegas, Magic Bus became a favorite at Major League Baseball functions.
---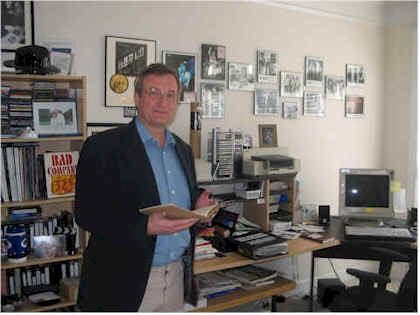 The date when I last set out to visit Atlanta will probably be etched in people's minds and most likely remembered forever, September 11th 2001. I had not been back since and it was high time to go there again. I have known Lucy for few years and we have talked about my visiting many times. By coincidence the company I work for has offices in Atlanta so a trip also afforded me the opportunity to catch up with colleagues and other friends.
That last time I went, I was on a flight that set out from London on Tuesday the 11th September and eventually arrived in Atlanta five days later in the early hours of Saturday 15th having spent the intervening time stranded in Newfoundland at a township called Gambo. However, that is another story, one that evokes strong memories of man's generosity to man and the events on Newfoundland has been extensively documented by others.
I had decided that I would pop across to Atlanta toward the end of March stay with some close friends who are planning to move to the UK. At the same time I could work in the office for a few days and catch up with Lucy and other friends. It all slotted together nicely!
I caught up with Lucy on a Thursday afternoon and we went back to her house, or rather "shrine". There were pictures, posters, and mementoes to Free, Bad Co, and PR everywhere. There was hardly any free space on any wall in her "Allrightnow" office or the guest bedroom. It was amazing to see what Lucy had accumulated over the years. I spent virtually all afternoon going through scrapbooks and photograph albums. There was an incredible amount to look at and it took hours and hours and was deeply absorbing.
We did have a short break and we toured Roswell, the area in Atlanta where Lucy lives. To say that it is extremely pleasant is an understatement. I have an impression of an area with lots big houses and lakes. Many of the houses are either embedded in gardens shrouded in trees or backing onto lakes. In Atlanta's late winter sunshine when I knew temperatures were around zero in the UK, it all looked very tempting especially when we checked the cost of some of the house that were for sale; I could sell up in the UK and move to a house in Roswell three times the size of mine and also get a swimming pool, double garage and not have a mortgage!
Going through Lucy's archives, it became apparent that unknowingly we had been in each other company before; Lucy has a list of virtually each and every concert she has ever been to. In the late 60's we lived in the same are of the U.K. and we had been to the same concerts. Free, Chicken Shack, Duster Bennett, Fleetwood Mac, Jethro Tull, are some names that jumped off her archives at me. We had seen them all and more often that not, we would have been at the same gig. One gig I specially remember was the last time I saw Free, on the 21st February, 1971 at the Guildford Civic Hall. I do not think that I knew it would be the last time, but by then, Free were big and that concert was a far cry from the first time I ever saw them when they were the fifth support act at a college gig!
I spent ages going through the stuff Lucy had and I really did not notice how dark it has got outside until Bob; Lucy's husband came in from work. It was a delight to meet him as I felt that I knew him so well. He too works in IT and that also gave us a lot to talk about.
We then went of to dinner and Lucy had planned a surprise as she knew that I ma a huge fan of the blues. We went to the Fee-Lay Gumbo in Kennesaw. Its full name is the Fee-Lay Gumbo Creole Kitchen and Lounge and it specialises in Cajun/Creole cuisine and live blues, funk, rock and zydeco.
My first hurdle was the menu, which was extensive, huge and confusing, however Lucy and Bob guided me through the options.
There were starters of Shrimp VooDoo, VooDoo Wings and Drunken Barbecued Shrimps; salads called Creaole House, The Garden District and Shrimp Pasta YaYa. Or you could choose from Mardi Gras, Tipitina, and Storyville Spaghetti. There was a list of sandwiches I could not get my head around, Po' Boys, Chicken VooDoo, Scarlet Heifer, Muffaletta and Moof-uh-leh-tuh! Then you get the entrees, Jambalaya, Crawfish, Etoufee Shrimp, Creole Fried Ersters, Fried Catfish Platter, Crawdaddies, and the Funky Butt. All of which can be served with side dishes of Garlic Mashed Potatoes, Dirty Rice, or Maque Chou. And by the way "What did I want to drink"? "Beer". You can choose Abita Rurbo Dog, Abita Amber, Abita Purple Haze, Dixie, Sierra Nevada Pale Ale or O'Douls.
Absolute nightmare, however, I managed in the end aided by Lucy and Rob and not without a little patience from the waitress who found my confusion somewhat amusing! What I ended up with was one of the most amazing meals I have ever had all served up with a large helping of blues in the form of Andrew Black.
Lucy introduced me to Andrew and he was a delightful character to talk to, extremely polite and charming, he also pays the guitar and sings a bit! He was absolutely amazing; Andrew played an incredible set and the place really, really rocked. No words will do justice to the music or the atmosphere he generated that night; he played a range of classic blues standards as well as his own compositions. His virtuosity on the guitar coupled with his immensely powerful voice along with the audience, many of whom, unsurprisingly seemed to be there because of him, made an easygoing atmosphere that absolutely rocked. There was constant exchange of quips and repartee between Andrew him and the audience that bought everything together and all in all It was an evening that I will not forget. I bought a copy of his CD that Andrew kindly dedicated to me and I have played it constantly ever since I got back.
All I can say is "thank you Lucy" and "thank you Rob". I look forward to my next trip to Atlanta, which will definitely be in October. However, I will be delighted to make a special trip in August to the Fee-Lay Gumbo ……………….! Let me know!
---
---

News Archives:
Current News
and
News Archive
Index