---
Thank You to Derek St. Holmes for joining us in the chat room. Best of luck with your upcoming tour of 2003 with Mark Farner -- details will follow.
To hear some sound clips, go to this link.
---
Video footage of the incredible Tim Donahue playing a track from the CD Voices in the WInd (featuring Paul Rodgers).
---
OK, Fans, isn't it about time we get the boys in the Rock and Roll Hall of Fame? I think so, let's get them in for the year 2003 Details about the Hall of Fame and inductions are at http://www.rockhall.com/email/index.html.
All you have to do is spend a few cents on a stamp and write to the following address saying you think BAD COMPANY should be inducted:
Rock and Roll Hall of Fame Foundation
1290 Avenue of the Americas
New York, NY 10104
You have to send regular mail, do not write to the e-mail addresses listed on the Hall of Fame website with your induction suggestion. I think you can vote a few times. It's all up to us now. Lets get our boys in, at last. It's now or never. This will be a wonderful THANK YOU to them especially after working so hard on their tour.
Now its up to us, THE FANS.
Thank you.
LUCY
---
Gate of All Saints
Starring:
Jimmy Kunes (Savoy Brown/ Love Train)
Andy Hilfiger (King Flux/ X-Brothers)
Bruce Edwards (Squeeze Box)
And Featuring Special Guest:
Simon Kirke Of Free and Bad Company
Don Hill's Spring and Greenwich St, New York, Tuesday Dec 3rd 2002 10:30
---
You can all buy a copy for $20 cash, or £14 each (that's what it cost right now) it may go up, probably not, but it won't come down. I am trying to set up a credit card scheme on my website, but haven't done it yet, so ya'll can all send a $20 bill, or £14 to my Studio address, I will make the cd's and mail them out to whoever orders it. Send the $20 bill, or £14 to me, with your return address,
All the proceeds for 'this' cd goes to the Teenage Cancer Trust. So it's all for charity on this cd - 'A Tribute to John Entwistle'
The cd is always available directly from the website as well. www.thewho-rabbit.com
It's xmas, so let's sell lots of em, and get the Trust some cash.
Apologies for including those who do not wish their e-mail addresses shown in this 'fan base', but it's the only way I could get this message for charity to all of you in one go. In future if you do not want your e-mail address shown in messages sent as part of the total Rabbit 'Fan Base', then just let me know.
All Poceeds go to the Teenage Cancer Trust:
Rabbit Studios
47 Ham Hill
Stoke Sub Hamdon
Somerset
TA14 - 6RW
England
John Rabbit Bundrick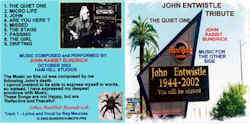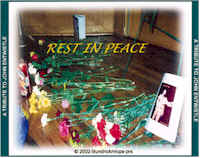 ---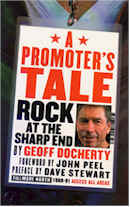 http://www.davidbowie.com/users/spaceface/rockatthesharpend.html
http://www.davidbowie.com/users/spaceface/geoffsundaysun.html
---
---
---
See these links to take you back in time. Are you really ready to see this ???
---
For our french speaking fans- here is the chat with BOA all in french !!!!
---
---
The story of the reunion of two ex-groupies, formerly known as the Banger Sisters, who were best friends in their wild rock 'n' roll days. One is now a nostalgic "punked-out waitress" (Goldie Hawn) in Los Angeles, while the other is a Phoenix socialite (Susan Sarandon) who would rather hide her scandalous past.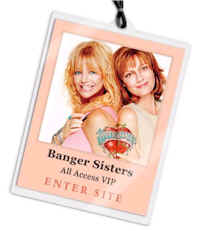 ---
Just a quick note to say THANK YOU to the following fans/friends In the UK.
You were all great fun to be with and you made the shows very special.
Al & Jo Doug Stevens Christine Seal Campbell Patrick Shelly & Vini
Gordon Grubb Rob & Karen Steve O'Hehir John Kirkman Marci & Donna
Special thanks to BAD COMPANY and crew and also to Simon Kossoff. This was an amazing tour!!!!! I have received SO many fantastic letters congratulating the band members. The British fans want Paul and BAD COMPANY to return to the UK. Soon !!!!!!!!!
Coming soon :- Reviews and photos.
Lucy
---
From: Steven R, Montreal, Quebec.
Growing up in Montreal in the 60's and 70's from a musical perspective was awesome. I remember I was sitting in the living room of my first Girlfriends house in my public school days in Dollard Dex Ormeaux. Her name was Carol and she was all excited about a new album she wanted me to hear. In those days all the Bands would cut an album and then follow it up with a Tour. It was 1974 and I was 12 and the album was called simply " Bad Co." as in Bad Company.
We listened together and needless to say I have been a fan ever since. I collected all their music and continued to play all those songs even though I hadn't heard anything new from them in over 28 years.I was only 12 then so I was too young to see their concerts but I bought this DVD last week and I had to hassle the mgmt. here at Future Shop to get this DVD in the store on St. Catherine.I'm glad they were able to do it for me. Now I am hassling House Of Blues to get them to contact Bad Co. to perform here again. WOW. As far as Live Concerts go this is one of the best I have ever seen and certainly The Best Reunion concert ever filmed. The sound on the DVD is 5.1 and DTS - what can be better. The special features explain why they disappeared. Hard Core fans will remember they were the only Band other than Led Zeppelin managed by Peter Grant and recorded on Swan Songs Label. Every Hit they ever had is here including an Unbelievable Version of the Famous "Free" song "It's Alright Now".
Best of all, During Rock and Roll fantasy- the Band breaks into Ticket to Ride and She Says So by the Beatles and Paul Rodgers singing and the bands accompanyment here is some of the best I have ever heard. Forget The New Stuff , Next to bad Company, People like Eminem and Brittany and Back Street Boys etc etc, all the bands of Today- SUCK- compared to this stuff. Give me good old Talent over Flash and Pomp and you'll get a smile Everytime.The New single "Joe Fabulous" is the best new rock song I have heard in over 10 Years. This song makes me happy. That's what this DVD does. Makes you Happy.!!! Remember that Old Catch Phrase- It applies today more than ever, especially given the dismal state of the recording industry..."Bad Company...Till the Day I Die"
---
Fire & Water Tribute band http://www.note-music.co.uk/slisfirewater.html.
---
Paul will be performing as a special guest with Jeff Beck at the Royal Festival Hall in London, September 14, 2002. Other guest include, Roger Waters, John McLaughlin & White Stripes. The show is a three day event September 12, 13, 14, spanning the career of Jeff Beck.
---
Paul will also perform at The National Labour Party Conference on October 1, 2002, in Blackpool, UK.
---
New release date for the LAW cd is now October 8. A remastered version of one and only The Law album - the band that featured Bad Company vocalist Paul Rodgers with Kenny Jones. The original was released in 1991.
the re-mastered LAW cd now can be pre-ordered at this site:
---
Listen to some clips of the Free Bad Company tribute band from the UK http://free_atlast.tripod.com/bandaudio.htm.
---
CHAT ROOM TIMES.
Seems many people want to chat but keep missing each other. We shall try a new method for those who cant make the arranged times.
On the hour, every hour, round the clock the chat room will be open. If you wish to chat with another fan, then turn up EXACTLY on the hour. This way whichever country or state you're from it will work. Of course if no fans want to talk at the same time, you will have to try another hour.
So, on the hour the chat room will be open. I suggest if you don't see another fan for 5 mins give up.
Good luck
---
---
Review of Merhants of Cool
---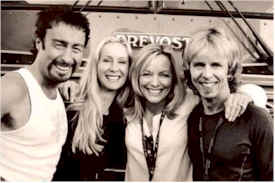 Photo from www.tommyshaw.com with permission
---
Photo of Tammy, a fan from Charleston, and Paul Rodgers at Myrtle Beach, July 27, 2002, House of Blues.
Tammy your shirt looks so cool :-))
---
Coming soon "Rock to the Rescue". With bands REO - STYX & BAD COMPANY. Dates and Venues will be announced soon !!!!!!
---
---
Bad Company appearing on Top of the Pops 2 ??
Do you want to catch Bad Company outside the BBC 2 for pics or autographs? Then watch this site for dates and time. It should be happening in Sept. But I am waiting for details. Tickets for the show are ordered many weeks in advance. I did try to get a bunch of tickets to give out but the BBC could not help as there is a waiting list.
SO I suggest you go to the BBC on the night of their appearence and yell for them :-))) What fun ! Just like the days of the Beatles eh? Well this is a BIG event for BAD COMPANY. I mean they haven't been in the UK for many years now. So keep checking this space to catch the upcoming date.
Approx date is Sept 26th. But this has not been confirmed.
---
---
---
New video footage of Bad Company AOL Sessions (Live).
To see this footage you need to install RealOne Player. Click here to start the installation of the free RealOne Player.
Wait till you see this !!!!!!!!!!!!!!!!! See and hear the new Bad Company single "Joe Fabulous" followed by three classic BadCo tunes.
---
FREE + KOSSOFF
---
---
Here is the new project Tim Donahue was doing also check out this neat Fretless course.
---
A extra date has been confirmed for a second show in Newcastle, England on 9/16/02. Same venue - Newcastle City Hall.
---
SHOW OF HANDS - Steve Knightley and Phil Beer.
MP3 sound clip, with permission from Show Of Hands.
---
Cost of items are listed in UK pounds- But US residents can still order on line.
See details below
---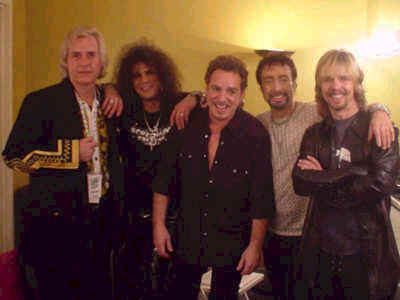 ---
For those fans who want everything of Pauls Here is one which you cant find in your local music store. Made in 1996 This is one of Pauls greatest ballads.
Best place to find it is:

Reaching Out - UK
---
Have you ever heard of EILAT. ? After 30 visits I want to share my paradise!!
It has the finest beaches you have ever seen
Check out this website to see the beauty of Eilat.
You will be amazed.!!!
---
---
A true treasure for the Free fan.
An excellent music book containing full chord and solo transcriptions of 14 Free songs is now available!!! This book contains a very interesting interview with Paul Rodgers who provides some very revealing insights into how Free made their music, and especially how Kossoff built his solos. The name of this book is Best of Free. The songs included are: All right Now, Be my friend, Don't say you love me, Fire and water, Heartbreaker, The highway song, I'll be creeping, I'm a mover, My brother Jake, Mr.Big, Soon I'll be gone, The stealer and Wishing well. You can order this book from
Hal Leonard, 7777 N. Bluemound RD, PO box 13819 Milwaukee WI 53213 or find it in your local music store. The cost is $18.95 and the ISBN number: 0-7935-3295-I.
The phone number for Hal Leonard is 414-774-3630 Please phone them for Delivery cost to your city, country. Tell them the name of the book and ISBN no.
---
Mark & Brian Amphitheatre:
---
Please send in your reviews and photographs - we'll be happy to post them.
---
If you are a Janah fan here are some updates http://www.skopemagazine.com/bands/artistPages/AN/janah.asp
http://www.newmedia.alma.edu/almanian/032002/feature/music.html
---
Janah will be opening for Johnny Winter on 19th June at the BB King Bar and Grill, New York
---
The guitar tablature books volume 1 and 2 for the Original Bad Company Anthology CD set are available online from SheetMusic.com.
Also available from Musicroom.com in the UK.
---
Read an interview of Mick by Donrad.
Listen to an interview of Mick by Jon Kirkman - includes sound clips from Mick's "It's All Good" album.
---
For a generation, All Right Now has been the signature song (victory mix - 3.9MB) of the LSJUMB. Here's a little information about the history of the song that's had Stanford students jumping since the early 1970's.
---
DVD, CD album and single, and VHS are out now.
---
By Michael Roobottom (Free At Last)
IAN HUNTER AND THE RANT BAND featuring MICK RALPHS
The Limelight Club, Crewe, England
Mon 13th may 2002
It's been almost 30 years since Ian Hunter and Mick Ralphs were together in Mott the Hoople so this was a gig not to be missed. I've played The Limelight Club in Crewe many times with Free at Last so I knew it was worth travelling the extra 50 miles rather than waiting to see them in Wolverhampton in a couple of weeks time, so with the club packed to a capacity of only about 400 at least I'd get to see them up close.
So here we go, the house lights dim and the band are on stage straight into 'One of the boys' followed by 'Once bitten, twice shy' and a couple of tracks from Hunter's new album. Mick Ralphs sure seems to be enjoying himself slipping right in with Hunter's post Mott tunes. Next came walking with a mountain and a version of Dylan's 'Knocking on heaven's door' with a great solo from Mick. Ian Hunters latest album Rant is a great album in the vein of most of his previous work (if you like Mott you'll like this) great rock'n'roll songs with great lyrics, five or six of which are featured in the set. Mick Ralphs leaves the stage while Hunter performs the emotional 'Michael Picasso' his tribute to the late great Mick Ronson, and then returns to perform his version of the classic blues instrumental 'Hide away'. 'Roll away the stone', 'Rock'n'roll queen', 'All the young dudes' and they're off.
The crowd chant Hunter, Hunter; clap their hands, whistle, stamp their feet and the band are back on for the encore. Another tune from Rant, 'All the way from Memphis', 'The golden age of rock'n'roll' and finally a rip through Little Richard's 'You keep on knockin' and it's all over. I'm sure I've left a lot out but it's hard to remember detail when you're enjoying yourself so much and a set that lasted 2hrs 15mins goes by in the blink of an eye.
---
Here is the line-up for the Alanis Morissette show at Vanilla Coke?s On the Bricks, June 14 in Atlanta:
Alanis Morissette, Pat McGee Band, Janah, Parmalee.
Free concert - Hope you can make it .....
---
This is one of two identical Ludwig drum sets used by Simon Kirke of Bad Company on albums and tours during the early 1970?s.
---
Jasmine Rodgers of BOA, daughter of Paul Rodgers, turned 26 on the 1st of May. You can post your wishes on the Boa website.
Also, I have been told it's confirmed that BOA will in fact be opening up for Bad Company in the UK.
---
Do you need to BUY or SELL Bad Co tickets? Or do you just want good company to see Bad Company??
You may use the Guest Book to inform fans if you have a spare or need to sell a ticket. Face value only please ........ Remember we are all family here.
---
Mick Ralphs interview with Vintage Guitar
also Guitar Magazine.
---
date: WED 15th MAY
time: 8:20pm on stage
venue: WATERRATS
tube: KINGS X
Waterrats Theatre
328 Grays Inn Road,
Kings Cross
London
BOA are pleased to announce a gig in London, UK, as a warm up to further gigs in the near future. This is an exclusive, so if you can make it please do.
Visit BOA at http://www.boaweb.co.uk/home.htm.
---
This drawing or doodle was made in 1970.

It is illustrated in a book which has all the bands I saw back in 69-73. All these bands often appeared in the clubs I went to. Next time I will list all the bands I saw, and the venues in which I saw them at and how much it cost. Also what I thought of the show.
I have had this diary over 32 years..... It's looking a little rough now but it sure brings back the memories
Enjoy !!
---
Off the Record with Bad Company will be broadcast on Westwood One Radio on May 18 and 19. Check local listings for exact showtimes in your market. Go to www.badcompany.com or www.paulrodgers.com for local radio stations.
---
Janah will be performing in Woodstock, New York. The first half hour will be broadcast on Thursday, April 18 at 10pm at this radio station (you will need to register and download a player).
---
This is a Japanese tribute band that have Free to perfection. The guitarist is amazing ...... Check out their website (in Japanese) and drop them a line and tell them you found them on Allrightnow.com. They would love to hear from you. And if you're in Japan at any time, go check out this very hard working band.
Such dedication to getting everything perfect - clothes, style, hair, equipment ....
---
Tim is happy to announce that a track of his will be included in the GUITARS FOR FREEDOM, VOL. 2 release this year. VOL. 1 has just been released, and includes tracks from Jimi Hendrix, Santana, Steve Vai, Allan Holdsworth, and Tim's main man Sleepy Guitar Johnson. All proceeds from the sales of these albums will go to benefit the victims of the 9/11 terrorist attacks.
A great cause.
---
Here you will see some Free photos that Lucy took in 1970. Many of these have never been published.
---
Check out this discussion group from Elektra.
---
Check out Robb's photos of Bad Company in Atlanta. Click on "band photos - samplers", then "photo index", then "A - F" for Bad Co.
---
The Best of British Rock includes Free and Bad Co, and many more bands.
---
IAN HUNTER/MICK RALPHS - Together for the first time in 30 years, Ian and Mick will perform material from their own solo albums before joining for a finale of Mott The Hoople numbers.
For more information see http://www.ianhunter.com/news.shtml UK Tour Dates: May 2002
---
More great photos from the VOLUNTEERS FOR AMERICA benefit concert from ChrisMcKay.
---
FREE AGAIN, the Original Tribute to Free and Bad Company (as featured elsewhere on this site) seeks new guitarist.
Ideally should be accomplished, versatile, good natured, interested in the band's total sound not just his own, and true to the spirit of Kossoff's style. Mature, professional attitude essential. Rehearsals in and around Cambridge, gigs mostly within an eighty mile radius, but some further afield. Might suit (for example) London-based ex-professional with contacts.
E-mail Steve on stephen.logan@virgin.net.
---
Drummer Simon Kirke holds the distinction of having played with some of the giants of rock and roll, particularly Britain's upper echelon, including Free and Bad Company with Paul Rodgers.
Additionally, he's done numerous sessions and tours with the likes of Ringo Starr, Pete Townsend and The Who. Kirke is considered one of the best drummers in classic rock, and continues to record and tour today.
Simon was inducted into the Rockwalk in May 1997.
---
DVD to capture Bad Company live in Denver, flying mic stand and all.
---
Check out this cool club in East London, England. My hometown
---
Elektra had a mailing List and site for Bad Company. Fun to see but it may not been still running :-)
---
Joe Benson, ARROW 93's Morning Man in Los Angeles, CA. has a hour long nationally syndicated program in the United States called "Off the Record." This Sunday 03/03/2002, Joe will feature the music of Bad Company and Joe's recent conversation with vocalist Paul Rodgers and drummer Simon Kirke.
Check out this link: http://unclejoe.com/
Then click on the "Radio/Music/Racing Link" for a city in your area that is broadcasting it. For our friends across the ocean and for the cities or states that don't carry the program, some radio stations will stream the show. The list is fairly up to date and accurate, but of course, always check with the actual radio station to ensure they are still carrying the program. Enjoy!!
---
Read about the movie
Official site for Scotland P.A
---
Tickets are now on sale for Paul Rodgers for the Trump Marina NJ Sat 20th April.
---
Paul Kossoff music items for sale.
---
Japan sells the Free Remasters first.
It won't be long now before Europe and USA have them so don't order from Japan unless you live in Japan. Otherwise you will over pay.
---
Walmart do not have any more of the Andy Fraser CDs. But you can find plenty here.
Also available in Japan.
---
Janah to appear at the House of Blues New Orleans.
For more dates, see www.janah.org.
---
If you haven't got your copy of HEAVY LOAD, you can purchase it at the following location:
http://www.thecutting-edge.net/Free.html.
---
From www.badcompany .com January 22nd:
Christian Turner is gaining fans big time. Tonight he got a standing ovation from some of the fans with his rendition of "Dock of the Bay". After the show he meets and greets his fans and signs autographs. The guy is a natural with people.
---
I am trying really hard to get Paul to play at this venue for a Unplugged show. If you would also like to see him perform solo please send me a letter with your request and I will forward on to his mangement.
---
Review from a fan:
"Opening act Christian Turner. The refreshing voice of Christian warmed up the audience really well. He will be opening up for a number of the shows.
I believe this was the best show Bad Company had ever done. And also think this will be the best tour .... and suggest if you were not going to see one of these shows, you better make new plans.
Paul was in TOP TOP FORM. Every member of the band was just excellent.
Four Encores.
Neil Schon came on early in the set and played Amazing Grace. During the encore Neil came out again and played Crossroads, and Muddy Waters Blues with Bad Co. Also Bad Co played some songs they don't usually play.
Paul wore black pants, orange snug med sleeve shirt. He looked better than ever before. Just awesome."
---
Jason Boyleston's new band is called The Cut. Which also has Howard Leese on it. Appearing at the House of Blues Los Angeles, Saturday, January 26th.
---
Christian Turner, singer / songwriter, will be opening up for Bad Company on the DVD tour.
---