Lucy
FAS Magazine
The following articles and pictures have previously been published in the FAS magazine.
Photo Credits
Paul Rodgers, Geoff Whitehorn: Ennio Di Pede
Robert Hart, Bad Company: Lucy Piller
Free, Paul Kossoff: copyright by Lucy Piller
All photos are copyright of Lucy Piller and Ennio Di Pede
and may not be copied without permission.
---
From 1969 to 1971, I went to every FREE gig I could get to, e.g. FREE at the Country Club, Belsize Park, admission 8/6, FREE at the Imperial College, FREE at Loughton College, FREE at Cooks Ferry Inn, Edmonton, FREE at Groovsville, Epping, FREE at Croydon, FREE at the BBC, FREE at the Roundhouse, and so on.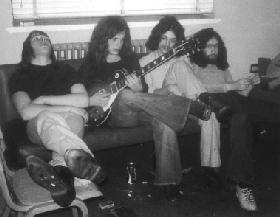 My boyfriend at the time asked if I wanted to take some photos of the band. I said yes, but how? He said, go backstage. Now in those days, there was no security at the stage door because they were "just a band"!! I plucked up enough courage and walked into the changing rooms. They were sitting about, having a drink, and just waiting to perform. I asked them all if they minded me taking some photos. They agreed and I took around eight pictures, said thanks, and returned to the crowd and watched their great performance.
Well, that was the beginning. Each gig I went to, I went backstage and showed them the last gig's pictures and wow! They used to laugh so much. After months of doing this, and the band becoming more famous, I then had to say to the bouncers who I was and once I said, Lucy, they let me in. Now I was also waiting with all the other girls wanting to get in, but I was always let in.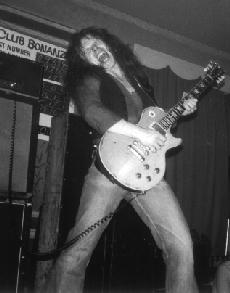 My photo collection grew and on one occasion, Andy asked me what I was doing will all these pictures. I said, I kept them and he then got me in contact with Island and I saw someone there who did buy some pictures from me. Meanwhile, my collection of FREE was still growing! Before each gig, I would go backstage, may have a chinese with them, or fish & chips, and just hang around with them. In those days, remember, I was only 15 or 16. I mostly spoke to Simon or Andy or Koss. Paul Rodgers never, NEVER spoke to me nor looked at me! I could sit in the same room with him for half an hour and still not a word! It didn't change my opinion of how I thought of him as a singer (THE greatest).
A couple of years passed and just before FREE took off to Japan for a tour, I took off to Israel. Andy did write and keep in touch while I was there, the rest of the band I didn't hear from. Then came the sad news of the breakup. At least, I had spent two and a half years with the greatest band I ever heard.
---
I think it was in 1991 when Bad Company were in Philadelphia, where I had moved to and I went to the concert. Then after the show, I popped backstage to see Simon -- it was a scream. There were all these young people, fans trying to meet him. Then there was me, a 40 year old woman -- way passed it -- also waiting to see him. You know, I felt a real burk! Once we all went in, I looked at him, he wondered who I was. He looked at the photos and laughed so much. We chatted for so long. Unfortunately, the way I looked at 16 and the way I look now, it's like two different people. I think he remembered me after seeing my old picture. Anyway, I felt so sorry for all the kids around us waiting for autographs and handshakes but Simon was having too much fun looking at old pictures. A few days later, he did call to thank me which I thought was REALLY nice!
---
Now with Paul Rodgers. I was at the 1994 concert in Toronto, where I lived at the time. Before the concert, I popped backstage to say Hi. Now remember in all the times I'd seen him through 1969 to 1971, he totally ignored me. Well, to my astonishment, he bloody well recognized me immediately. He knew exactly who I was and he was so friendly with me. I couldn't believe it was the same guy I saw then. He was laughing with me, arm around me, really enjoying my company. And also enjoying the photographs from his past. And to top it all, he sang some songs especially for me. Wow, what an evening!!
---
March 1995 at Lulu's
As the British say, "my husband and I" arrived at Lulu's (Cambridge, Ontario Canada) around 6pm. The doors were not opening until 7pm. We walked into the lobby of the club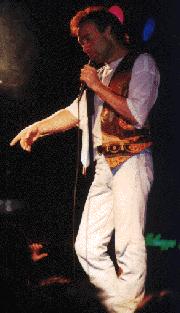 and, to my astonishment, a FAS member recognized me from a previous issue. While we chatted, my husband noticed Paul Rodgers on stage. He told me to look! As soon as I saw Paul, I just casually walked through the doors towards the stage. Immediately, the cashier at the door informed all security inside. I could see at least four different bouncers heading for me as fast as they could. By this time, I'd reached the road manager and said I'd like to see Paul when he;s finished his rehearsal. He asked who I was and I told him. He informed Paul and after the practise, Paul came straight for me, arms open and a kiss.
He looked just superb. Slim, clean cut and younger than I'd seen him for years. We looked at some photos together and we talked for about ten minutes, just him and me. The security guys didn't know where to put their silly faces!! After this interview, I joined the "Toronto gang" outside. They said my face was beaming when I returned!
The concert was just incredible. Paul even dedicated The Hunter to me. He jumped around the stage like a teenager! After the gig, he did something I'd never seen before. He came out to a crowd of fans waiting for autographs, pictures, etc. He really seemed different. It surely was a great night to remember.
At RPM, Toronto Canada
What can I say, another superb concert. Alan, Ennio and myself (almost the complete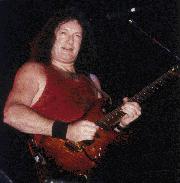 "Toronto gang") met early around 6pm to chat. Outside RPM, we heard PR's voice singing inside. I said, let me go first. I walked through the back doors and there was the band just looking over at me. "Hi Lucy", Paul shouted, "how ya doin'?" I replied, "Great thanks - how was Quebec?" Paul replied, "Pretty French"!! I remained for about five minutes, then along came Ennio and Alan. After the practise, Paul came down to us with all the band and we all chatted for some time. We actually felt a bit guilty because they were with us for so long! I think the band were due on at 11pm. I planned to take many photos, as usual!



---
June 1995 - Bad Company at the Friendship Festival, Fort Erie, Ontario Canada
As before, I was flipped out about Robert Hart. He's doing real well, the whole band were just great. They managed to get a whole hour, playing old and new songs. I took some good photos of Robert Hart. He's a real pleasure to photograph, quite photogenic. I met both Robert and Simon backstage. They seemed really happy with the tour. I managed to stay with Simon about 20 minutes, we had a "Hart to Hart" chat, private home life, etc.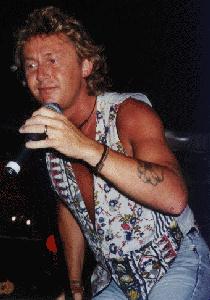 ---
That's me with Bad Company at RPM, Toronto, in August 1995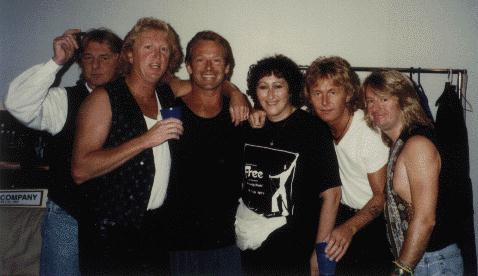 ---