Paul Rodgers - Kingsport, Tennessee
March 25, 2000
Review by Lucy Piller.
This was the first Paul Rodgers gig in the year 2000 i attended, and i must say it was just awesome. Infact it was the best gig I had attended with his Brigade Band which is Howard Leese on lead guitar, Jason Boyleston and Jeff Kathan on drums. the boys just rocked the house down. The atmosphere which was just dynamite !!!!!!
The story :- I left Atlanta and drove up to N.Carolina to meet fans Al, Cris, Julie & Phil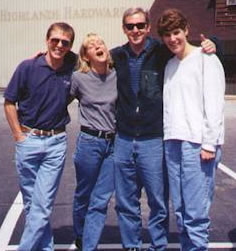 ( guys thank you for making the trip just terrific). From there we drove on to Tennessee playing all Paul's music and singing along the way. we headed for the highway boutique which was the store selling tickets. and an interesting store too it was .......... the band was at the leather and shirt store to sign some autographs ...... but we arrived too late ..... so on we went to the convention Center.
We checked out the hall, which was pretty big and looked at the front of the stage to see where the best place to stand would be. it was still rather empty at this time so it was not a problem to get front position. Paul's band was coming on at 9.15pm a warm up band came on which took up the whole stage, almost 9 of them I would say, and i must say they did warm up the audience ........ but then when Paul comes out on any stage ........... us the fans don't need warming up ...... we are already boiling ........ right ??????????
Our man came out. looking like a knight in silver armour. wearing a new suit ....... very snazzy !!!!!!!! nice fit too ......:-)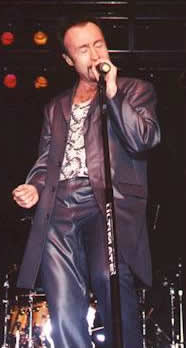 The sound was excellent, again the best I have heard in a long time. Congratulations to the sound men because in previous gig with this band I found it too loud and distorted but this time was purrrrrrrfect !
The song list (maybe not in order was):
Can't get enough
Movin on
Feel like makin love
Fire and water
Mr big
All right now
Satisfaction guaranteed
Little wing
Rock and roll fantasy
Tracking down a runway
Run with the pack
Bad company
and Deep blue.
Every song was just brilliant ......... Jeff, Jason and Howard were at their best .......... the Free songs especially ....... they just rocked !!!!!!!!!!!! close your eyes and you can go back to the free' days ....... and thats just what I did. well done guys .................
The show lasted one hour and 15 mins apprrox .........
After the audience left ........ we were fortunate enough to get some things signed by Paul who was in a delightful mood ........... just soooooooooo cool ....... not rushed at all ........
So this was the first of U.S. dates. With many more to come. England and Europe, keep an eye on paulrodgers.com or Allrightnow.com for the latest dates across the big pond. Till the next review ........ rock on ...
Lucy Piller
Satisfaction guaranteed ........... I promise.
---