---
Bad Company live on the Scott Muni Show! From 2002
---
For those fans with young children, here is SImon appearing on this childrens cd. See here for ordering information.
All my friends live in the wood
- written by Simon Kirke

---
LIVE at Fee-lay Gumbo
Coming shortly, two sound clips
from Andrews latest live cd.
Drop Andrew a message and tell him
you heard the clip at Allrightnow.com
and I'm sure he can sign it for you .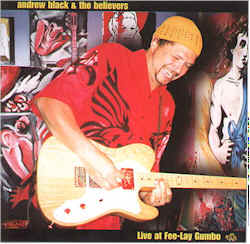 ---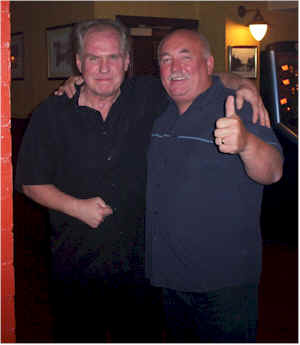 Photo taken in Edinburgh 2003
---
Another great band in the Atlanta area.
http://www.vidley.com/Music/HomemadeJam-Iraq.mp3
http://www.vidley.com/Music/HomemadeJam-ForTheMoment.mp3
---

If you grew up in the 60s in the UK Check this site out for reminders of the good old days.
---
Died 12-20-02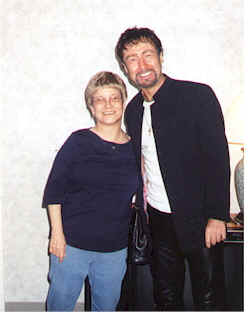 ---
WEDNESDAY, DECEMBER 31st
BACK IN CHICAGO FOR:
93XRT/MICHELOB ULTRA
NEW YEAR'S EVE ROCK N' ROLL BALL
With The B-52s and POI DOG PONDERING
JANAH
Millenium New Years Eve Rock N Roll Ball
with 6,600 revellers
Navy Pier's Grand Ballroom
600 West Grand Avenue, Chicago, IL
Ticketmaster 312-559-1212
Rock n Roll Hotline 312-836-4299
www.bigcreekevents.com
www.wxrt.com
---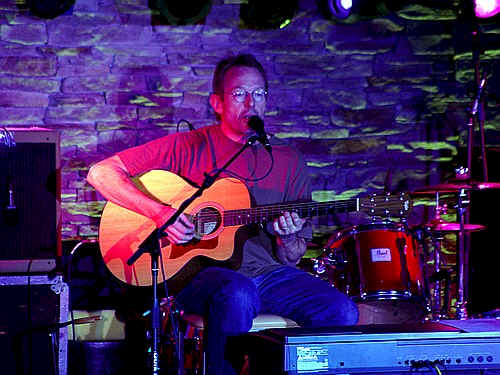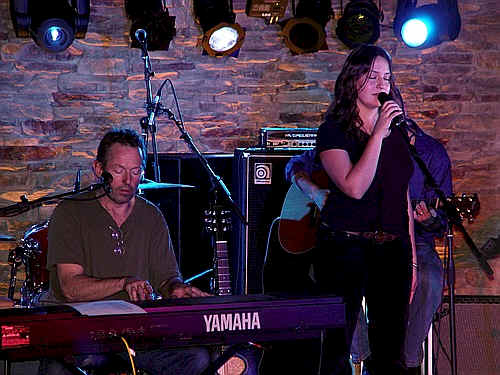 ---
Fans of Jools Holland
Articles from Yahoo fans
The highlight though for me was when Jools goes something
like 'a man from America, he sang a song with us on our new
CD PAUL RODGER'S' This was a total suprise! The man is the
voice of rock and wow another hero of mine! Nearer the end he
came back on and sang 'All right now' which was stunning, it
was like a rock gig at that point, the ones at the front who had
stood up jumping up and down and reaching out to hold his
hand (yes baby i held his hand ). ALEX UK
----------------
What can I say. A magnificent weekend with some wonderful people -
friends old and new - and superb entertainment. I have to agree with
Alex about Paul Rodgers - what a superb voice and a great surprise to
have him as a guest! I was in Year 10 at school I think when All
Right Now was re-released (cos of the Wrigley's ad) and it kind of
passed me by as I was into Morrissey, The Smiths and other miserable
music!!! That is the one great things about the Friends album
though.. have come across another great voice and a man who so
obviously enjoys being on stage. Ali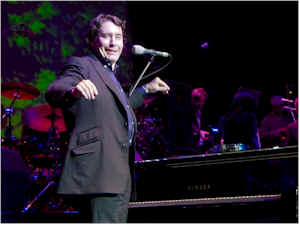 ---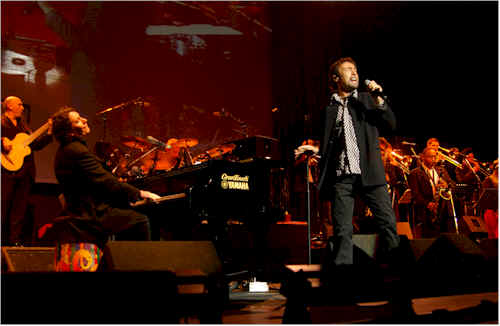 ---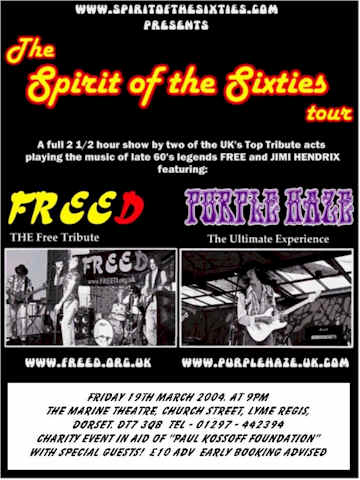 ---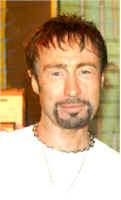 Holland America's new
MS Zuiderdam
Sailing to the
Western Caribbean

Vista Class Ship
Being the largest ship in the Holland America fleet, there is ample room onboard for many HAL firsts for all to enjoy: oceanview glass elevators spanning more than 7 decks, a sports bar, a night club, a coffee & latte bar, a golf simulator, and much more.
Additional facilities include the alternative Pinnacle at the Odyssey Restaurant, full-sized sports court, expanded spa & casino areas, Internet centre, and full kids programs & devoted areas of the ship.
Old favourites like the Ocean Bar, Explorer's Lounge, and Piano Bar, are still there too, along with the grand two-storey La Fontaine Restaurant and soaring 3-tiered Vista Show Lounge.
The grand La Fontaine Dining Room, the 2-storey main restaurant with ocean views
The central atrium, complete with hanging Waterford Crystal Seahorse showpiece
The cruise will benefit the
Hunger Free America Program
Sailing May 15 thru Saturday, May 22, 2004.
With Paul performing May 21 & 22
MS Zuiderdam will depart from Fort Lauderdale, FL
Please be patient as more info is made known to us
Will update you when all is confirmed
---
News from Simon Kirke
The following article was published from simonkirke.com
as seen in his journal.
Tues November 25th

Hi everyone Just wanted to tell you about a 'secret' gig I did last Sat.
I was approached by Ellen Barkin to put together a band for a benefit concert for Michael J Fox. He suffers from Parkinson's disease and this event was to raise money for research into it.
I put together a wonderful bunch of musicians. Mark Rivera from Billy Joel and Ringo's band, GE Smith on lead guitar, musical director of the SNL Band, T-Bone Wolk and Jeff Kazee on bass and keyboards who work with Bon Jovi and Hall & Oates...Jeff Korba on 2nd keyboards and Lisa Fischer - who tours with the Stones- on lead vocals. And my daughter Domino who sang a song and provided back-up vocals.
It was a wonderful evening with guest appearances from Jon Bon Jovi & Richie Sambora, Joan Jett (we kept her as a surprise from Michael J..she appeared with him in a video on Bruce Springsteen's "Light of Day") and John Mayer who knocked me and the musicians sideways with his solo spot..he was great.
We all got on stage at the end jammimg on Allright Now--with yours truly singing himself hoarse being egged on by Bon Jovi and co.!--and Johnny B Goode with Michael J Fox playing lead guitar (I forgot to mention he played Koss's solo on Allright Now almost note for note)
A great night...and five and a half million dollars was raised . If I get a photo I will post it on the site.
Keep writing ...I haven't forgotten you all...Happy Thanksgiving to all of you and I hope to see some of you at Crash Mansion 199 Bowery in NYC on the 10th of December
Simon.
---
Paul Cox - Paul was involved a special benefit concert for the legendary Frankie Miller
where he performed on stage with Paul Rodgers (Free, Bad Company)
and Gary Brooker (Procul Harum).
Catch one of the shows if possible
Saturday 13 December


FIRE&WATER
The Torrington
4 Lodge Lane / High Rd, North Finchley, London
N12 8JR - 020 8445 4710
Thursday 18 December


FIRE&WATER
The Globe
104 Windmill Road,
Brentford, Middlesex.
TW8 9NA. 020 8580 0086
---
New shows added to 2004
Friday March 26th
Sat March 27th
Venue Chukahansi Gold Resort & Casino 711 Lucky Lane - Coaregold CA
Showtime 8pm
Tickets - Not yet on sale
---
King Karma - watch video here
Have you been missing REAL ROCK, guys that can play, CD's that you listen to from start to finish? Well here's a CD by a band that's been called, "the best of Bad Company and early Lynyrd Skynyrd." Tired of music that's better-played quiet? Looking for a band that you want to turn up? Welcome to the sound of King Karma, a mixture of West Coast with two shots of Southern Comfort for flavor.
---
Clips from Janah's new album, 'Swan In The Monsoon' Available on line at
Clips from Janah's first release, 'World That Surrounds You'
---
"My expectations were high for Paul's performance on Jools Holland's CD but I
have to say he smashed through them! Its a great song and Paul's vocal just
made the hairs on the back of my neck stand up when I heard it yesterday.
It's a great album generally, but you just keep flicking it back to track 9!!
Arthur Smith - UK
I Told The Truth - Paul Rodgers
---
A GROUP FOR SINGLES of all ages
If you are
SINGLE OR DIVORCED

Then this is the place for you!
Devoted Free and Bad Company fans only please !
Ain't it good?
---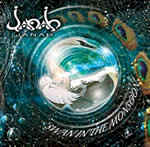 Janah's second CD "Swan In The Monsoon" is now complete and available on Rattlesby Records!


To celebrate we are having two very special events. You won't want to miss these shows!
---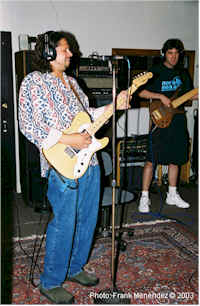 ANDREW BLACK & THE BELIEVERS
CD RELEASE PARTY!!
Andrew Black & The Believers "Live at Fee-Lay Gumbo"
Thanksgiving Night
Thursday, November 27th
Fee-Lay Gumbo Creole Kitchen & Lounge

2606 George Busbee Parkway
Kennesaw, GA
---
Photo taken last July 2003
Nicko McBrain - Jaz Lochrie - Geoff Whitehorn
Dave 'Bucket' Colwell - Phil Hilborne ~ John Henrys
For more photos go to the gallery at Phil Hilbornes site
---
About The Free Story http://www.thefreestory.com/

THE FREE STORY were formed in the summer of 2003 by Gerry Toal & Steve McDonald with the intention of creating a first class live show paying tribute to the music of Paul Rodgers, Free & Bad Company.

With a wealth of music to draw on (8 albums by Free, 6 by Bad Co & numerous solo efforts) finding the material was easy enough offering a depth and range rarely seen in today's markets.

Drawing on their vast international experience Steve & Gerry have crafted a well balanced and dynamic show, which works well and is varied enough to suit most venues while retaining its integrity. Both playing lead guitar & vocals they were joined by John McIvoy on drums, a local session musician of the highest quality.

The jewel in the crown was the return to the country of Ian Cussick on bass and lead vocals. Ian has returned to Britain after a 20-year career as a solo artist in Europe releasing 10 albums including one with the Munich symphony orchestra and touring with TOTO, this then completed the line up of THE FREE STORY.

Alright Now (64 seconds)
A little bit of love (60 seconds)
Can`t get enough (58 seconds)
Be my friend (88 seconds)
Wishing Well (45 seconds)
Fire and Water (57 seconds)

More details to come
"Outstanding singer" - Lucy
---
Listen to Kid Rock's version of Feel Like Makin Love.
---
Back on the road are
FREE AGAIN Tribute band
Line up is....... Justin Hildreth (ex. Joan Armatrading) on drums, as in the old line up; Paul Edwards (formerly signed to Elton John's label, Rocket Records), Izzee (the one who played in Back Street Crawler) Stephen Logan on Vocals
Good Luck Guys
---
Kid Rock will perform on the Jay Leno Show on Tuesday, November 18th. Tune in to see him rock the show with his new single "Feel Like Makin' Love". The show airs at 11:35pm (ET) on NBC. Let us know what you think at piller@fan.net
---
FRANKIE MILLER OUT NOW on Eagle Rock Records
ONCE IN A BLUE MOON
plus Bonus Tracks I Can See The Train/ Blow My whistle/ Rules of the Game/ And Its Raining
HIGHLIFE
plus Bonus Tracks Brickyard Blues/Devil Gun/If You Need Me /With You in Mind
THE ROCK
plus Bonus Tracks Hard on The Levee/ Sailaway/ Drunken Nights in the City/ All 1976 Walkin The Dog ( With Rory Gallagher )
FULL HOUSE
plus Bonus Tracks Free and Safe on the Road/It Takes a Lot to Laugh / This Love of Mine/Down The Honky Tonk All 1976/7
FRANKIE MILLER Remastered with extra tracks Can be found here.
---
"WANTED"
Free or Bad Company Tribute bands If your in a band that does Free or Bad Company covers please let Lucy know at piller@fan.net.
We are presently only looking for bands in the USA and Canada
---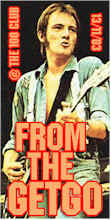 FROM THE GETGO will be appearing LIVE at the famous 100 Club http://www.the100club.co.uk/ 100 Oxford Street London W.1
Thursday 13th November, 2003
First review say's it all: "They are simply outstanding Lucy! I didn't think young people played this type of music anymore: wonderful vocalist, great rhythm section, tremendous (Clapton-like) guitar work. WOW !!" -- Karim - Canada
---
---
Janah's New CD
"Swan in the Monsoon"
Release Party!

Friday, November 7th
Smith's Old Bar
1574 Piedmont Road
Atlanta, GA 30324
404-876-8436
If you live anywhere in the South East
Join me at this great event.
This cd will just blow you away.
I am just in the process of starting a Janah Fan Club
Keith Johnston lead singer of Janah is one
of the greatest singer/song writers I know.
I admire his ability to create such awesome music
This show I'm sure will be a sell out !!
So book early !!!!!!!!
.
Lucy
Sound clips from the upcoming CD
---
Andy Frasers /Chris Speddings
Sharks double cd
---