---
Damien Rice
Atlanta Sept 21st 2003
Cotton Club
Back in May of this year I had written up a review and I had said quote"
"He will be playing quite a few more shows before he returns to Ireland. Then he returns for a full tour with his band in Sept. I have NO doubt in my mind these shows will be very successful. Catch him while the crowds are small because soon everyone will know of Damien." May 17th 2003
Tonight Rob and myself attended the 2nd show of Damien Rice. The Cotton club was the same venue, first time we saw him we sat in the 2nd row, attendance may have been about 30 - 40 people. This time the Cotton Club was full. Standing only to get more people in, the first time Damien had to explain to the audience what the songs were about this time
the audience knew all the words and songs, what a difference this was to the first show.
This guy is going from strength to strength. And only in 6 months.
I managed to talk to Damien before the show started and he remembered how few people were at his first show,
so was very pleased to see so many waiting to see him perform,
During Damien's show, it was SILENT. dead Silent. But at the end of each song
the Cotton Club sounded like a huge arena.
Try not to miss him if he's in your town. Till next time Damien
soundclip
http://www.damienrice.com/website/sounds/Songs/HQ/Volcano.mp3
---
© Hef/Catherine O'Heffernan 2003 All Rights Reserved
Frankie Miller CDs coming out soon........................
Frankie Miller sound clips
Press here
then press LISTEN TO ALL
(requires Media Player version 7 or later)
Ignore Sugar Coated tracks, this is not the same Frankie Miller.

---
Delta Moon touring UK
Atlantas own
Delta Moon
are set for their first UK trip they won this years International Blues Challenge In Memphis and are a very unique entertaining top class act . Visit
WWW.DELTAMOON.COM
If anyone in the UK live near any of these towns, do give my friends the support they deserve. Here are 2 of my good friends Please say HI to them if you manage to see and meet them. John also used to be the drummer of the Barry Richman band.
Good Luck guys
John McKnight - drums.
john@deltamoon.com
Born in Altoona, Pennsylvania, John followed in the footsteps of his drummer father and began lessons at seven. By 15, he was already well known on the night club circuit. An inexhaustible powerhouse who is all about a show, John has recorded with many artists including E.G. Kight, Brian Doyle, The Hybrids, Dr. Dan Matrazzo, Forrest McDonald, and the X-Miss Americas.

Jon Schwenke - bass.
jon@deltamoon.com
Originally from Rye, New York, Jon as a child begged his father for a bass guitar. Since then he has performed with such noted artists as Frankie Ford, Taj Mahal, Mudcat, Charlie Musselwhite, Pinetop Perkins, Willie "Big Eyes" Smith, Cootie Stark, Beverly "Guitar" Watkins, the Winston Blues Revival, and Zora Young.
Sat. Nov. 8 - Dorchester Arts Centre, Dorset
Sun Nov. 9 - Running Horse, Nottingham
Sun Nov. 9 - BBC radio w/Paul Jones (in the afternoon) Birmingham
listen live
http://www.bbc.co.uk/radio2/shows/jones/
Tue Nov. 11 - Bulls Head, Barnes, W. London
Wed Nov.12 - Bishops Blues Club, Bishopstorford
Thur Nov.13 - Riff's Bar, Swindon
Frid Nov. 14 - Bottleneck Blues Club, Maidstone
Sat. Nov. 15 - Cranleigh Arts Centre.
Sun Nov. 16 - Spaulding Blues Club, Red Lion Inn, Spaulding
---
Japanese Band BAD SIGN has a cool guitarist named Naoki Tatsuya -
Please note:- this band is a family band !!!!!More details to follow
---
This painting of a flower was in my room in Oklahoma, I freaked
Can you see Paul in the picture??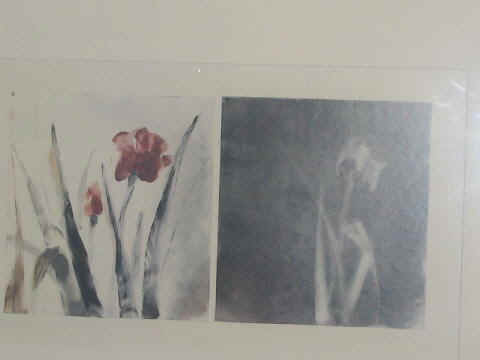 ---
Henry McCullough August Tour 2003
Legendary Ex Joe Cocker/Wings/Frankie Miller guitarist Henry McCullough
has added an Edinburgh date to his Scottish Tour in August.
Revised dates as follows:
Monday 25th August Dalgety Bay Sports and Social Club Tel 01383 821729
Thursday 28th Bein Inn Glenfarg Tel 01577 830211
Friday 29th Blue Lamp Aberdeen Tel 01224 647472
Saturday 30th Pear Tree Beer Garden West Nicholson St Edinburgh 4pm-6pm
Tel 0131 667 7533
*****************************Saturday 30th **************************
There is also a party for 120 in Edinburgh
at Swanston Golf Club - 8pm till late on Saturday 30th @ £5 per head
***********************************************************************
Sunday 31st August
Sunday 31st will be at MacSorleys Bar Glasgow
6pm - midnight with Jamie Barnes and Cochise The Henry McCullough Band
£7
( Closing party for Heidbangers 'n ' Heroes Exhibition )
Tickets from McSorleys in Glasgow 0141 248 8581
For more details email email Davy@Frankiemiller.co.uk
---
Band from England
Black Manalishi
sings SEAGULL (nice job too)
Check out this band who are huge PR fans.
---
A Mick Ralphs interviewed was published in the Montreal Gazette last week and a link has been added to the Interview page on Mick's site. Mick talks about his recent album, his on-off relationship with Bad Company, and his recent tour with Ian Hunter.
---
TAYLOR LEWIS Aged 8 singing from Grandview Elementary School Singing SHOOTING STAR at the spring Fair in Manhattan Beach CA. Taylor will be attending Paul's show in Anaheim.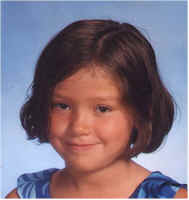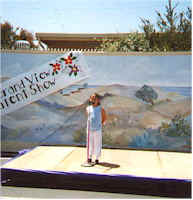 ---
late night with conan o'brien
tuesday, 22 july

(broadcasting time 12:35am EST/PST)
(broadcasting time 12:35am EST/PST)
---
News just in the Gambler with Geoff Whitehorn
will be playing at a big free
concert to be held in Gravesend
on 17th August 2003
Geoff Whitehorn tours with Procol Harum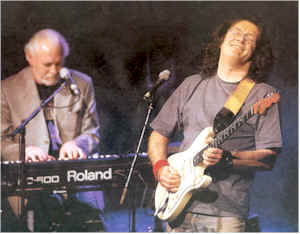 ---
Boa is live at BORDERLINE
96 Charing Cross Road, London WC2H 0JG
Date: Sunday17th August
On stage:7:30
Charge:£4 with flyer*, £5 without.
Tube:Tottenham court, or Leicester square.
Promo:all bottled drinks £1:50 all night
*flyer will be available from the "live" page of the website in the next few weeks
---
Sunderland FREE Convention 2003
The Alexandra
Queen Alexandra Rd
Sunderland Tyne And Wear SR2 9PF
Tel: 0191 5672774
Doors open 6pm
3 Live bands
Freeway will be doing an accustic set 6.45pm
Merchants of Cool playing 7.15 - 8.45pm
Freeway playing electric set 9 -10.30pm
Tons of Free 10.45 - 12.15am with 15 min Jam
Tickets in advance only - TIckets 7 pounds
*******************************************************
Crew FREE Convention 2003
Sat 18th Oct
Same times as above
3 Live Bands
Deja Voodoo
The Outfit
Tons of Free
Tickets 7 pounds
For more information & Directions
contact Bill Flynn at
Quote Ref:- Allrightnow
Please email Bill for information.
---
Two amazing guys who performed at my Birthday Bash Andrew on Vocals and guitar and Barry on Lead. Now tell me that aren't awesome !!!! Listen
---
By Marci
A Midsummer Night's Dream....July 5th at Lucy's Place
There really is no other way to explain or describe how special the entire day was. First, to be amongst wonderful people and celebrate Lucy's 50th birthday. She is such a special lady, and deserved a heartfelt celebration...more than anyone I know!
It was truly amazing to spend time with such an eclectic group of people, fans and musicians. Now there is something that can not go with out mentioning. The amount of talented people who performed that day was truly amazing....7 hours of constant jamming and performing by some of the best talent I have ever seen live.....Lucy sure knows how to pick 'em!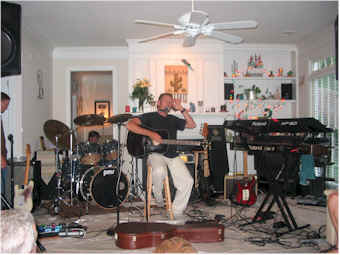 And then there was Simon....Simon Kirke got right into the festivities himself....we were graced with old songs and new songs, drums and synthesizers, and some of the best stories I have ever heard. Fans even had the opportunity to perform with him...wow!!!! All of the musicians made the evening so special for all the guests and Lucy too!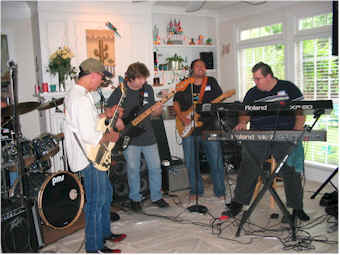 This day was so much fun and one I will never forget. It was such a thrill to share Lucy's birthday with her....she really knows how to throw a party...I'd like to see her try to top this one!
Outstanding entertainment, great food, amazing people....a real Rock and Roll Fantasy, I must admit!
Thank you to all who helped make Lucy's day the magical one that it was....for those who could not attend...I know you were there in spirit and be sure to have a listen to some of the music that we all heard live....check out Lucy's site, it is all there...you shouldn't miss out on this stuff...real music at it's very best!
Cheers,
Marci
---
To a Special fan and friend Steve O'Hehir:
We send our condolences to you and your family on the loss of your father.
Lucy & all the fans
---