---
| | | |
| --- | --- | --- |
| | | |
---
You need Real Audio to hear these sound clips. Sound clips are used with permission of Simon Kirke.
---
---
FREE AT LAST
(Northeast Band)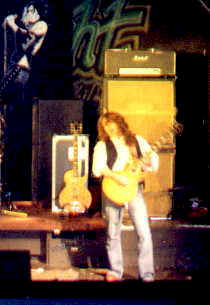 John Buckton - guitar
Sound Clip 1
Sound Clip 2
CONGRATULATIONS TO FREE AT LAST
Show Sat 15th March was SOLD OUT.
FREE AT LAST(Northeast will now be known as FREEWAY)
Watch out for FREEWAYS website.
Coming soon...........
---
16th March 2003
Ancient Unicorn - Bowes
County Durham
15th May 2003
The Studio - Hartlepool
Teeside
17th Aug 2003
Startforth Grange Festival
County Durham
Please send in your reviews to ARN
---
First their was FREE MANIA
Now I guess theirs TRIBUTE FREE/BAD COMPANY MANIA.
Mostly in the UK we now have more than 10 tribute band
This surely tells us something eh? If you have any new names for tribute bands do let us hear what you have thought of. Send them to
piller@fan.net
and I can announce your suggestions.
---
Motor City Josh from Atlanta on tour now in the UK.
Rob Tognoni, a brilliant singer and guitarist. Please check out his website.
---
We are delighted to inform you Simon Kirke has now launched an Ofiical Website and can be found at www.simonkirke.com.

---
| | | | |
| --- | --- | --- | --- |
| Date | City - State | Venue | Concert Info |
| Sat 20th September 2003 | Camp Verde AZ | Cliff Castle Casino, Stargazer Pavilion | Paul Rodgers with John Kay & Steppenwolf |
| Sat 8th November 2003 | Tacoma WA | Emerald Queen Casino | Paul Rodgers Band |
---
By special request
Fans in the UK can join the chat room
Daily at 10pm Mon-Sun USA it will be 5pm
Fans in the USA can join the chat room
Daily at 8pm + 10pm Mon-Sun

---
The Meeting Place
I am delighted to share with you a happy story which all started in the Meeting Place on Allrightnow.com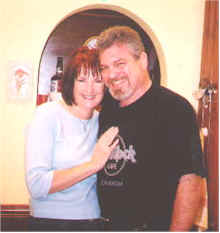 During June of 2002, a fan from Scotland named Sue and a fan from the United States named Frank, started up a friendship .
Last November Frank went to Scotland to meet Sue.........And the trip worked out to be very successful. Sue is visiting Frank this March in the USA Frank says he knows this is a remarkable situation and hopes the relationship continues the way its going. They are both huge PR fans and want to thank him for having written and perfomed all these years. It was their mutual interest in music that was the vital link. Frank told me they are looking forward to a time when they both can see him in concert together.
He also wishes to thank Robert and myself for having the website for this initial connection to occur. I had met Frank in Atlantic City last year and it was a joy to have met him at long last. May you both enjoy whatever the futures holds for you both, A very Happy Valentines story woudn't you say? LUCY
---
In the upcoming months a new website will be put together by Lucy and Ennio. If you wish to show any articles, photos, or memorabilia of Paul Kossoff please send it to piller@fan.net. Any musician who had the pleasure of playing with Paul, we would love to hear from you.
---
Quick update on the Heavy Load Club. It just gets better every time. There were more people rockin' last Saturday than ever before. Noteable important moments being the playing of (evenly dispersed throughout the evening) Movin' On, Allright Now, and one of those moments you remember for ever, when we played Feel Like Makin' Love as the last song of the evening at 2.00 a.m. joined by almost 200 very jolly Heavy Loaders clutching beers whilst participating in the sing-a-long finale of a truly amazing evening. Just 3 more weeks till we do it all again. (Saturday 1st March).
Regards to Paul Rodgers fans everywhere. We love him and them!!!!
Rob and Karen (London)
xx
---
Andy Ball, guitar tech on Bad Company


Andy Ball Andy Ball, guitar tech on Bad Company´s 2002

"Joe Fabulous" tour, has spent 15 years "man & boy" on the road, besides looking after Bad Co.´s Dave "Bucket" Colwell, he has worked with Black Sabbath, Iron Maiden, The Catherine Wheel, Marillion, Crown of Thorns, Helloween & Uriah Heep amongst others. Andy uses a Peterson AutoStrobe 490. "Can´t beat a Strobe really, can you?"
---
SUNDAY EXPRESS - 19/05/2002, Chris Goodman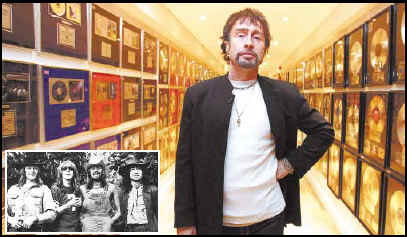 PAUL RODGERS is a rock star. Consider the evidence. At the age of 53 he wears a translucent designer top, goatee beard, styled hair and blue-tinted shades, has houses in Surrey and Vancouver and an attractive young blonde girlfriend. Oh yes, and he has been called the greatest rock voice of all time.
"Singing is not just about the voice box, " argues the man who formed legendary supergroups Free and Bad Company. "It's the head and the heart, the body and the soul. I try to keep everything in harmony.
"Part of that is staying fit and not poisoning my system with too many dodgy substances. She won't even let me drink coffee, " he says, turning to Cynthia Michelle, his beautiful Canadian girlfriend and manager. She returns the cautioning glance of a strict mother. "But I'm a willing student, " Rodgers quickly adds.
In the Sixties, most young lads from Middlesbrough faced a life of drudgery in the shipyards or chemical works. But Rodgers discovered the blues and sought his fortune in London with Free, an era-defining band whose single All Right Now became No 1 in 20 countries during 1970.
When Free split in 1973, Rodgers formed Bad Company with Free drummer Simon Kirke, King Crimson bass player Boz Burrell and Mott The Hoople guitarist Mick Ralphs. By the end of the decade, the supergroup had six multi-platinum albums to their name with hits such as Can't Get Enough Of Your Love and Shooting Star.
Rodgers left to go solo in 1982.
The band went on, after a fashion, but now he and Kirke are back and America is as welcoming as ever - as a new Bad Company live album and DVD now confirm.
The affable and professional Michelle leads Rodgers into a small room and sits opposite me at the table, her boyfriend at the head. Although known as a prickly interviewee, he turns out to be friendly and gracious - the Teesside tones softened but not forgotten after all the years away from Middlesbrough.
Rodgers is proud of the DVD, album and new material. He consented to Bad Company continuing without him but became annoyed by poor releases and is keen, along with his manager, to set the record straight. "One of the things I've noticed about Paul is that his definition of success is different, " says Michelle. "Some people think it's monetary, some think it's having screaming fans and fame, but for him it's putting out a good product and seeing the fans respond to that."
She spots us staring at her earnest proclamation and turns coyly to Rodgers: "That's just my observation of you." He gazes at her with either adoration or confusion - I'm not sure which.
Rodgers is from the sort of working-class background that spawned many Sixties and Seventies pop stars. "It's a similar background to The Beatles, " he says. "I see pictures of them in the early days and I recognise the kitchens - the little kettle, gas rings and jars. There wasn't a future staying in Middlesbrough as a musician. It was a place to get out of."
At 17, he and his band set off for London but halfway there the van broke down. His friends hitchhiked back to the North-east but Rodgers carried on.
He was fascinated by blues and R&B. "I was hearing this music and thinking, 'Wow!' I couldn't even imagine it being written.
I started to realise there was another world out there."
FORMING Free as a blues band, Rodgers was still just 21 when they split.
"We used to get Melody Maker and read it like the Bible. Suddenly we were the front cover. We walked on air, " he says of the young band.
In fact they were so young that their parents had to sign the record contract. "I remember my mam saying, 'Hadn't we better read it first?' I told her, 'It's a record deal, just sign it!'" Too many young egos brought Free to a close but they are still one of Britain's best-loved bands from that golden era. Fastforward to Bad Company's gigs last year and "the greatest rock voice of all time", as it was described by Guns N' Roses' guitarist Slash, is exercised as powerfully as ever, as the new live album shows - but what does Rodgers think of the tag?
"It's a great compliment, " he replies, trying not to look too proud. "I don't even try to live up to it. I just do what I do; my voice is a God-given talent. But I've worked at it as well, listening to the greats - Otis Redding, James Brown, John Lee Hooker, Ray Charles. I'm carrying that torch in some respects."
Rodgers preserves his vocals through a life of abstention. And if he were to fall off the straight and narrow, we can assume Michelle would put him right.
Nevertheless, the Seventies were famed for rock excess.
Signed to Led Zeppelin's Swan Song label, Bad Company shared Zeppelin's manager, Peter Grant.
With him, it was easy to indulge.
"He had fantastic contacts in the FBI and CIA, " Rodgers smiles.
"We were taken care of - private planes, limousines. He was a bad boy, but he was our bad boy!"
But Rodgers dragged himself away from bad influences around the time of 1977's Burning Sky album and now leads the life of a monk. "I went through the whole rock thing of self-destruction.
Fortunately I still have my marbles, " he says with relief.
"We were doing an awful lot of cocaine; I was so crazed on the damn stuff that I thought, 'That's enough, I'm never going to touch it again.' I'm one of the few people who can do that - I did it with cigarettes as well."
INTRUE reformed rocker fashion, he adds: "I rediscovered that meditation was much more mind-expanding."
Michelle reminds him:
"You did the same thing with drinking as well, five years ago.
You said, 'That's it.'" "That was actually the hardest, " says Rodgers, "because I had so much time on my hands.
There's not enough time in the day now. I don't have time to be drunk or out of my mind." As the first member of Bad Company to detox, Rodgers became an outsider, and with two children at home he left the band with the excuse of wanting to spend more time with his family.
"I gave up Bad Company like I gave up booze, " he chuckles.
He released six solo albums, receiving a Grammy nomination for his Muddy Waters Blues tribute album, and formed The Firm with Jimmy Page.
This year Rodgers is bringing Bad Company to the UK for the first time in 25 years - but he's most excited about his son and two daughters. "Stephen and Jasmine are in the Boa Band and they'll be supporting us, " he says. "They don't want to trade on their dad's name and here I am espousing them. But I've kept it quiet for long enough!"
So now Rodgers is a teetotal, non-smoking, drug-free, occasionally coffee-indulging, meditating father. But he can still play the rock star.
By the time our photographer arrives, Rodgers is decked out in a razor-sharp suit and stands for the camera looking like an icon.
Michelle gesticulates behind the photographer. Where her finger goes, Rodgers's eyes follow, until she is satisfied with the angle of his head. Her trusty comb ruthlessly deals with any hair that dares to fall out of place.
It does the job. Rodgers has the greatest rock voice of all time and Michelle has him looking the part. One of Britain's prodigal sons is back.
---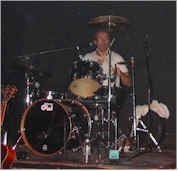 Don Hill's N.Y.C. on December 3rd, 2002
Jimmy Kunes-gtr.,vocals,harp
Simon Kirke-drums/vocals
Andy Hilfiger-bass guitar
Bruce Edwards-guitar.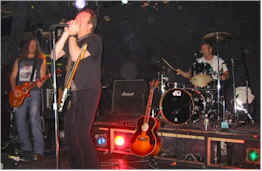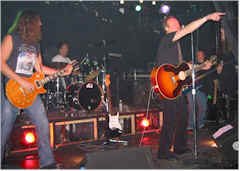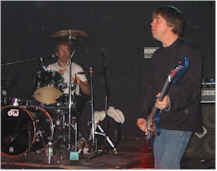 Photos courtesy Jill MacKenzie
The band played songs from the upcoming record GATE OF ALL SAINTS (featuring Simon Kirke,Steve Gorman-Black Crowes,and Carmine Appice guesting on drums and Robert Kearns (ex CRY OF LOVE) on bass. Jim McCarty and Tim Bogart also contribute.) This release follows SLOW MOVING VEHICLE by Jimmy Kunes and LOVE TRAIN a band/solo effort. S.M.V. is still available. Please contact: jimmylovetrain@hotmail.com for details.
Set list:
GATE OF ALL SAINTS/SHAKEY GROUND (which Simon recorded a version w/ Frankie Miller on "Dancing In The Rain")
FALLEN FROM GRACE
EVERYTIME DOWN THE LINE
YOUR NEW REALITY
WAITING ON YOU-B.B.King song FREE recorded for B.B.C.
RIDE ON PONY.
---
If you don't have something of his collection it's time to start. Highly Recommend.
born 2 November 1949 - Bridgeton Glasgow
Rod Stewart said of Frankie Miller, "He is the only white guy that ever brought a tear to my eye"! The widow of the late great Otis Redding reckoned: "that little ole white boy Frankie, has the the blackest voice since Otis". Frankie is a proverbial enigma, widely regarded as one of the finest blues singers that ever lived and as a songwriter he has been covered by an impressive array of artists including, Ray Charles, Roy Orbison, Rod Stewart, Don Williams, Rush and the Everly Brothers.
Frustratingly for everyone who has ever come across Frankie, he has never seemed to live up to his true potential.
Both Simon Kirke and Andy Fraser have worked with Frankie Miller.
You will also find Andy Fraser had written for Frankie.
MILLER Frankie, Standing on the edge - Five songs co-written with Andy Fraser (Free)
Thanks to Gordon for introducing me to Frankie Miller.
---
March 1st presents BIG FACE
RIck Wills, Robert Hart, & Kenny Jones
venue is
Guildford Civic
, London Road, Guildford GU1 2AA, UK
Box office: 01483 444555
---
FREE AT LAST
(Northeast Band)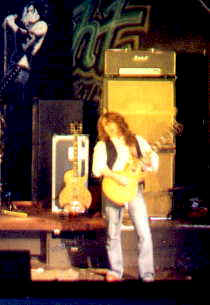 John Buckton - guitar
Sound Clip 1
Sound Clip 2
The ultimate FREE tribute band
will be appearing at
THE ALEXANDRA
GRANGETOWN, SUNDERLAND
- UK
SATURDAY, 15th March
7:30 pm – 12:00 pm
with special guests
THE GRUMPY OLD MEN
David Clayton author of
'HEAVY LOAD' the definitive FREE biography
and Geoff Docherty
(the original promoter of FREE in the North East)
author of 'A PROMOTERS TALE'
will both be attending and available
to sign copies of their books.
Tickets £5 available at 'The ALEXANDRA'
Tel. 0191 5672774
or contact John at jdbfal@aol.com
ALSO
ROCK BAND WEBMASTER " WANTED "
"Free At Last"
are looking for a webmaster
Great opportunity to get involved with Free music
Distance is no problem
as long as you can update website weekly
This site will be a contribution to the band
If you think you can design a cool website,
contact John at jdbfal@aol.com
Possible Domain name
Help support
Free at Last
---
Remember, I mentioned seeing Aqualung on the same line up at the BBC when Bad Company appeared? See how things have taken off for this young man !!!
---
---
Newly Opened The Hard Rock Vault in Orlando Florida

- Simon Kirke attended the opening Thursday 16th Jan
. He shared a shared a limo with Brian Johnston of AC/DC
who Simon says was a delight....and
met up with Slash and Duff MacCagan and shared a
nice conversation with Al Jardine of the Beach Boys...who loves Bad Co!
---
Geoff Whitehorn will be touring with Procol Harum 2003.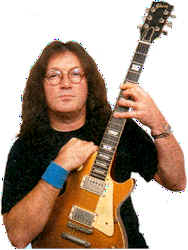 ---
All three artists make an appearences on this new Paul Shortino's cd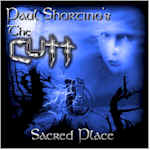 Sacred Place:
Howard Leese (Pauls solo Band) Guitar
Jeff Kathan (Pauls solo Band) Drums
Jason Boyleston ( Ex -Pauls solo Band) Bass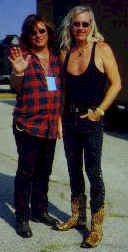 ---
~ Out Now ~
UK Angel Air CD SJPCD136 (January 2003)
Track List: Under Pressure, For My Baby, Our Time, A to Z, You And Me, Hey Hey, Every Beat, Nobody Knows Me, Ain't It Good?, Fool For Loving, That's Life
Bonus Tracks: Budgie (1977 unreleased), Can't Get Enough (1970 demo)
That's Life
---



Click on images to see full size photo
---
Please check out Rob Lamothe If you like what you hear and you think he should be added to Allrightnow.com please let me know at piller@fan.net.
You have a say in this NOW!!!
http://www.mystif.com/southgroove/media.html
http://www.mystif.com/southgroove/roads.mp3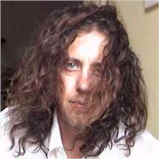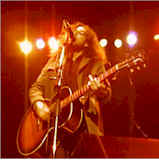 ---
The most beautiful vacation spot in the world.
Most of you have never even heard of this paradise!!
Maybe some day you can visit this dessert resort.
---
If you still don't know how to find the hidden track on the Bad Company DVD, grab a pen and write this down:
Go to Special Features ..... Scroll down to web links, but DONT select it. Just put the Cursor on it. Then CLICK the Left ARROW on your remote, and hey presto it should start ......
Enjoy
Lucy
---