Belting Blues in Hotlanta
By Tammy
Summers in Charleston are hot and sultry but even they can't compare to a weekend of the Blues in Hotlanta, Georgia!
A few months ago I got my ticket for the Journey, REO and Styx tour in Atlanta on July 26. Unexpectedly, over the July 4th weekend I got to make an early trip for Lucy's birthday bash. During that time she introduced me to the Atlanta blues scene in a way that made me more than eager for more. Taking advantage of the Journey concert, I planned a Friday-Sunday visit that finally was extended to a Thursday through Monday bluesfest!
Lucy and her lovely family, Robert, Samara, lil red Max and the katz are wonderful hosts. Lucy understands my craving for music because she shares it.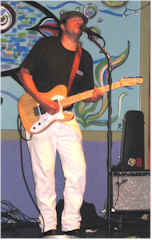 Perhaps she understands that the only blues to be found in Charleston are in the form of blue-bloods and blue-haired old ladies! At any rate, she treated me to the best adventure I've had in a long while.
We started Thursday at Fee-Lay Gumbo's, a Cajun club and restaurant with a Nah Owleans feel, with Andrew Black and his band, the Believers. I'd had the pleasure of hearing Andrew at Lucy's party but he'd definitely put on star quality for Thursday's performance. The trio play so smoothly together, I was enthralled. At one point Andrew left the stage, strutting his mean guitar and smoky vocals right over to our table. He is mesmerizing; his sound is so liquid it seeps right into one's pores. That performance left me thirsty for more, which Lucy & Rob willingly indulged the next night.
Come Friday afternoon, after lazing around the pool and hot tub all morning, I was back at Lucy's, where we relived her July 5th party through the magic of video.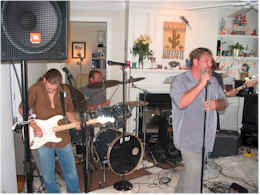 She laughingly pointed me out - voice only - giving a stunning rendition of the Rebel Yell as the Blues Cat played with Barry Richman and Andrew Black! We watched and listened again as Simon Kirke gave us a private performance of his wonderful solo work, still shaking our heads in disbelief that "Simon Kirke was right there" in that living room just weeks before!
That night, we loaded up and made the hour-plus drive to "old town" Conyers, Georgia, a place seemingly on the verge of ghost hood but brought to lusty life that night by Blues Cat. Front man Jeff Robinson has wonderful stage appeal; though the crowd was sparse, he had everyone feeling part of the gig, and playing pranks on unsuspecting revelers who had the misfortune to spend too long in the restroom. A very quick-witted guy whose banter with his band mates made a very entertaining evening. Got me a Blues Cat CD, t-shirt, and promise of a thong in the mail - hot damn! The boyz performed some terrific blues and even gave us a surprise and most awesome rendition of Free's The Hunter. I wonder if they knew that Paul had sung that song to Lucy once upon-a-time? Having to make that stop a one-set visit, we took care of some errands, including depositing the easy-going Rob at home, before continuing our Girls Night of Blues.
Lucy then took me, dragging and kicking, of course, to a funky little club called Darwins. I loved this place!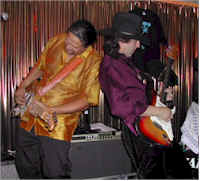 The walls and ceiling are covered with posters and stickers of all kinds of blues acts, including Andrew Black and Barry Richman. And who should be on stage but Mr. Black himself, with Forrest McDonald, another local blues guitar wailer, and his band. If I'd thought Andrew was hot the night before, Friday he left no room for doubt that he is in complete command of the soul of blues. The man just reaches right now into your gut and makes you feel every lick and note emanating from his straining guitar and belting vocals. It really cant be described - you just have to get your butt there and hear it for yourself! After listening to this guy wail, when last call comes at 1:00 a.m., you'll you find yourself literally dragging your feet to leave, resisting the end of the evening. And you will just fall out when you hear him moan Bill Withers' "Use Me Up."
Next day found me back at Lucy's, pouring over her original 60's and 70's photographs of Free - Paul, Simon, Andy & Koss. The girl has incredible stuff! Lucy then treated me a tour of her beautiful home, where we oohed and ahhed over her photographs which she'd had made into posters. Lucy, you've got to put that bare-chested pic of Paul on the website! You know the one I mean, girl!
Saturday night, the night of the Journey, REO, Styx concert.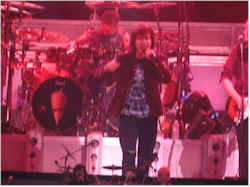 Though our seats weren't together, I had the pleasure of sitting with Michael Storm, lead guitarist for Blues Cat, while vocalist Jeff and his lovely wife, Wendy, were seated just behind us. The anticipation built until at last the lights dimmed, and the 30' screen roared into life with REO chanting WE ROCK YOU! The crowd went crazy as REO took the stage. What seemed a full hour of pulsing rock, their music as white hot as over, with the unusual addition of very lively story-telling and terrific accompanying video graphics.
During the very brief equipment change over, we anxiously guessed over who would be on next, Journey or Styx. We'd all compared notes on the way over and before the show, and it seemed that of the three groups Styx, while not disliked, was the least favorite of us all. I'd seen them 2 years before, with Billy Squier and Bad Company and… needless to say, in my book no one can follow Bad Company and I didn't even stay for Styx' full set.
This time, Styx made a believer out of me. They came out second, and overwhelmed - and won over - all of us by ripping out one hit after another, as well as some new material. The females in the crowd were as overcome as ever, showering the boyz with panties, bras and thongs in every color of the rainbow. The music though, was the surprise of the evening. They just tore it up, energizing every person in attendance. Styx had a t-shirt on sale that got the game exactly right - "Classic Rock, My Ass! 500 shows in 4 years!" They more than proved their mettle and I will never again say that Styx is just "okay."
Styx had our senses heightened and screaming for more. All of us big Journey fans, we waited eagerly for a performance that surely would blow the roof off the place. Well. The performance by Styx was just a really hard act to follow. Journey were good.
They played all their big hits and sounded great. Neal Schon did a soaring solo of the Star-Spangled Banner, center stage and spot lit, that reached right into your heart. For me, though, I was and will always be a big Steve Perry fan. The new singer has a very good voice. His stage presence is admirable - Journey is clearly there for the music and don't buy into the love-starved female craze. But for me, Steve Perry is Journey and those songs just didn't sound quite right out of some one else's mouth. That's not to say that the group, and the entire evening, wasn't a big hit with us all. It was a hot rock night with three superstar groups and nearly 4 hours of ripping rock-n-roll.
Originally slated to leave Atlanta Sunday afternoon, my pal Lucy gave me pause when she discovered the DeKalb County Jazz & Blues Festival was going on that weekend.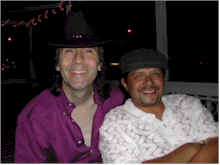 Saturday, which we'd missed, was devoted to jazz, while Sunday was blues day. And guess who should be appearing along with a host of great Atlanta blues acts? Right - Andrew Black! Lucy had to twist my arm pretty hard to persuade me to stay another day. I think she had to actually say, "Oh, Andrew is playing on Sunday." Quick as that I booked my room and rental car another night!
When one goes partying with Lucy, one quickly learns that everyone in the Atlanta music scene knows her! We got front row seats - in the grass, 10' from the stage! Appearing again with Forrest McDonald and his band, Andrew treated us to another wrenching display of hard-hitting blues and vocals. The man has a cool ability to adjust his technique and sound for each venue he plays. The day was blinding hot and Andrew did nothing to cool it off.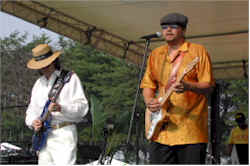 With a very limited amount of time, the group tore through one blues tune after another. Forrest on lead guitar, John Schwenke on bass and John McKnight on drums completed a fabulous set. Andrew Black can be set in front of any group of musicians in any setting and give you something new and searing every time. If you get the chance - and if you don't, MAKE the chance - go hear him!
Andrew's performance was followed by a soft-spoken little gal, Donna Hopkins, who made a big sound with a mighty guitar named Beulah! Lucy and Rob just added another group to my fav list!
In those four days, I was entirely saturated with Rock and Blues. It's just left me wanting more…and planning my next trip to Hotlanta!