Peckerhead Brewery GA
Friday 13th December 2002

Photographs by Lucy Piller

Last night, I had one of the most incredible nights. I was at a Derek St Holmes performance at the Peckerhead just outside Atlanta. And I must say, Rob and I had a an amazing night. Derek was just AWESOME!! The crowd were estatic with his singing and superb guitar playing. For those who are not familar with Derek: he was a member of the Ted Nugent Band........ He is best known for his Stranglehold, Live it Up, Hey Baby songs. It is his voice you hear on those tracks.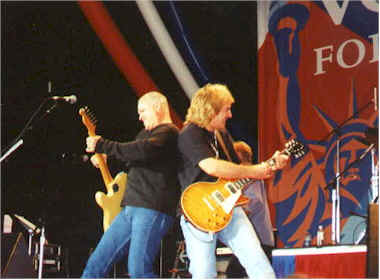 Derek was recently performing at the Rock to the Rescue shows in Atlanta, New Jersey and Cleveland along side Bad Company. Where he certainly got the crowd rocking ( no surprise )
You should have seen him go last night WHOAH.......What a rocker he is!!!!! The devoted fans last night were on their feet throughout the night. Derek also sings Fire and Water and The Stealer in his show. Which puts a huge smile on my face I can tell you. :-)
Another adventure Derek was on recently was the Rock and Roll Fantasy Camp which was held in LA.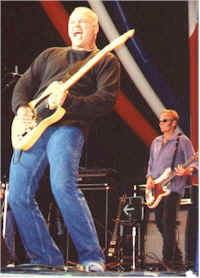 Along with Simon Kirke, a number of top musicians attended this camp to create a rock and roll fantasy for music lovers by spending a few days teaching them to play and recording songs with them. A dream come true I would say :-)
I first met Derek at the "Itchycoo Festival" where Paul Rodgers and his solo band were playing, this was the show that the young singer Sammy Jay had her great fortune in doing a duet with Paul. Derek then was with Big People in which the late Ben Orr was a part of. His dream is to perform someday with one his favourite singers, PAUL RODGERS.
One of my all time favorite CDs is Now and Then, Derek's solo CD.
I am delighted to announce DEREK ST HOLMES will be our special guest SUNDAY 22nd December, 3pm East coast time and 12 noon Pacific time and 8pm UK time. Hope you can join us.

Lucy Piller