L O N G L I V E R O C K !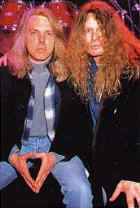 elcome to Classic Rock magazine. It's been a long time coming, and the past few months have been something of a labour of love, but it's here at last. The question we've been asked most often is, 'Why?' Chances are, if you're holding this first issue, you won't need us to give you a ready-made explanation.
The music we love has been driven underground, with existing magazines deeming our favourite bands as 'unfashionable', 'too old' or - and this is the hardest to take of all -'irrelevant'. As Thin Lizzy's Scott Gorham remarked to us recently, the 'powers-that-be' simply do not care. "Some nights I look out into the audience and I realise that the media treats them like lepers," said Scott, "but how can they be if there are so many of them out there?" Amen to that.
So, what do we have in store for you? Well, there's Mick Wall's warts 'n' all Guns N' Roses cover story - a look at what really happened with the 'Get In The Ring' controversy of 1991. For Prog fans, Steve Hackett and Tony Banks shed some light on what went on in the classic days of Genesis, and Steve Hogarth reveals Marillion's initial worry that 'Brave' was simply too brave! And then there's Mott The Hoople, Deep Purple, Bruce Dickinson, Hootie & The Blowfish, Manic Street Preachers and much, much more...
Like the free cover-mounted CD. An amazing collection of Classic Cuts, I'm sure you'll agree.
We've also tried to amass a team of writers whose wealth of knowledge and experience will do this publication justice. You may even recognise some names from journals of the past.
But at the end of the day, Classic Rock is your magazine. Please feel free to vote in our regular Ten Of The Best feature. Tell us which bands you crave more information about, and those you've had enough of. The more outgoing among you may also like to put yourselves forward for an upcoming feature called Into The Vinyl Grotto, where a Classic Rock writer and photographer visit your house and talk Rock trivia with you as we examine your record collection.
We hope you'll enjoy Classic Rock as much as we relished putting it together, and you'll join us again on December 3 for our second issue. And remember the immortal words of The Who's cantankerous old rogue Pete Townshend: "Rock is dead they say... Long Live Rock!"
We look forward to hearing from you.
--Jerry Ewing