Bad Company - Florida Shows
May 1999

Review by Lucy Piller

THE FLORIDA TRIP OF A LIFETIME
I had arranged to go to four concerts of BAD COMPANY. The first two were being held in Clearwater. Both at the Ruth Eckerd Hall, what a great sound this place has. I went with my neighbor Sue. We both flew down to Tampa on the Saturday, and took in some sun before the gig. We arrived at the venue early (as usual) and met up with the Turner family who I often see at many of Paul's gigs. Sue and I had great seats. I think we were in the 5th row.........I didn't mean to leave her but I was so pumped up I left my seat and stood in front of the stage, in front of Mick Ralphs' mic.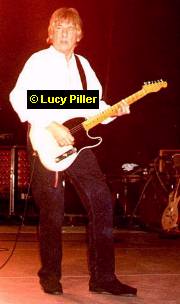 The audience was buzzing but not enough for my liking. I faced the audience and began to clap and shout and wave my arms (like a nutter). I had never behaved like this before at any gig. Not sure what came over me. After getting everyone's attention, row by row started to call for Bad Co. More and more rows stood for the opening of Bad Company. It was so beautiful to watch from my front position. We all cheered until they appeared. Paul and the boys looked great, I loved every moment of the show. Maybe a bit rusty but one would expect that. We were fortunate enough to meet the band back stage in a room full of fans.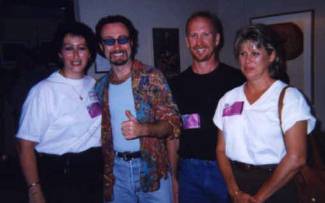 The following night was as good. We then returned in a hurry back to Atlanta as I had to get some laundry finished in time for the next flight to Orlando on the Wednesday.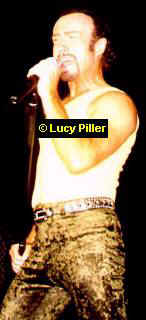 This time it was a treat for Robert and myself. We were meeting up with a crowd of fans from different parts of the States, England and Holland. We were a party of 10. And as soon as we arrived in Orlando, four of us drove to Pompano Beach, arriving just in time for the 8pm show. This time it was outdoors. We had once again very good seats. Maybe row 7, I think. Everyone was happy except me..........I had to get to the front. So, off I went, leaving everyone behind. I stood at the front until the band came on.....and, wow, the fans were going wild. The show was brilliant. I clapped myself silly.......I had started to look like a wet rat. And to top it all, Paul saw me from the stage. Oh dear, he still recognizes me with such wet hair. He shouted out "Hey Lucy, how ya doin?" I hid my face because now everyone was looking at me!!!
The show was better than the first two. It was getting better with every show. At this show, I was with Robert (hubby and webmaster), Richard from England, and Sandhe (Kossoff) from Texas. We all went back stage.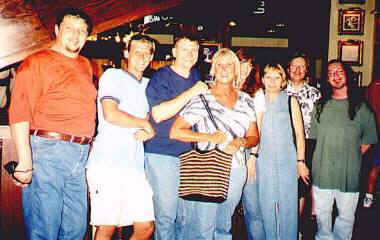 This was to be a surprise for Boz and Simon. They had not seen Sandhe in 20 years. They were blown away. Especially when I told Simon to close his eyes as I had a surprise for him. He was in shock and the same with Boz. He thanked me so much for joining them up again after so many years. Another night over, we stayed overnight in Pompano and headed back to Orlando the next morning. Like kids we were, roof down in the car.....loud Bad Company music playing and the wind just blowing in our hair.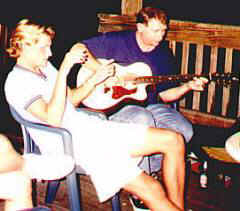 We arrived back in Orlando and were meeting up with Dawn, Kevin and Keith from Boston, Jim from Boston, Dawn-Marie from Illinois, then there was Addy from Holland who used to have a Bad Company fan club in Holland many years ago. And, last but not least, Jack and Joan from Indianapolis.
Everyone met the Turner family who were also at the Pompano show. We had to have dinner at the Hard Rock Cafe, which was great fun. It was great to sit down for a while after running about so much. We spent Thursday night listening to Steve and Christian Turner singing and playing some of their own music and, of course, we all sang along to some Free and Bad Co songs with the help of Jim and his fancy guitar work. A great treat for us all!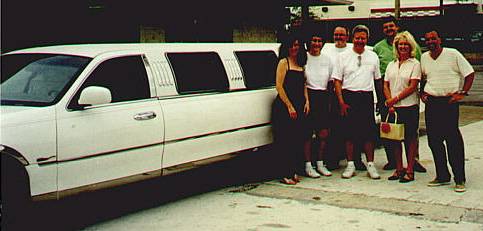 Then it was the big day. We were all so hyped up by this time. The limo that I had ordered was to pick us up at 6pm to take us to the Hard Rock. The girls all looked gorgeous, and the guys looked sharp … Robert even decided to get a hair cut, all for this great event. We had fun sitting in the limo playing music pretty loud. Although the driver didn't complain, or did he? Well, we couldn't hear him, could we?? :-))) Yes, we were at the Hard Rock Cafe. All lit up, with Bad Company's name on the building flashing. Such a buzz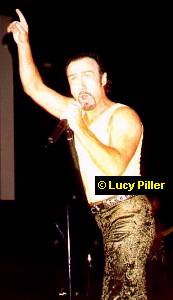 outside the venue. Inside the Hard Rock, the audience was really rocking. Our group was split into two. All had fantastic seats. The best in the house, in fact. The place was rocking like you have never seen before.
We witnessed the finest show one could ever see. From the beginning till the end, it was BRILLIANT!!!!! I had tears in my eyes throughout the show with sheer joy !!!! After all that we (the ten of us) all went back stage to meet the guys. More hugs, more pictures, and it was over …
But we are so grateful, it was captured on video..... It's the finest live performance Paul has appeared on. And we all want to congratulate BAD COMPANY for working so hard to make the night perfect.
MAY 'BAD COMPANY' BE WITH YOU..............................
Now, if you haven't got your tickets yet...........go get them NOW.............. you hear?? NOW!!!!!!!

Related Links:
Concert Reviews